printer friendly version
Isolated sensing of temperature
Jan 2000
Sensors & Transducers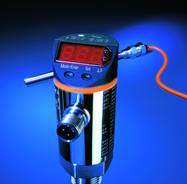 A new range of temperature sensors which includes models that allow the control monitor to be mounted remotely from the sensor probe, has been launched by IFM Electronic. Remote monitor mounting provides an ideal solution where space at the sensing site is restricted and also allows the monitor's integral seven-segment display to be conveniently positioned for easy inspection.
The new range includes TT probes, which are available in standard lengths of up to 500 mm and type TS probes which have integral connecting cables. These probes are complemented by separately mounted type TR control monitors. Also available are type TN sensors with integral control monitors which are a cost-effective choice for standalone applications.
Type TT probes comprise a platinum resistance measuring element mounted within the body of a stainless-steel probe. The control monitor may be remotely mounted and connected via an optional jumper cable or, alternatively, it may be mounted directly on the probe using a patented connector, which offers a robust solution for harsh environments.
Type TS sensors have a 47,5 mm probe with an integral 2 or 5 m connecting cable. The free end of the cable is fitted with an M12 connector which mates directly with the control monitor.
Type TT sensors operate over a temperature range of -40 to +125°C, while TS sensors cover the range from -40 to +150°C. All TS and TT probes have 10 mm diameter type 316 housings and accessories are available to facilitate mounting in various types of standard thermowell. All sensors have an IP67 protection rating.
The control monitors in the range are also IP67-rated. Both the TN integral sensor and TR separately mounted versions incorporate seven-segment displays which provide a continuous readout of temperature, and can be switched easily between Celsius and Fahrenheit. The displays also serve as an aid to setting which is a speedy and simple operation, thanks to IFM's pushbutton adjustment system.
Control monitors are available with dual switching outputs, or with a single switching output plus an analog output. Switching outputs can be set for normally open or normally closed operation and switching hysteresis is fully adjustable. Users can program the analog output as 4-20 mA or 0-10 V and the analog signal can be scaled to cover the optimum range for the application. The maximum and minimum temperatures witnessed during operation are also automatically stored, providing information which is useful when investigating production and maintenance issues.
Shorrock Automation
(012) 346 1594
Further reading:
Wide-beam radar sensor
October 2021, Turck Banner , Sensors & Transducers
Turck Banner's T30R series has been expanded with a wider-angle (45°×45°) beam pattern sensor to better detect curved or reflective surfaces and larger targets.
Read more...
---
Multifunction timer sets parameters remotely
October 2021, ElectroMechanica , Sensors & Transducers
Machine builders now have the option to set timing and counting parameters on their application timers from a smartphone or tablet – without having to power the timer.
Read more...
---
Laser motion control sensor
October 2021, SICK Automation Southern Africa , Sensors & Transducers
SICK Automation's new Speetec laser motion control sensor is now available in South Africa.
Read more...
---
Sensors for pulp and paper applications
October 2021, Gail Norton Instrumentation , Sensors & Transducers
Some of the toughest challenges for sensors are found in the pulp and paper industry. Here, high temperatures and a contaminated environment make it difficult for optical sensors to operate accurately 
...
Read more...
---
Vision sensors from ifm automate production at Opel welding station
September 2021, ifm - South Africa , Sensors & Transducers
The O3D302 vision sensor from ifm electronic is a 3D camera with integrated image evaluation.
Read more...
---
Digitalisation in oil and gas applications
September 2021, SECO Process Instrumentation , Sensors & Transducers
In the future, digitalisation will offer great new possibilities to process automation in the oil and gas industry.
Read more...
---
All-in-one sensor allows quick deployment
September 2021, Turck Banner , Sensors & Transducers
Turck Banner's photoelectric Q45 family combines sensor, wireless node and battery in a single, compact unit.
Read more...
---
RS adds IIoT-enabled sensors
September 2021, RS Components SA , Sensors & Transducers
Over 2000 added items include the latest IIoT sensors and machine safety systems for smart manufacturing developments.
Read more...
---
Wireless IIoT sensors optimise new areas for smart applications
Technews Industry Guide: Sustainable Manufacturing 2021, Pepperl+Fuchs , Sensors & Transducers
Pepperl+Fuchs' WILSEN.sonic.level battery-operated wireless level sensor has been developed to record the fill level and geoposition of containers and transmit this data securely to the Internet.
Read more...
---
3D environment monitoring sensors
July 2021, SICK Automation Southern Africa , Sensors & Transducers
SICK Automation is leading the agricultural digitisation era (Farming 4.0), with its visual perception solutions for mobile agricultural machines and harvesting robots.
Read more...
---