printer friendly version
Comprehensive IT security from Rittal
August 2009
IT in Manufacturing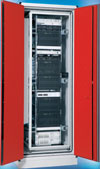 When IT security is considered holistically, it becomes obvious that it extends far beyond logical, technical and organisational security.
Apart from the common firewalls, virus scanners and storage concepts, effective protection of IT structures against physical risks is immensely important. Irrespective of the required protection class – from basic protection to high-availability with minimised failure tolerances – IT security based on individual requirements is necessary. This requires adaptable, individual and scalable solutions which respond to the corporate structures and not vice versa.
Economic IT security solutions are therefore always modular, so that they can be flexible and adaptable to the local and spatial circumstances. They are scalable so that they can grow with the business, and above all, they are comprehensive so that precisely the right protection is available if a relevant risk should occur. Thus it is important to be aware of the diverse risks in advance as this is the only way for a customised security solution to be planned and implemented to match demand.
IT needs new approaches
Modern IT safes are used to accommodate the security requirements for decentralised or functionally separated IT systems and data. This new class of security system is capable of encasing a 19 inch rack (or even several) so that a secure mini data centre is formed. The advantages are obvious: The IT safe provides the same protection classes as a data centre, but because of its smaller size and modularity it is quick and cost effective to install and maintain. A new location can be selected just as easily – dismantling and re-installation is a matter of only a few hours. Energy efficient infrastructures are deployed in such an IT safe.
Example: Airconditioning
Cooling systems can be built smaller, lighter and therefore less expensively for a cabinet than a room. In addition, the air ducting in an IT safe can be solved more elegantly as an air volume of only 2,5 cubic metres has to be supplied. Therefore, hot spots in the racks or pressure losses like those experienced in the raised airconditioning flooring of a data centre cannot arise. The energy hungry systems for the uninterruptible power supply (UPS) can also be optimally dimensioned and therefore cost effectively designed because the power consumption of the IT safe is clearly defined. Thus there are no oversized or undersized UPS systems which can cause a real headache for data centre planners in other areas. In addition, the resulting smaller UPS units can be replaced or increased at a lower cost.
Most important of all is the security gained for the company. The server racks are no longer located in the cloakroom or in the corridor, accessible to all, but in an all-round secure housing with the relevant protection classes against fire, water, smoke, gas, dust, unauthorised access or vandalism.
The modular IT centre
The Rittal Modular Safe LMS 9.3 provides users with a modular, extendable, mini-IT centre which combines an optimum reduction of exposure to physical and intrusion hazards.
The system provides comprehensive protection for computer and telecommunication systems, and therefore 'multifunctional security'. The design facilitates transportation of extensive systems into cellars or upper storeys of buildings, and installation whilst IT systems are in operation.
The modular, extendable Rittal safe offers an appropriate level of protection for IT and communications systems at decentralised sites. In addition to the core fireproofing function, the safety cell of the Modular Safe offers genuine added value in a range of other risk areas.
Credit(s)
Further reading:
Endress+Hauser's IIoT technology masters the mining challenge
June 2019, Endress+Hauser , IT in Manufacturing
Endress+Hauser aims to improve the processes of its customers with regards to efficiency, quality, safety and sustainability.
Read more...
---
Digital transformation status and progress in process industries
June 2019 , IT in Manufacturing
Industry research indicates that there has been more than 75% of the process industry participating in Industry 4.0 technology evaluation or pilot projects, there is still less than 25% of the industry moving beyond the pilot phase.
Read more...
---
Does edge computing have the edge?
June 2019, Omron Electronics , IT in Manufacturing
Implementing artificial intelligence in industrial manufacturing
Read more...
---
Faster results with a digital twin
June 2019, Siemens Digital Industries , IT in Manufacturing
The high-tech company Grenzebach's portfolio includes the simulation of material flow in complex plants in the glass industry, which it achieves using Siemens simulation solutions. Together, the two companies 
...
Read more...
---
Data, light and the smart factory
May 2019 , IT in Manufacturing
The role of lasers in the Fourth Industrial Revolution.
Read more...
---
Planning for digital transformation
May 2019 , IT in Manufacturing
As we've learned, digital transformation can be a challenging, if necessary, journey. At each year's Forum, we learn more about how pioneering companies are overcoming these challenges and the associated 
...
Read more...
---
Rittal invests in new global smart factory
May 2019, Rittal , News
Investing for the future, Rittal's new plant in Haiger embraces the principles of Industry 4.0. The company has made its largest single investment, totalling €250 million, to establish the world's most 
...
Read more...
---
Paving the way for IIoT
Africa Automation Fair 2019 Preview, Phambili Interface , IT in Manufacturing
Phambili Interface is the sole southern African distributor for Weidmuller connectivity and interface products. A highlight is the perfectly coordinated Weidmuller u-Mation portfolio, which paves the 
...
Read more...
---
Barrier-free communication from Zone 0 to the cloud
Africa Automation Fair 2019 Preview, Beckhoff Automation , IT in Manufacturing
Founded on PC-based control, Beckhoff's automation systems are ideal for implementing connectivity in production environments in line with current IIoT concepts. Because of their interoperability, openness 
...
Read more...
---
Industrial cybersecurity for industrial control systems
Africa Automation Fair 2019 Preview, Profitek , IT in Manufacturing
The Hirschmann Tofino provides an advanced industrial solution that solves many of the most challenging energy-specific cyber and physical security challenges. The easy-to-deploy appliance protects against 
...
Read more...
---