printer friendly version
Comprehensive IT security from Rittal
August 2009
IT in Manufacturing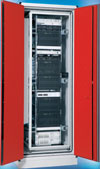 When IT security is considered holistically, it becomes obvious that it extends far beyond logical, technical and organisational security.
Apart from the common firewalls, virus scanners and storage concepts, effective protection of IT structures against physical risks is immensely important. Irrespective of the required protection class – from basic protection to high-availability with minimised failure tolerances – IT security based on individual requirements is necessary. This requires adaptable, individual and scalable solutions which respond to the corporate structures and not vice versa.
Economic IT security solutions are therefore always modular, so that they can be flexible and adaptable to the local and spatial circumstances. They are scalable so that they can grow with the business, and above all, they are comprehensive so that precisely the right protection is available if a relevant risk should occur. Thus it is important to be aware of the diverse risks in advance as this is the only way for a customised security solution to be planned and implemented to match demand.
IT needs new approaches
Modern IT safes are used to accommodate the security requirements for decentralised or functionally separated IT systems and data. This new class of security system is capable of encasing a 19 inch rack (or even several) so that a secure mini data centre is formed. The advantages are obvious: The IT safe provides the same protection classes as a data centre, but because of its smaller size and modularity it is quick and cost effective to install and maintain. A new location can be selected just as easily – dismantling and re-installation is a matter of only a few hours. Energy efficient infrastructures are deployed in such an IT safe.
Example: Airconditioning
Cooling systems can be built smaller, lighter and therefore less expensively for a cabinet than a room. In addition, the air ducting in an IT safe can be solved more elegantly as an air volume of only 2,5 cubic metres has to be supplied. Therefore, hot spots in the racks or pressure losses like those experienced in the raised airconditioning flooring of a data centre cannot arise. The energy hungry systems for the uninterruptible power supply (UPS) can also be optimally dimensioned and therefore cost effectively designed because the power consumption of the IT safe is clearly defined. Thus there are no oversized or undersized UPS systems which can cause a real headache for data centre planners in other areas. In addition, the resulting smaller UPS units can be replaced or increased at a lower cost.
Most important of all is the security gained for the company. The server racks are no longer located in the cloakroom or in the corridor, accessible to all, but in an all-round secure housing with the relevant protection classes against fire, water, smoke, gas, dust, unauthorised access or vandalism.
The modular IT centre
The Rittal Modular Safe LMS 9.3 provides users with a modular, extendable, mini-IT centre which combines an optimum reduction of exposure to physical and intrusion hazards.
The system provides comprehensive protection for computer and telecommunication systems, and therefore 'multifunctional security'. The design facilitates transportation of extensive systems into cellars or upper storeys of buildings, and installation whilst IT systems are in operation.
The modular, extendable Rittal safe offers an appropriate level of protection for IT and communications systems at decentralised sites. In addition to the core fireproofing function, the safety cell of the Modular Safe offers genuine added value in a range of other risk areas.
Credit(s)
Further reading:
Reliable gas production
September 2019, Siemens Digital Industries , IT in Manufacturing
Energy supplier uses Siemens technology for optimum information exchange.
Read more...
---
Automotive supplier relies on Siemens PLM solution
September 2019, Siemens Digital Industries , IT in Manufacturing
Küster Automotive is an internationally active family-run company and a part of Küster Holding. A full-service supplier, Küster manufactures components for the automotive industry. For its production 
...
Read more...
---
Clever chilling with less refrigerant
September 2019, Rittal , Enclosures, Cabling & Connectors
Rittal expands its cooling technology for enclosures and machines with new Blue e+ chillers.
Read more...
---
Top tips to help you implement 4IR projects that deliver value
September 2019 , Editor's Choice, IT in Manufacturing
In the just over 10 years I have spent working on IT projects in the manufacturing space, the amount of new fads and IT jargon that has to be adopted has reached the heavens, and ascended into other realms. 
...
Read more...
---
Digitisation requires new skills
September 2019, Schneider Electric South Africa , IT in Manufacturing
Smart grid investments by municipal and public power utilities typically focus on electric distribution and customer systems. The expected benefits include lower costs, better customer service and more 
...
Read more...
---
Industry 4.0: Manufacturing Executing Systems
September 2019, S4 Integration , IT in Manufacturing
Industry 4.0 is set to lead the way for digitisation of manufacturing processes. Manufacturing Executing Systems (MES) are a critical component of Industry 4.0 as they act as an enabler for end-to-end 
...
Read more...
---
Safety and cybersecurity convergence goes beyond safety systems
August 2019 , IT in Manufacturing
However, the scope of safety and cybersecurity goes well beyond process safety systems alone. Across the industrial and infrastructure worlds, an increasing number of end users are adopting more sophisticated 
...
Read more...
---
Rittal to partner with Atos and Siemens for Edge Data Centre initiative
August 2019, Rittal , News
Rittal has entered into a global strategic partnership with Atos and Siemens. The common goal is the development of intelligent edge data centre solutions for smart industries, smart cities, smart retail, 
...
Read more...
---
Mobile app configures level transmitters
August 2019, Emerson Automation Solutions , IT in Manufacturing
Emerson has added the Radar Master app for the AMS Trex Device Communicator, making it easier for field technicians to configure Rosemount radar level transmitters. Radar level devices are critical to 
...
Read more...
---
Yapper: pet food goes digital
August 2019 , IT in Manufacturing
Over the past decade, there has been an increase of the 'pet humanisation' trend, which continues to capture the entire world. Pet owners are caring for and spending on their pets as they would do for 
...
Read more...
---