printer friendly version
Flame monitor SIL 3 approved
June 2009
Temperature Measurement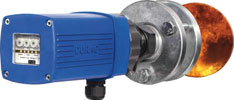 The D-LX 200 compact flame monitor from Durag, is a failsafe, self-monitoring device meeting the highest international safety standards and regulations for continuous operation. Its dual channel design eliminates the need to interrupt the photoelectric current with no need for electrical and mechanical shutters. The D-LX 200 is available with Safety Integrity Level 3 certification.
The monitor reliably detects flames from all fuels, particularly gas, oil, coal and wood in a variety of combustion processes. The large sensitivity and ambient temperature range (-40 to 85°C) enables the units to be used in the diverse environments.
The flame monitor measures the flicker frequency and intensity of the flame; the amplifier gain is automatically adapted to the signal strength, and when harmonic signals are detected a 'FLAME OUT' message appears on the display.
The D-LX 200 has two ranges with selectable parameters. It is possible to switch between these ranges externally so that the flame monitor can easily be adjusted to different combustion conditions. Communication is via Modbus RTU (RS-485) or IrDA (PDA); signals and parameters can also be observed directly on the device during operation via LEDs and switch settings.
All D-LX 200 types are suitable for use with fibre optic systems.
For more information contact Jan Pretorius, OEN Enterprises, +27 (0)11 675 4447, jan@oenenterprises.co.za, www.oenenterprises.co.za
Credit(s)
Further reading:
Compact thermal profiling system for monoblock packaging
February 2021, R&C Instrumentation , Temperature Measurement
Manufacturers can now optimise their oven settings and ensure that every product experiences the specified time at temperature.
Read more...
---
Pyrometers for industry
January 2021, Mecosa , Temperature Measurement
Pyrometers are instruments that detect infrared radiation of objects to determine the temperature without making contact with the process or surface being measured.
Read more...
---
Temperature measurement in the steel industry
November 2020, R&C Instrumentation , Temperature Measurement
Having recently joined forces, Raytek and Ircon are able to offer non-contact infrared thermometers and scanners to cover every aspect of temperature monitoring in steel manufacturing processes.
Read more...
---
New RTD transmitter
September 2020, Mecosa , Temperature Measurement
What characterises the APAQ 130 is simplicity. Users can easily configure the transmitters wirelessly with a smartphone or tablet.
Read more...
---
Temperature profiling in automobile manufacture
September 2020, R&C Instrumentation , Temperature Measurement
The automotive industry uses many materials to build cars. These have evolved over time, becoming more sophisticated and often requiring heat treatment at some stage of component manufacture.
Read more...
---
New iTEMP transmitter with Bluetooth
September 2020, Endress+Hauser South Africa , Temperature Measurement
Endress+Hauser's new iTEMP TMT142B temperature transmitters deliver highly accurate and reliable measurements, wireless communication via Bluetooth and user-friendly operation packaged in a robust single-chamber field housing.
Read more...
---
Temperature control in the glass industry
August 2020, R&C Instrumentation , Temperature Measurement
New products like the Endurance and Thermalert series ensure that whatever the temperature measurement and monitoring requirements, a solution can be found.
Read more...
---
Ratio pyrometer: theory and applications
June 2020, R&C Instrumentation , Temperature Measurement
There are many applications where a standard one-colour thermometer reads the temperature incorrectly. These include:   
• Small objects (too small to fill the cone-of-vision). • Dust, smoke or steam, 
...
Read more...
---
Thermal camera for automotive diagnosis
May 2020, RS Components SA , Temperature Measurement
RS Components has announced the availability of a new thermal camera from FLIR, a specialist in intelligent sensing products for industrial markets. The TG275 thermal camera is ideal for automotive maintenance 
...
Read more...
---
Emerson's new thermowell design tool
June 2020, Emerson Automation Solutions , Temperature Measurement
Emerson has introduced the Rosemount Thermowell Design Accelerator, a free online thermowell design tool that eliminates manual thermowell iterations facing process design engineers when sizing thermowells. 
...
Read more...
---