printer friendly version
Flame monitor SIL 3 approved
June 2009
Temperature Measurement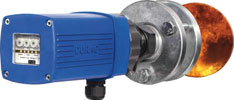 The D-LX 200 compact flame monitor from Durag, is a failsafe, self-monitoring device meeting the highest international safety standards and regulations for continuous operation. Its dual channel design eliminates the need to interrupt the photoelectric current with no need for electrical and mechanical shutters. The D-LX 200 is available with Safety Integrity Level 3 certification.
The monitor reliably detects flames from all fuels, particularly gas, oil, coal and wood in a variety of combustion processes. The large sensitivity and ambient temperature range (-40 to 85°C) enables the units to be used in the diverse environments.
The flame monitor measures the flicker frequency and intensity of the flame; the amplifier gain is automatically adapted to the signal strength, and when harmonic signals are detected a 'FLAME OUT' message appears on the display.
The D-LX 200 has two ranges with selectable parameters. It is possible to switch between these ranges externally so that the flame monitor can easily be adjusted to different combustion conditions. Communication is via Modbus RTU (RS-485) or IrDA (PDA); signals and parameters can also be observed directly on the device during operation via LEDs and switch settings.
All D-LX 200 types are suitable for use with fibre optic systems.
For more information contact Jan Pretorius, OEN Enterprises, +27 (0)11 675 4447, jan@oenenterprises.co.za, www.oenenterprises.co.za
Credit(s)
Further reading:
Temperature measuring in steel processing
June 2021, R&C Instrumentation , Temperature Measurement
Accurate and reliable temperature measurement is a part of efficient metal processing and steel manufacturing.
Read more...
---
Temperature and humidity monitoring for vaccine rollouts
May 2021, Omniflex Remote Monitoring Specialists , Temperature Measurement
How remotely monitoring facilities maintains the vaccine cold chain.
Read more...
---
High-temperature pyrometer with Bluetooth
May 2021, R&C Instrumentation , Temperature Measurement
Raytek has added Bluetooth capability to the Raynger 3i Plus handheld pyrometer.
Read more...
---
Automated cold chain monitoring
March 2021 , Temperature Measurement
Smart, connected and automated temperature monitoring at every point helps logistics companies proactively ensure their cold chain is never broken and goods arrive in prime condition for use and sale.
Read more...
---
Accuracy of infrared temperature measurement
March 2021, R&C Instrumentation , Temperature Measurement
Infrared (IR) thermometers have the ability to measure temperature without coming into physical contact with a particular product.
Read more...
---
Battery powered digital temperature gauges
March 2021, Instrotech , Temperature Measurement
hese gauges offer a wide range of industrial and analytical possibilities for applications where high accuracy and clear indication are required.
Read more...
---
Automotive paint cure – a formidable task
April 2021, R&C Instrumentation , Temperature Measurement
To provide protection to the car body, a series of coatings is applied to the raw substrate and in turn thermally cured. Accurate control of the thermal process is critical to the performance of the coating both cosmetically and physically.
Read more...
---
Compact thermal profiling system for monoblock packaging
February 2021, R&C Instrumentation , Temperature Measurement
Manufacturers can now optimise their oven settings and ensure that every product experiences the specified time at temperature.
Read more...
---
Pyrometers for industry
January 2021, Mecosa , Temperature Measurement
Pyrometers are instruments that detect infrared radiation of objects to determine the temperature without making contact with the process or surface being measured.
Read more...
---
Temperature measurement in the steel industry
November 2020, R&C Instrumentation , Temperature Measurement
Having recently joined forces, Raytek and Ircon are able to offer non-contact infrared thermometers and scanners to cover every aspect of temperature monitoring in steel manufacturing processes.
Read more...
---