printer friendly version
Wireless cash management solution
December 2008
Data Acquisition & Telemetry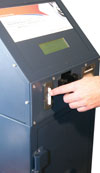 Deposita, an innovation-led provider of cost-efficient cash management solutions for retail and banking environments, has developed the third generation of its automatic banking machines (ABM) that now offers a cash management solution for the international market. The ABM counts and validates bank notes on the customer's premises and communicates via GSM to the Deposita internal management platform, in order to electronically credit cash deposits to the customer's account.
Product evolution
Deposita commercial director, Christo Terblanche, explains: "The cash market is our core business. It has seen a 17% year on year increase in the past three years. Besides financial institutions, we are the only supplier of end to end cash management solutions in South Africa.
"We developed the ABM and our banking platform from scratch four years ago, and took a decision to gain competitive advantage by making use of the latest in electronic and wireless technology to ensure reliability, and speed of installation. Wireless is the technology of the future for devices in the field."
According to Terblanche, traditional fixed line systems can take up to six weeks to install, and Deposita needs to deliver cash management solutions as and when their customers require them. With wireless technology, Deposita is not reliant on any existing infrastructure in order to install a system.
The ABM's communications are based on the Wavecom GSM/GPRS modem, from Trinity Telecomms. According to Terblanche, the Wavecom modem was backward compatible with Deposita's existing technology, which uses a very similar AT command set. The Wavecom wireless modem provided a cost-effective and reliable platform.
Deposita specialises in customisation of its cash management solutions and is now in its third product generation, which is highly customisable particularly due to its web-based user interface. This interface enables the client to access the system via the Internet by means of a secure username and password, to gain instant and accurate information about their ABM deposits.
Market focus
Terblanche says that the ABM offers security features and benefits that far exceed that offered by tills and drop safes. "We launched our third generation system in August. It features international capabilities making it a generic platform that will support technology anywhere in the world; we already have interest from the UK, UAE, Bulgaria and the USA.
"We will in the future strongly focus on the international market. The Wavecom modems already have all the necessary international certification requirements for electronic hardware, making it instantly portable to the international market. Staying ahead gives us time to design and develop the next generation. It will help us to retain our competitive edge in the global market," he concludes.
For more information contact Christo Terblanche, Deposita, +27 (0)11 729 3300, christo.terblanche@deposita.co.za, or William Hardie, Trinity Telecomms, +27 (0) 11 465 7377, william@trintel.co.za, www.trintel.co.za
Further reading:
Clip-on indicator with Bluetooth and logging
September 2020, WIKA Instruments , Data Acquisition & Telemetry
Monitor live process values and diagnostic information on any iOS/Android device running the free PPS application, or monitor directly on the display.
Read more...
---
RS Components introduces RX23E-A
July 2020, RS Components SA , Data Acquisition & Telemetry
RS Components has introduced a new series of single-chip devices from Renesas, the RX23E-A microcontrollers (MCUs) which combine an analog front end (AFE) and an MCU core for use in equipment that delivers 
...
Read more...
---
Advanced controller for data acquisition
December 2019, RJ Connect , Data Acquisition & Telemetry
The ioThinx 4530 series is an advanced modular controller product with a unique hardware design, making it an ideal solution for a variety of industrial data acquisition applications. The controller has 
...
Read more...
---
Top data management on the DIN rail
October 2019, Endress+Hauser South Africa , Data Acquisition & Telemetry
The data manager family of Endress+Hauser is growing. To meet the strong demand from the market for a smart, compact DIN rail data manager for mounting in the control cabinet, development of the RSG45 
...
Read more...
---
IoT data logger
October 2019 , Data Acquisition & Telemetry
IMS is known across the globe as a leading industry expert and manufacturer of condition monitoring data loggers and telemetry. The company performs data logger engineering, manufacturing and servicing 
...
Read more...
---
Fieldlogger for data acquisition
June 2019 , Data Acquisition & Telemetry
The Fieldlogger is a great asset to the Novus automation range of products. It is one of the most comprehensive instruments for the acquisition of data recording, and is capable of analog and digital 
...
Read more...
---
New network function for digital ­indicator
October 2018, Yokogawa South Africa , Data Acquisition & Telemetry
Yokogawa has added a network function to the UM33A digital indicator with alarms. With this network function, a single UM33A digital indicator can receive, process and sequentially display data from up 
...
Read more...
---
Remote monitoring and telemetry at power station water plants
July 2018, Omniflex Remote Monitoring Specialists , Data Acquisition & Telemetry
The wireless ability to manage pumps remotely over long distances is now available using Omniflex's Teleterm M3 Radio RTUs. This full functionality IEC61131 PLC enables both control and wireless communications 
...
Read more...
---
Purely analog signal conditioning
June 2018, GHM Messtechnik SA , Data Acquisition & Telemetry
IMTRON, part of the GHM Group, has launched the Purely Analogue Signal Conditioning TSA modules that offer well-established methods for processing, filtering, amplifying and galvanically isolating sensor 
...
Read more...
---
KPMs rotary consistency transmitter boosts pulp mill performance
May 2018 , Data Acquisition & Telemetry
In today's pulp and paper-making market place, consistency measurement is one of the most important ways to keep costs as low as possible without sacrificing quality or production throughput. KPM's KC/5 
...
Read more...
---