printer friendly version
Wireless CPU family
December 2008
Data Acquisition & Telemetry
3G GSM and CDMA solutions for wireless alarm, automotive and tracking.
Wavecom has introduced two new members of its sleek Q26 series wireless CPU family. The Q26 Extreme offers dual-mode 2G and 3G to enable data-intensive applications like realtime video streaming for the security or automotive industries. In addition, the Q26 Elite offers CDMA 2000 1x wireless voice and data connectivity in the same form-factor, so customers can design their application once and connect using any cellular protocol, anywhere around the world.
Extreme performance
The 3G Q26 Extreme is equipped with antenna diversity and runs at peak data rates up to 7,2 Mbps HSDPA and 2 Mbps HSUPA with automated 2G/3G handover. It supports quad-band GSM/GPRS/EDGE on the 850, 900, 1800, 1900 MHz bands and tri-band HSPA on the 850, 1900, 2100 MHz bands for global network compatibility.
It can be used as a smart wireless modem, connecting to back end IT systems securely, sharing the system load of the final product with a host processor; alternatively, it provides users with the option to embed their application directly on the device's integrated ARM9 32-bit processor.
In addition, external or embedded applications written for Q2686 or Q2687 Wireless CPU devices are fully portable, without additional software coding thanks to the smart operating systems.
To support the unique needs of automotive, finance and security customers, the Q26 Extreme is available with inSIM, the Wavecom integrated subscriber identity module, for enhanced durability in extreme environmental conditions. It also comes with unique Open AT Plug-Ins designed to make integrating best-in-class security and GPS technology simple. If the customer prefers, the Wavecom Q26 Extreme can also interface with Microsoft Windows CE.
To further reduce total cost of ownership, the new Q26 Extreme supports the unique, secure Wavecom Intelligent Device Service offer, providing customers with access to the world's most powerful Web-based service platform for upgrading and monitoring networked products – a critical factor in maintaining functionality through ongoing network changes.
Elite performance
The second new product, Q26 Elite, features up-to-date CDMA technology and supports GPS, making it uniquely suited for fleet management and tracking applications with E911 requirements. In addition, it provides customers using CDMA an opportunity to upgrade as new technology becomes available. Both Q26 Elite and Q26 Extreme are automotive grade products, meeting some of the toughest quality requirements in the industry.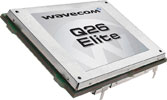 For more information contact Chris Viveiros, Trinity Telecomms, +27 (0)11 465 7377, chris@trintel.co.za, www.trintel.co.za
Further reading:
Clip-on indicator with Bluetooth and logging
September 2020, WIKA Instruments , Data Acquisition & Telemetry
Monitor live process values and diagnostic information on any iOS/Android device running the free PPS application, or monitor directly on the display.
Read more...
---
RS Components introduces RX23E-A
July 2020, RS Components SA , Data Acquisition & Telemetry
RS Components has introduced a new series of single-chip devices from Renesas, the RX23E-A microcontrollers (MCUs) which combine an analog front end (AFE) and an MCU core for use in equipment that delivers 
...
Read more...
---
Advanced controller for data acquisition
December 2019, RJ Connect , Data Acquisition & Telemetry
The ioThinx 4530 series is an advanced modular controller product with a unique hardware design, making it an ideal solution for a variety of industrial data acquisition applications. The controller has 
...
Read more...
---
Top data management on the DIN rail
October 2019, Endress+Hauser South Africa , Data Acquisition & Telemetry
The data manager family of Endress+Hauser is growing. To meet the strong demand from the market for a smart, compact DIN rail data manager for mounting in the control cabinet, development of the RSG45 
...
Read more...
---
IoT data logger
October 2019 , Data Acquisition & Telemetry
IMS is known across the globe as a leading industry expert and manufacturer of condition monitoring data loggers and telemetry. The company performs data logger engineering, manufacturing and servicing 
...
Read more...
---
Fieldlogger for data acquisition
June 2019 , Data Acquisition & Telemetry
The Fieldlogger is a great asset to the Novus automation range of products. It is one of the most comprehensive instruments for the acquisition of data recording, and is capable of analog and digital 
...
Read more...
---
New network function for digital ­indicator
October 2018, Yokogawa South Africa , Data Acquisition & Telemetry
Yokogawa has added a network function to the UM33A digital indicator with alarms. With this network function, a single UM33A digital indicator can receive, process and sequentially display data from up 
...
Read more...
---
Remote monitoring and telemetry at power station water plants
July 2018, Omniflex Remote Monitoring Specialists , Data Acquisition & Telemetry
The wireless ability to manage pumps remotely over long distances is now available using Omniflex's Teleterm M3 Radio RTUs. This full functionality IEC61131 PLC enables both control and wireless communications 
...
Read more...
---
Purely analog signal conditioning
June 2018, GHM Messtechnik SA , Data Acquisition & Telemetry
IMTRON, part of the GHM Group, has launched the Purely Analogue Signal Conditioning TSA modules that offer well-established methods for processing, filtering, amplifying and galvanically isolating sensor 
...
Read more...
---
KPMs rotary consistency transmitter boosts pulp mill performance
May 2018 , Data Acquisition & Telemetry
In today's pulp and paper-making market place, consistency measurement is one of the most important ways to keep costs as low as possible without sacrificing quality or production throughput. KPM's KC/5 
...
Read more...
---