printer friendly version
Training courses and exhibitions
March 2001
Training & Education
TM Automation has compiled a two-day training course that will familiarise all technical personnel with hands-on knowledge of the Toshiba automation product range and application thereof.
Courses are held at TM Automation offices in Meyersdal, Alberton with lunch served on the consecutive course days. Accommodation for all delegates will be arranged on request.
Each delegate will receive the Toshiba PLC starter pack, comprising:
* Toshiba 16 I/O PLC.
* Toshiba TPDS for Windows programming software.
* T1-PC programming cable.
* PLC manuals in electronics format.
This will enable the delegate to further studies on the PLC at his work premises. Courses are conducted using handheld programmer but delegates are welcome to use their own laptop computer. Courses are limited to six delegates to provide individualised attention.
Training course schedule for 2001
For bookings, call Tricia Golding (011) 867 2737.
3-4 April 2001
8-9 May 2001
5-6 June 2001
3-4 July 2001
7-8 August 2001
4-5 September 2001
2-3 October 2001
6-7 November 2001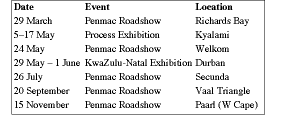 Toshiba automation products such as the T1 and T2 PLC ranges as well as the VF-S9 inverter range will be exhibited at various shows throughout the year. Existing and new users will be happy to find a new but familiar force behind the distribution of the Toshiba automation product range, to improve the availability and support of the products. The PLC and inverter products are now supported under one umbrella and the great interlinking possibilities between these products will now be explored.
TM Automation will be exhibiting at the upcoming events detailed in the table.
TM Automation
(011) 867 2737
tmautomation@worldonline.co.za
Further reading:
New product releases from SMC Corporation International Training
September 2020, SMC Corporation South Africa , Training & Education
To ensure a smooth transition and integration for learners from education institutes into industry, SMC International Training equipment is designed based on the latest automation technology used in industry.
Read more...
---
Adapting education to the fourth industrial revolution
September 2019 , Training & Education
In order to establish a firm value proposition for Industry 4.0, it has to start at the FET (Further Education and Training) level, in schools and TVET (Technical, Vocational Education and Training) colleges, at the HET (Higher Education and Training) level, in universities, and all training providers.
Read more...
---
Automation education and training in South Africa – Part 3: Funding model
August 2019, SAIMC , Training & Education, SAIMC
In the final article of this series, we present a possible funding model to achieve the ideas outlined in the previous two parts.
Read more...
---
Swellendam's Technology Winter School
June 2019 , Training & Education
On an otherwise ordinary working day during 2015, Wynand Kotzé and Johan Reyneke discussed the 'challenges' young people face when making a career choice. They both had children about to finish school 
...
Read more...
---
Customised training solutions
Africa Automation Fair 2019 Preview, Rascals Automation Training and Solutions , Training & Education
Rascals Automation Training & Solutions offers customised solutions for technology in the industrial and domestic markets. Services include customised training solutions based on a full employee skills 
...
Read more...
---
Automation education and training vital for South Africa's development - Part 1: Our ability to provide the skills of Industry 4.0 is wanting.
March 2019, SAIMC , Training & Education
In the automation industry, the education and training provided at universities and colleges have, for various reasons, drifted away from industry ­requirements. The SAIMC plans to close this gap, whatever 
...
Read more...
---
Reimagining skills development
October 2018, Rockwell Automation , Training & Education
Consider the wider potential application for skilling people beyond the immediate environments of organisations.
Read more...
---
Online education is coming of age
October 2018 , Training & Education
Hands-on engineering via remote and virtual laboratories and simulation software.
Read more...
---
An examination of the current qualification options available to student engineers in South Africa
August 2018 , Training & Education
The discussion in this article focuses on the third milestone in a learner's career, i.e. from education into industry.
Read more...
---
Free-to-attend seminars to share latest industry insights
August 2018 , News, Training & Education
Taking place from 10-14 September at the Expo Centre in Nasrec, Johannesburg, visitors to this year's Electra Mining Africa will not only have the potential of engaging with 900+ exhibitors across the 
...
Read more...
---