printer friendly version
Air gun complies with OHSA requirements
February 2008
Pneumatics & Hydraulics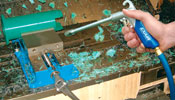 The new heavy duty safety air gun from EXAIR, uses air nozzles engineered for safe operation, efficient air consumption and low noise levels. The range of nozzles allows users to tailor air consumption, force and sonic level to specific requirements.
The ergonomic composite rubber grip and wide curved trigger make it comfortable for hours of usage without fatigue. It has a durable cast aluminium body that is designed for rugged, industrial environments. A range of aluminium extension pipes is available if additional reach is required.
The device is equipped with a large 3/8 NPT compressed air inlet to increase the airflow available to the super air nozzle, resulting in higher force and flow than other air guns. The air exhausts from the nozzles have been engineered to deliver the maximum force at minimum air consumption. Typical applications include:
* Parts cleaning.
* Chip removal.
* Part drying.
* Liquid blowoff.
* Part cooling.
* Part ejection.
Designed for low sound emissions and airflow that cannot be blocked, the device complies with OHSA standards. The sound level is quiet and the airflow cannot be blocked, thus complying with OHSA standards.
Credit(s)
Further reading:
How do you audit a compressed air system?
Artic Driers International Pneumatics & Hydraulics
The British and American governments estimate that as much as 10% of all electricity generated is consumed by air compressors, and that some 50% of this energy is wasted. Air leaks alone can account for 
...
Read more...
---
The shortest distance between concept and solution
Pneumatics & Hydraulics
QuickDesign is the only free, browser-based integrated package design program in the hydraulics industry. And now it includes a new SmartConnect browser-based schematic tool that allows you to take 
...
Read more...
---
Wireless communication and control of electro-pneumatic manifolds and IO
SMC Corporation South Africa Pneumatics & Hydraulics
Pneumatic solenoid valves, for many decades,were controlled through discrete wiring,with each solenoid individually wired and connected to a common cable, such as a 25-pin D-sub connector. Technology 
...
Read more...
---
Streamlined production with Festo Core Range
Festo South Africa Pneumatics & Hydraulics
Festo has developed an innovative product portfolio that contains a selection of over 2500 attractively priced quality products that have been designed with the optimised functionality necessary to fulfil numerous standard automation tasks.
Read more...
---
Destructive cavitation in hydraulic systems
Hydrasales Pneumatics & Hydraulics
Cavitation results from excessive vacuum conditions at the inlet to a pump. High vacuum creates vapour bubbles within the oil, which are carried to the discharge (pressure) side. These bubbles then collapse, 
...
Read more...
---
Optimising hydraulic controls
Parker Hannifin - Sales Company South Africa Pneumatics & Hydraulics
Parker Hannifin has launched two components − the Parker Automation Controller PAC120 and the electro-hydraulic controller module PACHC − that together offer an innovative solution for the automation 
...
Read more...
---
High performance hydraulic hose
Pneumatics & Hydraulics
Gates has launched a new line of professional grade hydraulic hoses offering high performance in hydraulic applications across a wide range of end-markets.
Read more...
---
Breathing life into your machines through leading Pneumatic Automation solutions
Festo South Africa Pneumatics & Hydraulics
The pneumatics stage of Festo's three-part 'Absolute Automation 2.0' campaign takes customers on a journey to higher productivity.
Read more...
---
For more energy-efficient pneumatics, 4 is greater than 7
SMC Corporation South Africa Pneumatics & Hydraulics
To help expedite a project that involves designing a machine for 4 bar operating pressure, SMC's expert team can deliver the optimal outcome for both OEMs and end users.
Read more...
---
Increase profits by monitoring your compressed air
Artic Driers Pneumatics & Hydraulics
To find leaks is one thing, but quantifying the volume of air leakage and the associated costs is quite another.
Read more...
---