printer friendly version
Land Ladle Safety System: automated torpedo car refractory monitoring
November 2007
Temperature Measurement
The problem
Integrated steel mills use torpedo cars to transport molten metal from the blast furnace to the steelworks. Each car has a torpedo shaped ladle that can carry up to 250 tons of liquid metal. The ladle is lined with refractory brick to keep the contents liquid and protect the outer steel shell. The volatility and erosive nature of molten metal make monitoring the torpedo car's refractory lining a vital maintenance function. The consequence of a breakout is considerable, in terms of safety and cost. A single breakout can cost US$250 000 or more.
Solution
The Land Ladle Safety System, which uses a Landscan Infrared Linescanner, produces highly detailed thermal profiles of each side of the car from a short distance. This enables the Safety System to view very small surface details.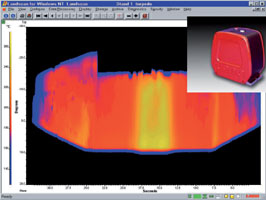 Thermal profile of a torpedo car showing measurement zones
As each car passes a measurement station, ID tags on the car provide a car number and temperature data to the monitoring software. The direction of movement is also detected.
An image file is automatically saved for each side of every car with the same information. In addition, the complete view is divided in areas (50 for example). For each area the maximum and average temperatures are stored in an historical database. This provides long term trending of individual areas on each torpedo car. This database and stored images are accessible from computers on the company network. It is also possible to transfer data to the company process control system for further analysis and storage.
System benefits:
* Avoidance of a breakout and its consequences - time, material, labour.
* Automated process - saves cost and man time.
* Historical thermal image database of both sides of every car.
* Analysis of area data over a long time can reduce refractory relining cost, by permitting more runs between relines and the ability to do partial relines.
* Increased safety.
* Improved confidence in refractory condition and safety of cars.
* Planned refractory relining maintenance schedule.
Landscan temperature measurement system
The Landscan LSP series linescanner head is extremely compact and has a minimised depth and base footprint. A built-in laser targeting system aids alignment on to the target.
Features
* Compact size with robust sapphire window.
* Wide angle 80° scan.
* Scan speed 10-100Hz (adjustable).
* 100:1 field of view (95% energy).
* Built-in laser to define scan plane and angle.
* Single cable connection.
The output from the linescanner head is converted into a data string of 100 readings per scan line with a maximum frequency of 100 lines/second and is transmitted to a Landscan Control processor. The Landscan Control processor provides all the calculations required, such as zone output and alarms for each scan line. The Landscan Control Batch (LSC-B) provides additional product orientated functionality. LSC-B can detect, in conjunction with the ID tag reader, the beginning and end of the torpedo car and stores the measured data internally. The LSC-B calculates area temperatures, based on this two dimensional array. For a torpedo car the array is typically divided into 50 fields (5x10).
For more information contact Jerry Smits, Protea Automation Solutions, +27 (0)11 719 5792, pas@protea.co.za, www.protea.co.za
Credit(s)
Further reading:
Air humidity/temperature sensor with IO-Link
Turck Banner Temperature Measurement
Turck Banner is offering cost-effective condition monitoring in the field and in IIoT applications with its first combined air humidity/temperature sensor; it is very easy to integrate thanks to the IO-Link interface.
Read more...
---
Temperature transmitters with hybrid digital/analog output
Morton Controls Temperature Measurement
Thanks to its flexible communication with plug-and-play simplicity, time and costs are saved during installation and commissioning.
Read more...
---
Temperature monitoring simplified
Omniflex Remote Monitoring Specialists Temperature Measurement
Up to 32 mLC8s are supported by the touchscreen HMI, so a system with 2560 temperature points can conceivably be constructed.
Read more...
---
Compact infrared camera for the metal industry
Instrotech Temperature Measurement
The camera's wide temperature measurement range of 450-1800°C satisfies practically all demands in the fields of metal production and processing.
Read more...
---
Imaging system for slowly rotating kiln shells
R&C Instrumentation Temperature Measurement
The Raytek CS400 system is able to synchronise thermal imaging at speeds as low as 2 revolutions per hour.
Read more...
---
Tubeskin thermocouple assembly
WIKA Instruments Temperature Measurement
The proprietary thermal shield design of the Tefracto-Pad is a patent-pending WIKA innovation in several countries.
Read more...
---
Pyrometer for hazardous areas
R&C Instrumentation Temperature Measurement
The intrinsically safe version of Fluke's versatile Thermalert 4.0 is fully Ex certified for use in Zones 1 and 2 (gas) and Zones 21 and 22 (dust).
Read more...
---
High-temperature infrared thermometer
Comtest Temperature Measurement
The instrument ships with a USB 2.0 computer interface cable, FlukeView Forms documenting software and the standard Fluke 2-year warranty.
Read more...
---
Infrared camera for glass manufacturing
Instrotech Temperature Measurement
The Optris PI 450 G7 allows for the capturing of real-time thermal images of everything from glass beads right up to large panes.
Read more...
---
The evolution of infrared line scanning technology
R&C Instrumentation Temperature Measurement
Instrumentation manufacturers are responding to industry demands by designing IR scanners that not only provide better online performance, but also greater simplicity and ease of use.
Read more...
---