printer friendly version
Professional training courses for hands-on learning
February 2001
Training & Education
As a largely untapped resource, fundamental control technology has considerable scope for growth in many areas of manufacturing industry and in operations of all sizes. The successful implementation and maintenance of hydraulic and pneumatic control systems, for example, points to greater production volumes and increased safety - revealing on the whole a potential industry boost that could be especially beneficial in developing countries.

Candidates at a Festo Didactic training course practise control technology skills using working, fully functional industrial training equipment
In South Africa, a shortage of expertise is one major factor currently hindering progress of this kind, such that certain industry specialists are taking it upon themselves to equip the workforce with adequate skills.
A notable example of this is Festo Didactic, established by mechatronic giant Festo in 1973 as a largely independent training organisation worldwide. Festo Didactic provides 50% hands-on and 50% theory instruction in the fields of hydraulics, pneumatics, associated electrics/electronics and programmable logic controllers. The company has already trained over 20 000 participants throughout South Africa, with over R1,5m invested in live industrial training equipment designed specifically for highly effective hands-on use by trainees.
The various courses cater for all levels, from newcomers to advanced practitioners, and cover the fundamentals of control technology, circuit design, reading and construction, as well as maintenance, fault-finding and repair of machinery. Subject matter is generic and not product-specific, enabling artisans, learner artisans, machine operators, foremen, technicians, engineers and draughtsmen to gain significant skills in order to understand these control technologies both in theory and in practice.
Courses with current MERSETA accreditation in accordance with the Skills Development Act are held at Festo Didactic's specifically equipped industrial training centres in Durban, Cape Town, Johannesburg, Port Elizabeth and East London. The course schedule for February, March and April this year is as follows: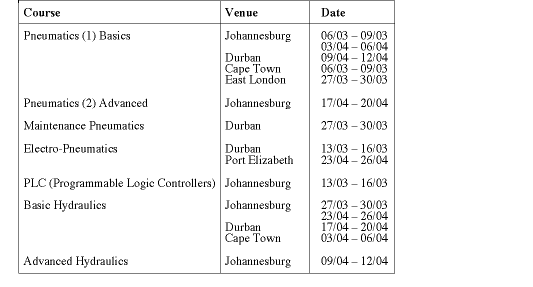 The four-day courses take place at Festo Didactic's own fully equipped, modern lecture rooms, starting at 08h00 and finishing at 16h00. The total cost of all courses includes all lunches, teas and training materials. Contact Festo Didactic for any further information.
Festo Didactic
(011) 971 5500
Further reading:
New product releases from SMC Corporation International Training
September 2020, SMC Corporation South Africa , Training & Education
To ensure a smooth transition and integration for learners from education institutes into industry, SMC International Training equipment is designed based on the latest automation technology used in industry.
Read more...
---
Adapting education to the fourth industrial revolution
September 2019 , Training & Education
In order to establish a firm value proposition for Industry 4.0, it has to start at the FET (Further Education and Training) level, in schools and TVET (Technical, Vocational Education and Training) colleges, at the HET (Higher Education and Training) level, in universities, and all training providers.
Read more...
---
Automation education and training in South Africa – Part 3: Funding model
August 2019, SAIMC , Training & Education, SAIMC
In the final article of this series, we present a possible funding model to achieve the ideas outlined in the previous two parts.
Read more...
---
Swellendam's Technology Winter School
June 2019 , Training & Education
On an otherwise ordinary working day during 2015, Wynand Kotzé and Johan Reyneke discussed the 'challenges' young people face when making a career choice. They both had children about to finish school 
...
Read more...
---
Customised training solutions
Africa Automation Fair 2019 Preview, Rascals Automation Training and Solutions , Training & Education
Rascals Automation Training & Solutions offers customised solutions for technology in the industrial and domestic markets. Services include customised training solutions based on a full employee skills 
...
Read more...
---
Automation education and training vital for South Africa's development - Part 1: Our ability to provide the skills of Industry 4.0 is wanting.
March 2019, SAIMC , Training & Education
In the automation industry, the education and training provided at universities and colleges have, for various reasons, drifted away from industry ­requirements. The SAIMC plans to close this gap, whatever 
...
Read more...
---
Reimagining skills development
October 2018, Rockwell Automation , Training & Education
Consider the wider potential application for skilling people beyond the immediate environments of organisations.
Read more...
---
Online education is coming of age
October 2018 , Training & Education
Hands-on engineering via remote and virtual laboratories and simulation software.
Read more...
---
An examination of the current qualification options available to student engineers in South Africa
August 2018 , Training & Education
The discussion in this article focuses on the third milestone in a learner's career, i.e. from education into industry.
Read more...
---
Free-to-attend seminars to share latest industry insights
August 2018 , News, Training & Education
Taking place from 10-14 September at the Expo Centre in Nasrec, Johannesburg, visitors to this year's Electra Mining Africa will not only have the potential of engaging with 900+ exhibitors across the 
...
Read more...
---