printer friendly version
Endress+Hauser receives training accreditation
January 2001
Training & Education
Endress+Hauser, a leading field instrumentation specialist, has recently been accredited as an experiential training partner by the Technikon Witwatersrand. A limited number of final-year Electrical Engineering Diploma students in the field of process instrumentation will be invited to spend a six-month period with the company, gaining much needed practical experience relevant to their fields of study. While the three-year diploma does include both theoretical and laboratory exercises, experiential training allows students to acquire valuable practical field experience, both in the state-of-the-art service department of Endress+Hauser, and on-site at the process.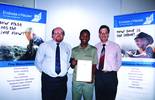 Johann Fouché, Lita Mpahlwa and Nico Marneweck at the accreditation ceremony
At the recent accreditation award ceremony, Johann Fouché, Head, School of Electrical Engineering, Technikon Witwatersrand, remarked: "This partnership between our Technikon and Endress+Hauser has far-reaching and very significant implications for our students and in the interest of skills development, we hope to replicate this initiative countrywide."
"Technikons have very strict experiential training programme standards," says Endress+Hauser Service Manager Nico Marneweck. "Companies that apply for accreditation must comply to a specific set of topical criteria. Once accredited, these companies become part of an Advisory Committee, which sets the rules and guidelines for experiential training from both academic and industry perspectives.
"Our decision to make our knowledge and services available to Technikons and universities should be seen as more than just a contribution in the fight against South Africa's growing lack of practical skills and experience, it should be recognised as a concerted effort by Endress+Hauser to ensure that Electrical Engineering Diplomas and Degrees remain relevant to the needs and technologies dominating our local market at any given time," Marneweck explains, "and we encourage other vendors in the instrumentation market to follow this example.
"Our first student - and we intend taking in a number of students annually - has already been in attendance for two and a half months," Marneweck reveals. "He has made a very good impression and certainly set high standards for future attendees."
Credit(s)
Further reading:
Safe operation of LNG tanks
September 2020, Endress+Hauser South Africa , IS & Ex
Endress+Hauser's innovative instrumentation and advanced inventory management solutions for LNG storage tanks ensure safe operation of plant and high levels of inventory transparency.
Read more...
---
New iTEMP transmitter with Bluetooth
September 2020, Endress+Hauser South Africa , Temperature Measurement
Endress+Hauser's new iTEMP TMT142B temperature transmitters deliver highly accurate and reliable measurements, wireless communication via Bluetooth and user-friendly operation packaged in a robust single-chamber field housing.
Read more...
---
New product releases from SMC Corporation International Training
September 2020, SMC Corporation South Africa , Training & Education
To ensure a smooth transition and integration for learners from education institutes into industry, SMC International Training equipment is designed based on the latest automation technology used in industry.
Read more...
---
Endress+Hauser strengthens the protection of intellectual property
August 2020, Endress+Hauser South Africa , News
For 20 years now, a separate department at Endress+Hauser has been dealing exclusively with the protection of intellectual property. In 1999, the company merged and realigned all activities in this field. 
...
Read more...
---
Endress+Hauser recognised as leader in liquid analysis
August 2020, Endress+Hauser South Africa , News
Based on its recent analysis of the global liquid analyser market, the market research and consulting firm Frost & Sullivan honored Endress+Hauser as the 2020 Global Company of the Year. The Group impressed 
...
Read more...
---
IO-Link in manufacturing
August 2020, Endress+Hauser South Africa , Fieldbus & Industrial Networking
IO-Link is the youngest member in the portfolio of Endress+Hauser devices and brings digitalisation to basic instruments. The technology helps save on cabling and integration time, as well as expanding the amount of available I/O.
Read more...
---
Endress+Hauser Switzerland turns 60
June 2020, Endress+Hauser South Africa , News
The Swiss sales centre of Endress+Hauser is celebrating its 60th anniversary. Active in Switzerland since 1960, today the global leader in measurement instrumentation, services and solutions for industrial 
...
Read more...
---
How IIoT solutions can help your plant go digital
July 2020, Endress+Hauser South Africa , IT in Manufacturing
Everyone is talking about the new normal, a shift that is forcing companies to adopt a digital strategy, one way or another, in order to remain relevant and competitive in these unprecedented times. Many 
...
Read more...
---
Endress+Hauser sees itself as well positioned
May 2020, Endress+Hauser South Africa , News
Endress+Hauser performed well across all fields of activity, industries and regions in 2019. The Group created hundreds of new jobs, invested record amounts and improved in the area of sustainability. 
...
Read more...
---
The complexity of water management in mines
June 2020, Endress+Hauser South Africa , Flow Measurement & Control
Water is a critical resource for the mining industry, either in the mining processes, as a feed to the beneficiation of minerals process, or for potable use. With the growing demand and increased scarcity 
...
Read more...
---