printer friendly version
Optical sensing family
July 2005
Sensors & Transducers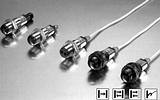 The 8000 series consists of a self-contained transmitter (SMT) and a receiver (SMR) which are to be used in through-beam mode, an SMP for diffuse proximity, SMRR for retro reflective and an SMPF for use with fibre-optic cables. All are offered with sensitivity adjustment via integral potentiometer with either cable or plug connection.
The complete series is availble either as 3 wire, NPN or PNP transistor output with a 10-30 V d.c. supply voltage, or as 2 wire, SCR with a 20-250 V a.c. supply voltage, both offering switch selectable light or dark function. The control input in the 10-30 V d.c. SMT is intended to be used for disabling or enabling the transmitting power temporarily for test purpose or for multiplexing applications.
The DC series is protected against reverse polarity of power supplies, control input and output signals. The output is protected against short circuit and inductive loads.
For more information contact Telco-Gail Norton Instrumentation, 031 701 4861.
Further reading:
Washdown protected photoelectric sensors
February 2020, Turck Banner , Sensors & Transducers
Banners new T18-2 photoelectric sensors have an FDA-grade shatterproof plastic housing and are IP69K rated and Ecolab certified to protect against water ingress and chemical washdown.   
IP69K and epoxy 
...
Read more...
---
Precise position measurement in packaging
February 2020, Countapulse Controls , Sensors & Transducers
Precision monitoring and accurate measurement of distances is essential for smooth running in both production and intralogistics operations. Optical distance sensors are generally used for this purpose 
...
Read more...
---
Increased traceability for tobacco manufacturer
February 2020, SICK Automation Southern Africa , Sensors & Transducers
SICK Automation South Africa recently installed 120 image-based 2D barcode readers across multiple scanning stations in a South African tobacco manufacturing plant. The cigarette manufacturer was looking 
...
Read more...
---
Collision avoidance and navigation support
February 2020, SICK Automation Southern Africa , Sensors & Transducers
From electric lifting trucks and order pickers to tugs and mobile transport platforms, warehouses are benefitting from SICK Automation's 2D LiDAR sensors. These sensors from the TiM series ensure collision-free 
...
Read more...
---
Software platform for vision systems
February 2020, ASSTech Process Electronics + Instrumentation , Sensors & Transducers
With ASSTech's new product offering from Wenglor, two and three dimensional data from smart cameras, vision systems and control units with 2D/3D profile sensors can now be evaluated via a central software 
...
Read more...
---
Direct mounting absolute encoder with Profibus interface
February 2020, Instrotech , Sensors & Transducers
Instrotech has announced Scancon's Model: SCH88BEX, a new ATEX absolute encoder with Profibus Interface. It is a strong, compact (89 mm footprint), cost-effective hollow-bore encoder engineered for rugged 
...
Read more...
---
Point and shoot laser distance meter
February 2020, Comtest , Sensors & Transducers
Comtest has announced Fluke's new 417D, an accurate, durable, point and shoot laser distance meter, designed for indoor and outdoor, dusty and wet conditions. The easy, one-button operation means users 
...
Read more...
---
New scanner expands barcoding capabilities
February 2020, Turck Banner , Sensors & Transducers
The iVu BCR series adds the Code 93, GS1 DataBar, and PDF417 barcode types to the broad spectrum of supported barcodes. This opens up new opportunities for iVu BCR Series barcode readers to solve applications 
...
Read more...
---
Conductivity measurement in CIP processes
January 2020, Morton Controls , Sensors & Transducers
CIP cleaning facilities are primarily used in those installations where hygiene and product safety are paramount, for instance breweries and food production. Throughout the process the complete production 
...
Read more...
---
Sensors for predictive maintenance solutions
December 2019, Turck Banner , Sensors & Transducers
Banner Engineering's QM30VT series sensors build on the capabilities offered by the QM42VT Series sensors they replace. They maintain all the same functionality, registers, and scaling, however, their 
...
Read more...
---