printer friendly version
New pressure sensors for many applications
July 2005
Sensors & Transducers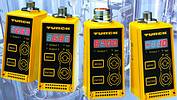 Turck is offering a new line of programmable pressure sensors that are available with a variety of options suitable for virtually any pressure analysis application. The robust devices operate on the piezoresistive principle, and have no moving mechanical parts to wear out. Capable of measuring in either bar or psi units, the new sensors are suitable for monitoring pressure in applications such as automotive welding, hydraulic clamping systems, machine coolant, pump run dry, vacuum for pick and place systems, and other precision pressure analysis applications.
The new sensors are easy to set up. Programming is achieved using pushbuttons on the front of the sensor, and requires no pressure to set up. This allows users to reduce downtime, by programming parameters before installation. Programmable features, including PNP or NPN outputs, bar or psi measuring units, setpoint and response time delays, peak pressure memory function, and 13 pressure ranges from Vacuum to 1 bar (100 kPa), provide the flexibility to adapt and perform in any application.
The self-contained units can monitor pressure up to 60 MPa, and offer adjustable switch point response times from 5 ms to 500 ms. All models include a 4-digit, 7-segment digital display that facilitates set up via a programming menu and provides continuous pressure data.
The sensors are available in AC or DC, with analog outputs, switching outputs, or both. The outputs can be used in the standard hysteresis mode for over/under pressure or as a window. On the analog output models, the upper range of the analog output can be adjusted to meet specific application needs. Analog output models also include a shunt calibration function for manual or automatic diagnosis. The dual output version offers two setpoints that can be programmed completely independent of one another. The dual outputs can be set up for normally-open or normally-closed standard hysteresis or window function, NPN or PNP, or any combination therefore. Integral circuitry protects the sensors from short-circuit damage.
The rugged units combine a metal housing, ceramic piezoresistive measuring cell, and stainless steel hydraulic connection to provide 10-million cycle rating and extremely high pressure ratings. A clear plastic cover protects the face of the sensors while allowing the digital display and output LEDs to be seen. Turck pressure sensors are CE, UL and CSA approved, and conform to IP67 standards.
For more information contact RET Automation Controls, 011 453 2468, www.retauto.co.za, info@retauto.co.za
Credit(s)
Further reading:
Pressure sensors with touchpads
December 2019, Turck Banner , Pressure Measurement & Control
Turck has launched its new PS+ series pressure sensors, a modular range that enables access to reliable measuring instruments with intuitive operation. The sensors are easily commissioned and overhead 
...
Read more...
---
Sensors for predictive maintenance solutions
December 2019, Turck Banner , Sensors & Transducers
Banner Engineering's QM30VT series sensors build on the capabilities offered by the QM42VT Series sensors they replace. They maintain all the same functionality, registers, and scaling, however, their 
...
Read more...
---
On safe paths with Leuze
December 2019, Countapulse Controls , Sensors & Transducers
When using the principle of triangulation for navigating automated guided vehicles (AGVs), vehicles are often equipped with two different scanners – one for safety and one for navigation. Now there is 
...
Read more...
---
Electronic position indicator with Ethernet interface
December 2019, Instrotech , Sensors & Transducers
Instrotech now offers the Siko AP20 position indicator, equipped to detect the position of spindle adjustments in machines. It displays the corresponding positional data to the operator and passes it 
...
Read more...
---
Inline measurement in chemical process monitoring and control
December 2019 , Sensors & Transducers
For reasons of quality and safety, the control of processes in the chemical industry is essential. The monitoring should be done directly in the process, continuously, and on a real-time basis. Modern 
...
Read more...
---
Setting the future standard for 3D image processing
November 2019, SICK Automation Southern Africa , Sensors & Transducers
SICK Automation has set the future standard for 3D image processing with regard to technology, speed, resolution and ease of integration. The company's Ranger3 3D vision camera is capable of taking high 
...
Read more...
---
Banner Engineering simplifies monitoring of rotating equipment
November 2019, Turck Banner , Industrial Wireless
Banner's Wireless Solutions Kit for vibration monitoring is a fully integrated and easy-to-use solution for monitoring assets with rotating motion. It is designed to make it easy for users of any experience 
...
Read more...
---
Millimetre perfect from ifm electronic
November 2019, ifm - South Africa , Sensors & Transducers
Precise ToF distance sensor for demanding applications
Thanks to the innovative on-chip time-of-flight principle with PMD technology (photonic mixer device), the new OGD precision sensor from ifm electronic, 
...
Read more...
---
Bright, versatile illumination
November 2019, Turck Banner , Sensors & Transducers
The bright, uniform output of the WLB72 reduces shadows, improves visibility and gives workers the light they need to work efficiently and without making mistakes. A diffuse window minimises eye strain 
...
Read more...
---
Time synchronise your key remote sites
November 2019, Omniflex Remote Monitoring Specialists , Sensors & Transducers
Managing processes where root cause identification is rapidly identified can generate substantial savings though improved productivity and implementation of planned preventive maintenance schedules. Knowing 
...
Read more...
---