printer friendly version
Electrical power signals source
July 2005
Electrical Power & Protection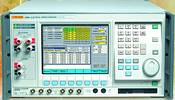 Comtest is offering what is believed to be the first truly universal power standard, the Fluke 6100A Electrical Power Standard. It represents an improvement to current calibration methods that lack appropriate accuracy or rely solely on pure sinusoidal signals that do not reflect the properties of electrical power in the marketplace.
Deregulation of the power industry is leading to an increase in the number of suppliers feeding into the world's transmission and distribution systems, as well as a great deal of variability in power quality. Undesirable phenomena such as harmonic distortion, noise and transients, and sags and swells are now common on power supply networks. This in turn is driving the need to make accurate, consistent measurements of power and power quality. Today's measurement technology is hampered in this effort by a lack of effective, accurate standards to calibrate power measurement instruments. This greatly impacts on the manufacturers of power quality measurement equipment and certification bodies who are the providers of primary measurement support and/or traceability to municipalities and large power users.
The Fluke 6100A is an accurate, multiphase, scalable system for calibrating power measurement tools to meet the new demands of the global market. With the Fluke 6100A, power and power quality measurement devices can be checked, verified, and calibrated with one instrument.
Undesirable phenomena can be reliably generated individually or simultaneously to determine the ability of these devices to detect and measure it under actual conditions. It provides an accurate, controllable source of pure sinusoidal electrical power, harmonically distorted electrical power, user definable sags and swells and user definable flicker.
The 6100A is also configurable from one to four phases, allowing users to create a system that matches their needs, but is also easily expanded. Consisting of a master unit, which provides the first phase, and auxiliary units that provide up to three additional phases controlled through the master unit, the Fluke 6100A is configurable to the differing power voltages and frequencies that have been adopted globally, enabling the user to select relevant values for the measurements being made. The Windows user interface provides familiar commands and settings, reducing the training required for user fluency.
Fluke says that its 6100A represents the first integrated system on the market to provide users the ability to guarantee the accuracy of the power measurement tools they design, manufacture, verify and calibrate, or use to make measurements. It is a suitable standard for power meters, power factor meters, power quality analysers, power recorders, and power meters with quality measurement capabilities.
Comtest is the sole authorised distributor of Fluke Industrial and Electrical test tools in southern Africa. Fluke is a world leader in the manufacture, distribution and service of electrical and industrial test tools solutions.
For more information contact Val Verwer, Comtest, 011 695 9162 info@comtest.co.za
Further reading:
Enabling IIoT connectivity for virtual power plants
December 2019, RJ Connect , Electrical Power & Protection
The power grid has seen many changes that have enabled the integration of power from distributed energy sources (DERs).
Read more...
---
DIN rail power supply for demanding applications
December 2019, ElectroMechanica , Electrical Power & Protection
Automated production systems require power supplies with high stability and safety protection. DIN rail power supply series for such demanding applications are available from Delta Electronics, distributed 
...
Read more...
---
Dry-type transformers go mainstream
December 2019 , Electrical Power & Protection
The uptake of dry-type transformers in South Africa is now well beyond 'niche' applications, with local specialist Trafo Power Solutions installing a range of sizes across various sectors. "In recent 
...
Read more...
---
Robust embedded power supply series
December 2019, RS Components SA , Electrical Power & Protection
RS Components (RS) has announced the availability of a new series of AC-DC embedded switch-mode power supplies (SMPS) from TDK-Lambda. The cost-effective RWS-B series of AC-DC industrial power supplies 
...
Read more...
---
Ultra-compact soft starter with protection
December 2019, Vepac Electronics , Electrical Power & Protection
The Tele Christian P4.0/RL/TP/IC electronic soft starter is, with all of its integrated functionality, designed for ultra-compact installation. It helps to reduce wiring material, installation time and 
...
Read more...
---
Latest power monitoring device
November 2019, ElectroMechanica , Electrical Power & Protection
A new panel-mounted power monitoring device (PMD) from Socomec has been launched locally by ElectroMechanica (EM). The Socomec DIRIS A-40 has been designed for measuring, monitoring, and reporting electrical 
...
Read more...
---
WEG IE3 compliant motor control and protection
October 2019, Zest WEG Group , Electrical Power & Protection
The increased move towards the use of IE3 electric motors has made it increasingly important that the most appropriate starting method be selected to ensure optimum performance. With this move it is essential 
...
Read more...
---
Electronic monitoring devices from EM
October 2019, ElectroMechanica , Electrical Power & Protection
A comprehensive range of electronic monitoring and timing devices in different formats for ease of use and retrofit purposes is available from ElectroMechanica (EM). The ElectroDev units are suited to 
...
Read more...
---
Integrated earth leakage protection
October 2019, Schneider Electric South Africa , Electrical Power & Protection
Schneider Electric has announced the introduction of integrated earth leakage protection for its Compact NSX and NSXm moulded circuit breaker ranges. "The award-winning Compact NSX moulded case circuit 
...
Read more...
---
Batteries in motive power applications
October 2019, Comtest , Electrical Power & Protection
When discussing motive power applications, the initial thought is that their batteries must be similar to transportation batteries. After all, this equipment is 'motive' just like a car or truck. However, 
...
Read more...
---