printer friendly version
Electrical power signals source
July 2005
Electrical Power & Protection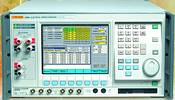 Comtest is offering what is believed to be the first truly universal power standard, the Fluke 6100A Electrical Power Standard. It represents an improvement to current calibration methods that lack appropriate accuracy or rely solely on pure sinusoidal signals that do not reflect the properties of electrical power in the marketplace.
Deregulation of the power industry is leading to an increase in the number of suppliers feeding into the world's transmission and distribution systems, as well as a great deal of variability in power quality. Undesirable phenomena such as harmonic distortion, noise and transients, and sags and swells are now common on power supply networks. This in turn is driving the need to make accurate, consistent measurements of power and power quality. Today's measurement technology is hampered in this effort by a lack of effective, accurate standards to calibrate power measurement instruments. This greatly impacts on the manufacturers of power quality measurement equipment and certification bodies who are the providers of primary measurement support and/or traceability to municipalities and large power users.
The Fluke 6100A is an accurate, multiphase, scalable system for calibrating power measurement tools to meet the new demands of the global market. With the Fluke 6100A, power and power quality measurement devices can be checked, verified, and calibrated with one instrument.
Undesirable phenomena can be reliably generated individually or simultaneously to determine the ability of these devices to detect and measure it under actual conditions. It provides an accurate, controllable source of pure sinusoidal electrical power, harmonically distorted electrical power, user definable sags and swells and user definable flicker.
The 6100A is also configurable from one to four phases, allowing users to create a system that matches their needs, but is also easily expanded. Consisting of a master unit, which provides the first phase, and auxiliary units that provide up to three additional phases controlled through the master unit, the Fluke 6100A is configurable to the differing power voltages and frequencies that have been adopted globally, enabling the user to select relevant values for the measurements being made. The Windows user interface provides familiar commands and settings, reducing the training required for user fluency.
Fluke says that its 6100A represents the first integrated system on the market to provide users the ability to guarantee the accuracy of the power measurement tools they design, manufacture, verify and calibrate, or use to make measurements. It is a suitable standard for power meters, power factor meters, power quality analysers, power recorders, and power meters with quality measurement capabilities.
Comtest is the sole authorised distributor of Fluke Industrial and Electrical test tools in southern Africa. Fluke is a world leader in the manufacture, distribution and service of electrical and industrial test tools solutions.
For more information contact Val Verwer, Comtest, 011 695 9162 info@comtest.co.za
Further reading:
Electrical loggers for energy savings
October 2020, Comtest , Electrical Power & Protection
Fluke energy loggers deliver a complete picture to reduce energy costs and improve the bottom line.
Read more...
---
Power supply components and services for marine applications
October 2020 , Electrical Power & Protection
Vert Energy works closely with the marine and offshore sector offering the supply of quality branded components and the support of a comprehensive repair and maintenance service.
Read more...
---
Mines reduce fire hazards
August 2020 , Electrical Power & Protection
Underground mines in southern, central, and west Africa have been seeing the safety benefits of dry-type transformers from Johannesburg-based Trafo Power Solutions. According to managing director 
...
Read more...
---
RS Components stocks Eaton contactors
August 2020, RS Components SA , Electrical Power & Protection
RS Components now stocks Eaton's complete Moeller series of compact DILMT contactors. Easy to integrate in a variety of industrial machines and systems, the contactors enable space savings of up to 40%, 
...
Read more...
---
Power supplies for building automation
June 2020, Phoenix Contact , Electrical Power & Protection
The new Step Power power supplies from Phoenix Contact are specifically tailored to the needs of modern building automation. With their comprehensive approval package, which includes the standard 
...
Read more...
---
Skid-mounted dry-type transformer
June 2020 , Electrical Power & Protection
In a specialised application on a coal mine, Trafo Power Solutions recently supplied a dry-type transformer mounted on a mobile skid. "The harsh environment of a coal mine required us to specially 
...
Read more...
---
Customised transformers for renewables and beyond
June 2020 , Electrical Power & Protection
A focus on application engineering allows Trafo Power Solutions to supply customised dry-type transformers for a range of sectors including renewable energy. "We begin at the proposal stage by engaging 
...
Read more...
---
Electrical certificate of compliance (COC) for instrumentation: non-hazardous installations
June 2020, Everest Equipment & Control , Electrical Power & Protection
An instrument and control installation's scope of work often never makes a request for a certificate of compliance: it is assumed to be an electrical function and hence many installations are non-compliant. 
...
Read more...
---
Five tips to manage energy use while staying at home
May 2020 , Electrical Power & Protection
Covid-19 continues to impact many aspects of our lives. Many are now required to stay at home in an effort to curb the spread of the pandemic. One of the many implications of staying at home will be the 
...
Read more...
---
Holistic approach to energy security
April 2020 , Electrical Power & Protection
As South Africans settle into the routine and inconvenience of load shedding and planning their activities around shifting electricity supply, it is businesses that are taking the biggest hit through 
...
Read more...
---