printer friendly version
New generation signal conditioning
July 2005
Data Acquisition & Telemetry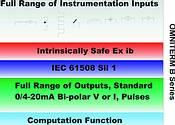 Signal conditioning has been around since the dawn of instrumentation and the requirement of taking measurements in the process plant. Much standardisation in measurement implementation has been introduced over the years for the sake of improved consistency, reliability and compatibility. Performance issues like sensitivity, accuracy, linearity and resolution are all givens in today's signal conditioning instrumentation.
What is new about new generation signal conditioning is that less is needed to do more.
This is certainly true in the case of Omniflex, which offers a wide range of signal conditioning capability that is implemented by the use of a small range of products. Omniflex has achieved this by working at finding ways to reduce the cost of ownership of signal conditioning for the user. At a quick glance, most signal conditioning modules look the same. But the following factors need to be considered in order to make a wise decision:
* Installation costs.
* Spares stock holding.
* Re-calibration costs.
* Reliability.
* Plant safety.
Omniflex has taken all of these factors into account in the design of its Omniterm 'B' series range.
Users can select a solution from the following product groupings to meet their performance and budget requirements:
Loop isolators
This is a typical challenge that relates to all plants no matter how old or new. The elimination of ground loops in analog 4 to 20 mA signal loops is the key to reliable and accurate measurements. There are Omniterm products that can solve these system problems. Whether all that is needed is the isolation of a transmitter from its power source, or the splitting the loop into two for the addition of data acquisition or monitoring.
Signal transmitters
The latest conversion technology combined with software configurability makes Omniterm products among the most accurate and versatile in their class. Universal inputs keep installation costs down, as well as reductions in spares holding and re-calibration costs.
A single transmitter is capable of accommodating inputs: thermocouples, resistance (RTDs), millivolts, DC voltage and DC current - and outputs: DC voltage (bipolar), DC current (bipolar), pulses out (linear integration).
Limit alarms/trip amplifiers
A range of alarm modules is available from simple limit alarms with manually adjustable set points to software configurable units capable of rate-of-change alarming direct from the sensor input.
Computation
While computation is generally performed by the scada, PLC or DCS on the plant, there are often instances when the user has a few analog signals that require manipulation or computation - and it would be handy to be able to process those signals directly in the plant. Omniflex offers modules designed to solve those tricky special functions required in certain processes, where the sensors require to be conditioned according to a more complex mathematical formula. Available functions include deviation, addition, subtraction, multiplication, linearisation, rate-of change, peak, valley, ratio, track-and-hold, etc.
Safety systems - IEC61508
IEC61508 is a standard being adopted for many industries and the requirements are such that the individual components of a system need to be analysed for compliance within the context of the safety system and its safety life cycle. The Omniterm 'B' series are compliant with a SIL 1 rating, making them easy to apply in safety critical applications saving time in the Haz Ops study phase of a project.
Credit(s)
Further reading:
Wireless control of pumps
February 2020, Omniflex Remote Monitoring Specialists , Industrial Wireless
The ability to control a pump remotely over distance and without using wires is simple using Omniflex Teleterm Radio RTUs over a licence free band, avoiding administration of radio frequency band use. 
...
Read more...
---
Advanced controller for data acquisition
December 2019, RJ Connect , Data Acquisition & Telemetry
The ioThinx 4530 series is an advanced modular controller product with a unique hardware design, making it an ideal solution for a variety of industrial data acquisition applications. The controller has 
...
Read more...
---
The importance of up-to-date alarm annunciators
January 2020, Omniflex Remote Monitoring Specialists , IS & Ex
At 1.23 pm on Sunday, 24 July 1994, twenty-six people were injured when an explosion erupted through an oil refinery in an otherwise quiet corner of South Wales in the United Kingdom. The site was occupied 
...
Read more...
---
Time synchronise your key remote sites
November 2019, Omniflex Remote Monitoring Specialists , Sensors & Transducers
Managing processes where root cause identification is rapidly identified can generate substantial savings though improved productivity and implementation of planned preventive maintenance schedules. Knowing 
...
Read more...
---
Omniflex eases mine water compliance
October 2019, Omniflex Remote Monitoring Specialists , System Integration & Control Systems Design
Water licences carry a 'Burdon of Proof' that the licence holder will not harm the environment or the water system through its activities. This covers the use of water from the system and the responsible 
...
Read more...
---
Top data management on the DIN rail
October 2019, Endress+Hauser , Data Acquisition & Telemetry
The data manager family of Endress+Hauser is growing. To meet the strong demand from the market for a smart, compact DIN rail data manager for mounting in the control cabinet, development of the RSG45 
...
Read more...
---
IoT data logger
October 2019, Impact Measurement Solutions , Data Acquisition & Telemetry
IMS is known across the globe as a leading industry expert and manufacturer of condition monitoring data loggers and telemetry. The company performs data logger engineering, manufacturing and servicing 
...
Read more...
---
Alarm system upgrade from Omniflex
September 2019, Omniflex Remote Monitoring Specialists , IS & Ex
Fiddler's Ferry Power Station was constructed by the CEGB (Central Electricity Generating Board) in the UK and came into full operation in 1973. It has four 500 MW sets, giving a total generating capacity 
...
Read more...
---
Water level system controls cathodic protection
August 2019, Omniflex Remote Monitoring Specialists , Level Measurement & Control
Corrosion Control Services is a leading specialist in the design, installation, commissioning and monitoring of cathodic protection. CCSL carries out works on reinforced concrete structures, historic 
...
Read more...
---
Powerterm P PSU: priced to meet tight budgets
August 2019, Omniflex Remote Monitoring Specialists , Electrical Power & Protection
The Powerterm P range of DIN rail mount 24 VDC power supplies are specifically designed for industrial instrumentation applications. Use of carefully selected long-life components and conservative design 
...
Read more...
---