printer friendly version
Hydrostatic pressure transmitters
July 2005
Pressure Measurement & Control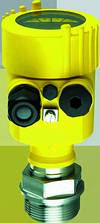 The brewing and dairy industries have seen many changes in recent years. Increased demands on productivity, manpower and more competition requires companies to invest in automation and improvements to operational systems. Rationalisation of staffing levels mean fewer engineers with less time for breakdowns, repairs and re-calibration of automated systems.
Food and beverage manufacturing environments are amongst the most demanding for instrumentation. Temperature cycles, high humidity, condensation, manual high pressure cleaning (both inside and outside vessels) and automated CIP (clean in place), combined with a range of detergents and chemicals, provide some of the most arduous operating conditions.
Hydrostatic pressure transmitters provide a precise measuring principle, as they are unaffected by the conductivity or the dielectric constant of the product and by foam generation at high product temperatures.
VEGA has been producing hydrostatic pressure transmitters for over 30 years. They are accurate, even when measuring in small vessels exerting low pressures. The lowest ranges reliably and accurately measured by VEGA are 0 to 1 kPa (10 millibar), nominally 100 mm 'hydrostatic head'.
Hydrostatic level uses the weight of the liquid to calculate level - a hydrostatic head pressure is generated proportionally to the depth of liquid and this pressure is used to determine the level that gave rise to this pressure.
In small vessels the pressure exerted on a transmitter can be very low, producing a correspondingly small deflection of the measuring diaphragm - unless one makes use of a very large diaphragm area. Transmitters can be required to measure very low pressures - for example, the pressure of a 1 m high vessel filled with water is only approximately 10 kPa (100 millibar).
The Vegabar series 60 pressure transmitters are developed for level as well as pressure measurement applications. In particular the Vegabar 64 with its CERTEC measuring cell made of sapphire ceramic offers a gap-free surface and is suited for flush mounting into pipelines and vessels. This makes it suitable for applications in the food industry where conditions such as high temperatures, foam generation and caustic agents used for CIP are present.
Also available is the Vegawell 72, a suspension pressure transmitter suitable for applications such as deep wells, gauge measurements and ballast tanks.
For more information contact Alan Wynn, Vega Instruments, 011 958 1901, alan.wynn@za.vega.com, www.vega.com
Credit(s)
Further reading:
Vega's solutions for pharmaceutical applications
May 2020, VEGA Controls SA , Pressure Measurement & Control
The special challenges faced by the pharmaceutical industry result from the wide diversity of its processes. Success depends on the consistency and continuity of the production processes, whether it be 
...
Read more...
---
New compact radar sensor
April 2020, VEGA Controls SA , Level Measurement & Control
A new era in radar level measurement began a few years ago when Vegapuls sensors based on 80 GHz technology were introduced. Thanks to the more precise focusing of the radar beam, the sensor virtually 
...
Read more...
---
Neglected pressure gauges can lead to downtime and disaster
Technews Industry Guide: Maintenance, Reliability & Asset Optimisation 2020, SA Gauge , Pressure Measurement & Control
Pressure and temperature gauges are often the most used instruments in a plant. Gauges are relatively inexpensive and because of their large quantity, gauge maintenance is often neglected, resulting in 
...
Read more...
---
VEGA extends portfolio for pharmaceuticals production
February 2020, VEGA Controls SA , Pressure Measurement & Control
The reliable and lasting performance of VEGA's proven instrument portfolio has enabled plant operators to monitor and control with great precision chemical, thermal or biological processes, often under high temperatures and pressures.
Read more...
---
Intrinsically safe electronic pressure gauges
January 2020, Instrotech , Pressure Measurement & Control
Instrotech now offers Keller's range of intrinsically safe electronic pressure gauges for use in areas subject to gas explosion risks. The type approvals are compliant with the ATEX Explosion Protection 
...
Read more...
---
Pressure sensors with touchpads
December 2019, Turck Banner , Pressure Measurement & Control
Turck has launched its new PS+ series pressure sensors, a modular range that enables access to reliable measuring instruments with intuitive operation. The sensors are easily commissioned and overhead 
...
Read more...
---
Pressure measurement converter for harsh conditions
December 2019, Instrotech , Pressure Measurement & Control
Kobold's PNK pressure measurement converter is used for the remote electrical transmission of pressure signals. For use in heavy machinery, engines, shipbuilding and automotive engineering, this robustly 
...
Read more...
---
Process 4.0 breakfast seminar series
November 2019, Beckhoff Automation, VEGA Controls SA , News
Beckhoff Automation recently partnered with VEGA to present another highly successful series of breakfast seminars at venues across the country, with the theme Process 4.0. Beckhoff managing director, 
...
Read more...
---
Why does water hammer affect pressure gauges and transmitters?
October 2019, SA Gauge , Pressure Measurement & Control
Water hammer is a high pressure surge or wave created by the kinetic energy of moving fluid when it is rapidly forced to stop or change direction, altering the liquid's velocity. Rapid stopping or starting 
...
Read more...
---
Simple measurement of liquid levels
October 2019, VEGA Controls SA , Level Measurement & Control
In 2016, VEGA introduced the Vegapuls 64, its first radar level sensor for liquids that measures at a frequency of 80 GHz, which allows considerably better focusing of the radar beam. With Vegapuls 64, 
...
Read more...
---