printer friendly version
Dual PID controller/data acquisition unit
November 2000
PLCs, DCSs & Controllers
Figure 1
The 2500 (Figure 1) is a high performance dual PID controller with adaptive tuning, cascade and gain scheduling, together with mathematical functions and combinational logic. It is mounted on a DIN rail base and takes plug-in I/O modules.
It is designed to be used with any device running a Modbus RTU or Profibus DP master communications interface, such as the Eurotherm T2900, PC-based scada packages or plc. Up to 16 bases may be daisy chained using standard RJ45 cables to provide multiloop solutions up to 32 loops.
As well as two PID blocks, the 2500 can be used to do combinational logic as well as remote I/O for data acquisition, monitoring analog and digital points. Three base sizes cater for up to a maximum 32 analog and 64 digital inputs and outputs.
DIN rail mounting allows the 2500 to be mounted where the control action is required, minimising the cost of the wiring since only the twisted pair communications cable is taken to the user interface. The 2500 may also be mounted directly onto the machine, saving the cost of control cubicles.
'iTools' Windows-based configuration software is used to set up the PID blocks and the I/O and also to set up 'user wiring' the connection of the I/O points to the PID blocks or to internal variables. This allows local mathematical calculations (+ - * < >, average, max ... ) and combinational logic (OR, AND ... ).
High stability control with an extensive range of control options is available in the 2500. Each PID block offers one-shot and continuously adaptive tuning to optimise control performance without the need for specialist knowledge or training. Each PID block may be a single PID, with gain scheduling or a cascade pair.
Applications would include furnaces, environmental chambers, baking conveyor ovens, packaging lines, conveyor furnaces and improving PID in plc systems.
The Window 95/Windows NT controller configuration software is used to set up the range, linearisation of analog inputs, PID parameters and all other I/O parameters.
Using the controller configuration software entails plugging the configuration cable into the RJ11 socket on the 2500C module, the module can then be put into 'configuration' mode, just like a standard Series 2000 controller. Click on the explorer 'folder' to select a parameter 'page'. (Each folder corresponds to the page, as used on the standard 2400 1/4DIN controllers.) Click on the parameter and enter the value required.
Every parameter may be set as required. Once the complete 2500 has been set up the application can be saved as a 'clone' file for repeat applications. It is possible to generate an application file without a 2500 controller module being attached (Figure 2).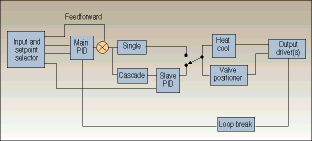 Figure 2
The software enables the I/O points to be connected to the PID blocks either directly or using mathematical expressions. Also I/O may be 'wired' eg to make a relay come on if any one of four digital inputs is on.
Programming involves a simple table which is filled in by selecting variables and functions from lists. Each line of the table is set up to provide the required mathematical or logical expression and includes a comment field to describe the purpose of the calculation. Once the wiring is completed it can be saved as part of the parameter 'clone' file for repeat applications.
Two identical control sections are included in the 2500C; the schematic outlines the workings of one of these sections. Each block can be single PID or a cascade pair with standard analog or time proportioning outputs, or raise/lower outputs for valve positioning. A self tuner and gain secheduler is also available with each block (not shown in diagram).
Credit(s)
Further reading:
Powerful controller for high safety requirements
Phoenix Contact PLCs, DCSs & Controllers
Thanks to its 8-core processor, high-level language and open-source software such as Docker or even Matlab Simulink can run simultaneously with the control program.
Read more...
---
New user-friendly modular controller
Allpronix PLCs, DCSs & Controllers
Novus has released its N20K48 controller family. This new concept is based on a compact, powerful core controller plus a growing family of micromodules that enable it to meet a wide range of application requirements.
Read more...
---
ABB white paper explores the future of DCS technology
ABB South Africa News PLCs, DCSs & Controllers
The company foresees a modular automation architecture that will evolve to address customer needs, becoming more open, interoperable and flexible.
Read more...
---
Introducing Commander S and Marshal
PLCs, DCSs & Controllers
Control Techniques is launching a new member to the Commander family of drives and a revolutionary app named Marshal. Commander S provides a solution for applications that require plug-and-play control convenience straight from the box, while Marshal revolutionises how the user interfaces with the drive.
Read more...
---
Left-alignable extension modules for PLCnext Control devices
Phoenix Contact PLCs, DCSs & Controllers
As the left-alignable modules communicate with the controller via PCIe, the standardised interface can also be used by third-party devices.
Read more...
---
Manufacturer-independent device management and update service
Phoenix Contact PLCs, DCSs & Controllers
In the industrial environment, solutions for Device and Update Management (DaUM) often use a specific process called a vendor to distribute files to proprietary devices and install them based on the manufacturer. 
...
Read more...
---
Redundant PLC for maximum availability
Phoenix Contact PLCs, DCSs & Controllers
Integrating IO-Link-capable sensors and actuators is especially popular with suppliers of machines or skids for the food and beverage industry.
Read more...
---
Hotel sets new energy efficiency standard
Beckhoff Automation PLCs, DCSs & Controllers
Steigenberger Alsik Hotel & Spa in Sønderborg is not only the largest hotel in southern Denmark, but also one of the most sustainable and climate-friendly hotels in northern Europe. High-tech solutions 
...
Read more...
---
Easy recording of weather data
Phoenix Contact PLCs, DCSs & Controllers
Phoenix Contact's pre-installed solution with PLCnext Control records the values of wind speed and direction, temperature, irradiation, humidity and the amount of precipitation.
Read more...
---
Controller for robotic systems
Omron Electronics PLCs, DCSs & Controllers
Omron has announced the launch of its first 'Robotic Integrated Controller', based on its leading NJ series of machine controllers for industrial automation.
Read more...
---