printer friendly version
Level measurement and control
August 2004
Level Measurement & Control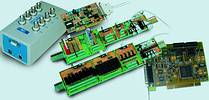 Eagle Technology produces a large range of low-cost PC-based data acquisition and control solutions for consumers who want to control processes in industrial and commercial environments, without having to invest in expensive PLC-based systems.
These products are available based on USB/Serial/PCI/ISA/PC-104 and wireless interfaces, to suit many applications. The PCI-730 Series of PCI cards are high performance multifunction data acquisition and control cards suitable for low cost applications. The USB range of products is particularly attractive thanks to its features and flexibility. It is suitable for portable or laptop use.
Eagle Technology's range of PCI cards with 16-bit resolution is on offer with competitive pricing and the company boasts that the newer BNC versions of its external data acquisition products offer easy connection to virtually anything. Also offered is a range of cables and accessories, permitting users to apply these products to many applications.
For more information contact Gregg Dolby, Eagle Technology, 021 423 4943, gregg@eagle.co.za, www.eagledaq.com, www.usbmicrodaq.com
Credit(s)
Further reading:
Radiometric solutions in refineries
November 2019, Mecosa , Level Measurement & Control
Berthold Technologies' radiometric instruments for non-contacting level and density measurement are widely used in the oil refining industry, where customers include Exxon Mobil, Sinopec, Shell, BP, Conoco 
...
Read more...
---
Interface measurement in desalters
November 2019, Mecosa , Level Measurement & Control
Interface measurements in desalters are often regarded as non-critical, even though every drop of oil to be refined passes through the desalter. As refineries try to maximise their margins, so-called 
...
Read more...
---
Level monitoring of groundwater
October 2019, WIKA Instruments , Level Measurement & Control
Much of our drinking water is extracted from subterranean resources. Water that falls to the surface of the Earth drains not only into rivers and lakes, much of it will permeate into subterranean reservoirs. 
...
Read more...
---
Ultrasonic sensor for remote water level measurement
October 2019, Instrotech , Level Measurement & Control
Instrotech has available the Senix ToughSonic CHEM range of ultrasonic sensors, in service around the world in some of the most demanding and corrosive industrial environments. They measure a wide variety 
...
Read more...
---
Simple measurement of liquid levels
October 2019, VEGA Controls SA , Level Measurement & Control
In 2016, VEGA introduced the Vegapuls 64, its first radar level sensor for liquids that measures at a frequency of 80 GHz, which allows considerably better focusing of the radar beam. With Vegapuls 64, 
...
Read more...
---
Density compensated pressurised vessel level measurement
October 2019 , Level Measurement & Control
The traditional approach to level measurement in closed vessels such as boilers, evaporators, crystallisers or distillation columns, has been to use a conventional differential pressure (DP) transmitter 
...
Read more...
---
Kobold's new float level switches
August 2019, Instrotech , Level Measurement & Control
Kobold's M-series level switch comprises a float that slides up and down with the liquid along a guide tube. Thus, up to 4 reed contacts moulded in the guide tube are switched in a non-contacting fashion 
...
Read more...
---
Foxboro buoyancy level transmitter
August 2019, I-PAS (Industrial Process Automation Solutions) , Level Measurement & Control
Principle of operation
When an element a (displacer rod) is immersed into a liquid, according to Archimedes' Principle, the displacer will 'lose' some of its weight proportional to the level of the liquid 
...
Read more...
---
Level measurement for sanitary applications
August 2019, WIKA Instruments , Level Measurement & Control
WIKA's model FLM-H magnetostrictive sensor has been specifically designed to meet the requirements of the food and beverage, pharmaceutical and biotechnology industries. The sensor is particularly suitable 
...
Read more...
---
Water level system controls cathodic protection
August 2019, Omniflex Remote Monitoring Specialists , Level Measurement & Control
Corrosion Control Services is a leading specialist in the design, installation, commissioning and monitoring of cathodic protection. CCSL carries out works on reinforced concrete structures, historic 
...
Read more...
---