printer friendly version
Level measurement in breweries
February 2004
Level Measurement & Control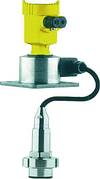 Fresh barley, which creates a dusty, humid atmosphere, is held in grain storage tanks of up to 20 metres in the malting plant. Vega's guided microwave sensor, the Vegaflex 62, is suitable for this application as it is unaffected by humidity, dust or the shape of the material surface. A discharge power of up to 3 tons on the cable causes no problems and even product adhesion does not affect the measuring accuracy.
Alongside continuous level measurement in grain silos, blockage and low-level alarms are common. Using a tuning fork sensor poses the risk of grain adhesion between the tines, which may cause unreliable switching. Vega's Vegavib 61 is a sensible solution to detect the maximum and minimum volume in the silo. It is designed with the single rod switch principle, providing high reliability as no product can get stuck between the forks.
During the brewing process there is usually a foam layer in the silo. The use of two pressure transmitters is recommended, one for the superimposed pressure and the other for the total pressure on the bottom of the silo. The level is then precisely determined from the difference between the two pressures. Hygienic fittings are mandatory for the sensors and this is where the Vegabar 64 is particularly suited for application in a brewery. The sensor is temperature resistant, CIP capable, linear and overload resistant and hysteresis-free. (The picture shows the Vegabar 64 pressure transmitter with flush Certec measuring cell.)
For more information contact Alan Wynn, Vega Instruments SA, 011 958 1901, alan.wynn@za.vega.com, www.vega.com
Credit(s)
Further reading:
Specialist instrumentation for specialised applications
GHM Messtechnik SA Level Measurement & Control
Over 30 years of experience puts Val.co at the forefront to supply specialist liquid level, flow, pressure and temperature instrumentation.
Read more...
---
Radar transmitter ensures efficiency at Australian mine
VEGA Controls SA Level Measurement & Control
To eliminate supply bottlenecks at an Australian iron ore mine, the processes were better coordinated with VEGAPULS 69 playing an important role.
Read more...
---
High-reliability float switch
ASSTech Process Electronics + Instrumentation Level Measurement & Control
ASSTech has added a new simple-to-mount horizontal design of float switch to its Jumo range.
Read more...
---
Multi-application radar level transmitters
Instrotech Level Measurement & Control
Instrotech now offers Kobold's NGR, a robust, maintenance-free level sensor that uses TDR (time domain reflectometry) technology.
Read more...
---
Level transmitter for hygienic applications
Emerson Automation Solutions Level Measurement & Control
The Rosemount 1408H Level Transmitter with IO-Link provides accurate, non-contacting measurement to help optimise operations and ensure food safety.
Read more...
---
Ready for use anywhere
Endress+Hauser South Africa Level Measurement & Control
The first 2-wire loop-powered compact transmitter enters the market.
Read more...
---
Make level sensor checks redundant
DRH Components Level Measurement & Control
The Roto-Bin-Dicator PRO is a simple paddlewheel device that monitors the level of dry bulk material.
Read more...
---
Clean and colourful
VEGA Controls SA Pressure Measurement & Control
VEGA has completed its measurement technology portfolio for hygiene-sensitive processes with two new compact instrument series comprising pressure sensors and level switches.
Read more...
---
Level switches master viscous substances
VEGA Controls SA Level Measurement & Control
VEGA has developed the new front-flush level switch, Vegapoint 24, especially for use with sticky, viscous or abrasive products.
Read more...
---
Level sensors shorten the distance from the field to supermarket shelves
VEGA Controls SA Level Measurement & Control
VEGAPULS C 11 ensures fast processing of carrots and onions with reliable measured values.
Read more...
---