printer friendly version
Time, temperature and humidity measurement for F&B
February 2004
Temperature Measurement
Food exporting companies are required to assure the quality of their produce and their clientele have forced them to comply with strict standards. Now local laws and consumer demand is putting increased pressure on all producers and distributors to work within the HACCP framework, enhancing customer satisfaction and to stay competitive.
HACCP (hazard analysis critical control point) is a Food Safety Management program in accordance with internationally recognised standards. It is a preventative system that corrects problems before they affect the safety in food through appropriate inspection and control procedures.
In keeping with the HACCP requirements, Testo, a leading European manufacturer of portable instrumentation for the food industry, enables the monitoring of food quality from the farm to the fork.
Micro-organisms and bacteria are able to multiply very fast in food within specific temperature ranges. Regulations and litigations dictate the proper handling of commercially available food. Besides temperature, the acid level, water level, nutrient level and structure of the foodstuff also play an important part in this multiplication of bacteria.
Companies that want to prove their adherence to the HACCP guidelines are essentially required to measure, monitor and record three major parameters for food safety: time, temperature and relative humidity.
Time is indicated to the consumer by the best before date or the use by date. Goods sold loosely do not carry a date and proper stock control with regular inventory taking, coupled with correct stock rotation (first in, first out principle), it is essential to monitor the correct product shelf life.
Temperatures for frozen food and cold shelves are regulated by legal requirements or limits. But even non-specified instructions like 'Store in a cool, dry place' need to be monitored. Temperature is responsible for most instances of food going off and impaired quality as bacteria and micro-organisms multiply at their highest rate within a temperature range of 3-65°C.
Testo offers a wide range of thermometers covering all sensor types (Pt100, NTC and thermocouples). Depending on the application, the choice of the right sensor is crucial to ensure accurate measurements! Wrong sensor selection very often results in erroneous rejection of food in supermarkets and production. Whereas most people are familiar with temperature measurement and control, relative humidity is a more difficult parameter to determine.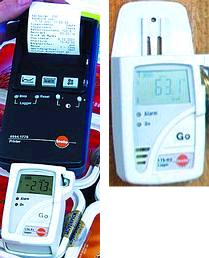 Testo loggers for temperature and humidity
Atmospheric humidity is particularly important in connection with extended storage of dry goods. If substances that are sensitive to moisture are left in rooms for a long time without complete protection, moisture may be absorbed. This might not only result in agglutination of the product (ie, sugar) but also microbiological decomposition. Mould for example depends very much on the moisture present and is particularly likely to occur with condensation following big temperature fluctuations.
The Testo range of food inspection equipment is often recommended by HACCP consultants, when advising leading supermarket chains and food production plants. Testo's line of HACCP, food quality and data logging instruments is suitable for storage, transportation and preparation monitoring. They reliably ensure food safety and help protect a company's interests. Testo portable instruments are distributed in South Africa exclusively by UniTemp.
For more information contact UniTemp, 011 392 5989, sales@unitemp.co.za, www.unitemp.co.za
Further reading:
PRO series thermal cameras
Comtest Temperature Measurement
Fluke Ti401 and TiX501 PRO thermal cameras capture and display smaller temperature differences to easily visualise and diagnose issues, making it easy to get to the root cause of problems faster.
Read more...
---
Tracking systems for furnace applications
R&C Instrumentation Temperature Measurement
Fluke Process Instruments has released the latest Datapaq Furnace Tracker System complete with the TP6 data logger, thermal barriers and intuitive software.
Read more...
---
Pyrometers for fast processes
Instrotech Temperature Measurement
With very fast processes, the requirements of the pyrometers used for temperature measurement are especially onerous.
Read more...
---
Raytek extends Thermalert 4 range
R&C Instrumentation Temperature Measurement
Fluke Process Instruments and Raytek extended the Thermalert 4.0 spot pyrometer series by adding new shortwave versions and various additional interface options.
Read more...
---
Temperature profiling in hydro processing units
Endress+Hauser South Africa Temperature Measurement
Precise and reliable temperature mapping of densely packed reactor catalyst beds makes an essential contribution to stable and profitable unit operations.
Read more...
---
Pyrometer cooling up to 315°C
R&C Instrumentation Temperature Measurement
The ThermoJacket from Raytek and Fluke Process Instruments gives users the ability to use selected sensing heads in ambient temperatures up to 315°C.
Read more...
---
High-speed pyrometer from Optris
Instrotech Temperature Measurement
With very fast processes, the requirements of the pyrometers used for temperature measurement are especially onerous.
Read more...
---
Resistance thermometers for hazardous areas
Instrotech Temperature Measurement
Instrotech now offers Kobold's TWL resistance thermometers with ATEX approvals for ignition protection Exd or Exia.
Read more...
---
Thermal imaging in materials testing
R&C Instrumentation Temperature Measurement
The Raytek ThermoView TV40 thermal imaging camera with ThermoView software is an ideal choice for material testing applications.
Read more...
---
Vibration-resistant thermowells
WIKA Instruments Temperature Measurement
Debottlenecking is desirable as minor percentage increases in output capacity can result in significant profit returns.
Read more...
---