printer friendly version
The science of applied accuracy
May 2010
Flow Measurement & Control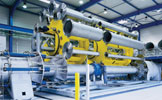 Accuracy is a test no flowmeter can afford to fail. Why? Because accuracy equals money: "A customer paying 100 dollars per barrel [of crude oil] and edging an improvement of only 0,1% on inaccuracy for 100 000 barrels per day, could be looking at 3,6 million dollars a year in additional profit," explains Reinhold H. Bietzker, Endress+Hauser's global industry manager Oil & Gas.
"At Endress+Hauser we understand that high measuring accuracy under ideal reference operating conditions is not everything. What is crucial is that the devices do what they are supposed to do under everyday practical circumstances. This is why calibration is accuracy's best friend. The plant maintenance schedule usually defines the calibration intervals depending on how and where the meter is used. Calibration can, for example, rectify the mechanical changes that occur as a sensor ages or correct for drift in the signal electronics."
The language of calibration
When determining accuracy, calibration is but one link in a chain of quality control measures governed by internationally recognised standards. Equally important are measurement uncertainty, accreditation, traceability and verification.
Calibrate [verb]: to find the calibre of
In simple terms, the purpose of a calibration is to ascertain whether deviations are present. Calibration occurs first in the factory after manufacturing and then again after the device has been in operation for some time. This allows correction at any stage to restore measurement accuracy.
When calibrating a flowmeter, the measured value displayed by the device is compared to the reference value of a calibration rig. The process involves documenting the measurement deviation (accuracy), calculating the measurement uncertainty and creating a calibration log under precisely specified reference conditions.
Measurement uncertainty
Uncertainty is the most important quality criterion in any comparison between calibration facilities. The uncertainty percentage expresses the possibility that errors could have occurred during the calibration process – thus, the smaller the figure of uncertainty the better. Good uncertainty ratings will appear suspect to experienced quality auditors unless they are derived from accepted standards or were obtained through accredited calibration laboratories.
Accreditation
Accreditation refers to the formal recognition of a body's technical competence in performing specific services, for instance calibration. Only authorised organisations such as a country's metrology board, can issue accreditation. Accreditation takes a testing or calibration laboratory beyond the basic analysis of measured results and comparative measurements into a realm of transparency, trust and comparability. The focus of expertise is on the following:
* Personnel – in terms of specialist knowledge, practical experience and continuous in-service training.
* Technical infrastructure – as determined by the criteria for decision making processes, the requisite facilities and methods applied.
* Organisational structure – with reference to independence, impartiality and quality management.
Accreditation, therefore, is a confidence-inspiring measure that enables authorities, industry and society to ascertain whether the organisations responsible for testing, inspection and certification reliably perform their duties against international standards.
Traceability
Traceability implies an unbroken chain of comparisons extending from the device that is being tested, through the testing equipment, and ultimately to the highest national standard of a country.
The lowest level is the meter under test with one level up the calibration facility and the working standards used for the comparison. Next are the in-house calibrators, used to recalibrate the testing equipment periodically in accordance with specific values. Then come the accredited calibration laboratories responsible for periodically checking and recalibrating a company's in-house calibrators. The national standard is located at the top level of the traceability hierarchy. This is also where the national bodies that implement and monitor the standards, issue accreditation to the calibration laboratories and conduct periodic audits are found.
Verification
Verification confirms that a flowmeter is operating according to the manufacturer's specifications. Due to the cost implications of recalibration – especially if in situ calibration is not an option – verification can be used to prolong the intervals between calibrations. For example, Endress+Hauser's FieldCheck device is a tester/simulator for testing all the major functions of flowmeters on site. Device parameters can be checked, for example coil current rise time, electrode integrity in the filled measuring tube, etc.
It is, however, important to note that a tester or simulator cannot be a substitute for proper calibration on a rig.
Calibration methods
Volume or mass comparison can be used when calibrating flowmeters. The fluid flowing through the meter is measured either volumetrically with the aid of calibrated vessels, or determined gravimetrically with weighing scales and then compared with the reading shown by the device under test.
Volumetric method
A container of precisely known capacity is used for volumetric comparison. This container can have a scale for reading the volume or it can be fitted with one or more limit switches that start, stop or divert the flow of fluid.
Gravimetric method
Water from a tank of adequate capacity is circulated through the device under test until the system settles to the desired measuring range. Once this has been achieved, a flow diverter switches reproducibly at high speed and the diverted quantity of fluid flows to the weighing tank. At the same time a pulse counter is started. As soon as the desired quantity of water is in the tank the flow diverter is switched off and the pulse counter stopped. The result obtained the pulse counter then gets compared against a reference and if a discrepancy is found the device under test is adjusted to minimise it (adjustment of the calibration factor).
Master-slave method
Some flowmeter designs are almost as accurate as a calibration rig. Measuring uncertainties better than ±0,1% are achievable by modern magmeters and, even more significantly, by Coriolis mass flowmeters. On account of this they are often employed as secondary standards for gauging less accurate flowmeters. If reference meters of sufficient stability and precision are available, they can be utilised in master-slave calibration configurations. This is one of the methods used in the Endress+Hauser calibration centres. The master consists of special mass or electromagnetic flowmeters with the reference being the mean of these after compensation for the nominal diameter of the device under test. The tolerance bandwidth is ±0,1%.
Endress+Hauser's international calibration rigs
The overseas calibration facilities of Endress+Hauser combine 25 years of experience in the construction of calibration systems using cutting edge metrology and automation technology. Instruments with a pipe diameter ranging from 1 mm to 2 m (DN 1 to 2000) can all be accommodated on the company's accredited calibration rigs.
Endress+Hauser says it has at its disposal the world's most accurate production calibration facility – the PremiumCal flow calibration rig that boasts the following measurement accuracies (measurement uncertainty values):
* Standard weights (for testing scales): ±0.0016%.
* Calibration rig: ±0,015% (gravimetric), ±0,021% (volumetric).
* Traceable accuracy of the devices under test: ±0,05%.
To put the above figures into a more easily understood context, consider the following example: the calibration rig's gravimetric deviation of ±0,015% from the reference value amounts to about the contents of one champagne glass in a thousand litres of water.
All Endress+Hauser's flow calibration facilities are accredited by various national authorities – including for example SAS, A2LA and CNAS – in accordance with ISO/IEC 17025. Since all test resources are seamlessly traceable back to national standards, customers can expect a uniformly high standard, be it in product quality or in field testing of process facilities. SCS calibration certificates issued by Endress+Hauser are accepted by all ISO member states.
Unparalleled field accuracy through design
As mentioned earlier, it is of crucial importance that flowmeters deliver accurate performance in the field. For this reason, Endress+Hauser is constantly striving to ensure high process stability; its engineers use the finite element method (FEM) to calculate the geometry and physical parameters of the measuring tube to give the best neutralisation of pressure and temperature pre-load after installation. The sensor's protective housing is specially designed to dissipate pipe borne stresses effectively and reliably. This optimised design protects the meters against plant vibrations to give optimum field accuracy.
Endress+Hauser South Africa
Locallly, Endress+Hauser offers flow calibration services at its workshop in Gauteng as well as on site throughout South Africa and Africa. Calibration testing at the workshop can accommodate flowmeters with a pipe diameter of DN 150, while on-site calibration can be done on pipe diameters up to DN 200. Larger flowmeters are sent to the state-of-the-art European facilities.
In addition to calibration, the company's local team of experts performs flow, pressure and temperature verifications on site. The team is also available to advise the correct positioning and installation of flowmeters, both crucial factors that could influence a device's accuracy. Alternatively, full commissioning of a flowmeter can be carried out.
Frans van den Berg, the product manager for flow, is a 10-year Endress+Hauser veteran who oversees all aspects of flow measurement from product marketing to application consultation and product selection. Etienne Abrahams, who has worked his way up over the past five years from trainee to calibration adviser, provides technical support and advises customers about their calibration requirements.
For more information contact Frans van den Berg, Endress+Hauser, +27 (0)11 262 8000, info@za.endress.com, www.za.endress.com
Credit(s)
Further reading:
Digital innovations using the vibronics measuring principle
February 2020, Endress+Hauser , Level Measurement & Control
Continuous optimisation and increasingly automated processes are shaping the history of process automation, as well as that of industrialisation.
Read more...
---
Compact flow sensor with IO-Link
February 2020, Turck Banner , Flow Measurement & Control
Turck has introduced the FS+ flow sensor, another product from its fluid sensor series. The sensor is protected in a robust stainless steel housing, together with a one-piece translucent front cap and 
...
Read more...
---
New slurry sensor from Emerson
February 2020, Emerson Automation Solutions , Flow Measurement & Control
Emerson's Rosemount MS Slurry Sensor with the Rosemount 8782 Slurry Transmitter is a slurry magnetic flowmeter specifically designed for high noise and slurry applications for use in the oil and gas, 
...
Read more...
---
Thermodynamic flow sensor
January 2020, Countapulse Controls , Flow Measurement & Control
Ease of flow monitoring with low maintenance benefits is a given with the compact plug and play EGE SNS 450 thermodynamic flow sensor from Countapulse Controls – the sole southern African agent for EGE's 
...
Read more...
---
Magnetic inductive flowmeter in stainless steel
January 2020, Instrotech , Flow Measurement & Control
Instrotech has announced the introduction of Kobold's MIM magnetic inductive flowmeter. MIM features IO-Link, a short distance, bi-directional, digital, point-to-point, wired, industrial communications 
...
Read more...
---
Compact design electromagnetic flow measurement
December 2019, Endress+Hauser , Flow Measurement & Control
Whether in the life sciences or in biotechnology, whether in the food or chemical industries – global competition is steadily increasing. Ever more companies are implementing their process facilities 
...
Read more...
---
The future calls for efficiency
January 2020, Endress+Hauser , News
The demand for raw materials is rising, which means reserves should be dwindling. Producers around the world are thus working toward the goal of generating more with less. The result, which seems contradictory 
...
Read more...
---
A good combination for the primaries and metals industry
November 2019, Endress+Hauser , System Integration & Control Systems Design
Endress+Hauser?s measurement devices for flow, level, pressure, temperature and liquid analysis.
Read more...
---
Self-cleaning flow indicator for liquids
November 2019, Instrotech , Flow Measurement & Control
To check the flow processes in pipeline systems and for insight into the interior of process pipes, many flow indicators are used in which the flowing medium sets a rotor turning and thus to a large extent 
...
Read more...
---
Emerson's new eight-path flowmeter
November 2019, Emerson Automation Solutions , Flow Measurement & Control
Emerson has introduced the Daniel 3418 eight-path gas ultrasonic flowmeter, which delivers highly accurate flow measurement in natural gas custody transfer applications with reduced upstream piping requirements 
...
Read more...
---