printer friendly version
Cost-effective indication
September 2009
Operator Interfaces, Switches & Relays

Banner Engineering, a world leader in photoelectric sensors and vision products, has used its expertise and knowledge of LED illumination to produce a range of indicator lights for industrial and commercial applications. At a time when the world is attempting to reduce electricity consumption, Banner has introduced the EZ-Light product range, which has a consumption of less than 2 W, compared to competitive incandescent light units that can consume up to 15 W or more.
General purpose EZ-Lights feature a single housing with the ability to display multiple colours; red, yellow and green – glowing steady or flashing – are standard colours. Custom colours are available that include blue and white. General purpose EZ-Lights are packaged in various form factors, including 30 and 50 mm domes, 18 mm barrel and 8, 18 or 30 mm T-style housings. The 30 mm dome features a 22 mm threaded mounting, a standard size for panel applications.
Tower light
The EZ-Light tower light is a direct replacement for stack lights. Available with up to five segments displaying five different colours, or up to four segments with an audible output (adjustable over 95 db), Banner's tower light delivers realtime operational indication for workers and supervisors. Installed directly on the machine with either a pre-wired cable or a quick-connect option, the self contained tower light displays up to five colours and allows multiple lights to be on simultaneously. The design of the TL50 also eliminates false indication from ambient light as the indicators appear grey when off. The supply voltage required by the tower light is 18-30 VDC or 24 VAC. Inputs required to control the colours are bi-modal, working with PNP and NPN, dependent on the configuration used. Various mounting accessories are available including right-angled and swivel brackets for base mounting, and standoff pipes for elevated use.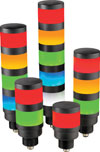 Assortment of tower lights
Column light
The EZ-Light column light is the same shape as the tower light but is only able to display one colour at a time. Column Lights are available in one, two or three colour versions, with or without the adjustable audible output. Completely self contained, the devices are immune to EMI and RFI interference.

A red column light
Daylight-visible
The EZ-Light daylight-visible K50 is a special featuring high power LEDs, specifically designed for use in outdoor, bright conditions. Colours available include red, yellow and green or a version with all three colours.
In addition to the EZ-Light range, Banner also offers 'pick-to-light' products that combine a sensor with an indicator light to assist operators on assembly lines. A 'light' indicates which part to pick for the assembly and the 'sensor' detects the operator acquiring the part. A signal is then sent to the control circuit which then turns on the next light in sequence.

Bin picking applications
For more information contact Rodney Topham, RET Automation, +27 (0)11 453 2468, rodney.topham@retautomation.com, www.retautomation.com
Credit(s)
Further reading:
Bright illumination for paint tunnel inspection
May 2020, Turck Banner , Sensors & Transducers
The WLB72 Inspection is a high-efficacy task light used for industrial work areas. It is simple to install, can be cascaded, and comes fully assembled. The bright, uniform output of the WLB72 reduces 
...
Read more...
---
Miniature photoelectric sensor
May 2020, Turck Banner , Sensors & Transducers
The DQ12 is a miniature, cost-effective solution for applications in space-constrained environments. The sensor features LED status indicators for power on, signal received, and marginal signal. In addition, 
...
Read more...
---
Powerful dialogue modules for mobile machines
April 2020, ifm - South Africa , Operator Interfaces, Switches & Relays
The new dialogue modules from ifm electronic have been developed for use in cabins and outside vehicles. Thanks to a high protection rating and optical bonding, they are optimally protected against moisture. 
...
Read more...
---
Pick-to-light solutions kit
April 2020, Turck Banner , Enclosures, Cabling & Connectors
The Pick-to-Light Solutions kit is an integrated solution that consists of an enclosure, an DXM controller, a HMI, plus direct connections for PTL110 devices and power. The integrated device and power 
...
Read more...
---
Condition monitoring of motors
Technews Industry Guide: Maintenance, Reliability & Asset Optimisation 2020, Turck Banner , Maintenance, Test & Measurement, Calibration
Whether in exhaust systems, pumps or compressors, motors of various sizes are used in production plants and warehouses, quite often in remote locations. Maintaining machines is therefore time-consuming 
...
Read more...
---
Multifunction pendant improves efficiency
Technews Industry Guide: Maintenance, Reliability & Asset Optimisation 2020, Turck Banner , Operator Interfaces, Switches & Relays
The Direct Select from Turck Banner makes it easy to communicate the critical information staff need to complete tasks. This versatile operator interface can be used to send and receive requests, acknowledgements, 
...
Read more...
---
Expert opposed-mode sensor
March 2020, Turck Banner , Sensors & Transducers
The new QS18E offers superior ambient light immunity to prevent unintentional triggering and prevents the sensor from being tricked by ambient light sources, such as a lightbulb, flashlight, or other 
...
Read more...
---
Simplified safety controller setup
March 2020, Turck Banner , IS & Ex
Turck Banner's new SC-XM3 external drive allows users to write the configuration for their safety systems once and then load it on to any additional devices requiring the same configuration. The configuration, 
...
Read more...
---
Washdown protected photoelectric sensors
February 2020, Turck Banner , Sensors & Transducers
Banners new T18-2 photoelectric sensors have an FDA-grade shatterproof plastic housing and are IP69K rated and Ecolab certified to protect against water ingress and chemical washdown.   
IP69K and epoxy 
...
Read more...
---
Compact flow sensor with IO-Link
February 2020, Turck Banner , Flow Measurement & Control
Turck has introduced the FS+ flow sensor, another product from its fluid sensor series. The sensor is protected in a robust stainless steel housing, together with a one-piece translucent front cap and 
...
Read more...
---