printer friendly version
Cost-effective indication
September 2009
Operator Interfaces, Switches & Relays

Banner Engineering, a world leader in photoelectric sensors and vision products, has used its expertise and knowledge of LED illumination to produce a range of indicator lights for industrial and commercial applications. At a time when the world is attempting to reduce electricity consumption, Banner has introduced the EZ-Light product range, which has a consumption of less than 2 W, compared to competitive incandescent light units that can consume up to 15 W or more.
General purpose EZ-Lights feature a single housing with the ability to display multiple colours; red, yellow and green – glowing steady or flashing – are standard colours. Custom colours are available that include blue and white. General purpose EZ-Lights are packaged in various form factors, including 30 and 50 mm domes, 18 mm barrel and 8, 18 or 30 mm T-style housings. The 30 mm dome features a 22 mm threaded mounting, a standard size for panel applications.
Tower light
The EZ-Light tower light is a direct replacement for stack lights. Available with up to five segments displaying five different colours, or up to four segments with an audible output (adjustable over 95 db), Banner's tower light delivers realtime operational indication for workers and supervisors. Installed directly on the machine with either a pre-wired cable or a quick-connect option, the self contained tower light displays up to five colours and allows multiple lights to be on simultaneously. The design of the TL50 also eliminates false indication from ambient light as the indicators appear grey when off. The supply voltage required by the tower light is 18-30 VDC or 24 VAC. Inputs required to control the colours are bi-modal, working with PNP and NPN, dependent on the configuration used. Various mounting accessories are available including right-angled and swivel brackets for base mounting, and standoff pipes for elevated use.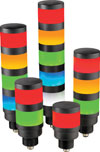 Assortment of tower lights
Column light
The EZ-Light column light is the same shape as the tower light but is only able to display one colour at a time. Column Lights are available in one, two or three colour versions, with or without the adjustable audible output. Completely self contained, the devices are immune to EMI and RFI interference.

A red column light
Daylight-visible
The EZ-Light daylight-visible K50 is a special featuring high power LEDs, specifically designed for use in outdoor, bright conditions. Colours available include red, yellow and green or a version with all three colours.
In addition to the EZ-Light range, Banner also offers 'pick-to-light' products that combine a sensor with an indicator light to assist operators on assembly lines. A 'light' indicates which part to pick for the assembly and the 'sensor' detects the operator acquiring the part. A signal is then sent to the control circuit which then turns on the next light in sequence.

Bin picking applications
For more information contact Rodney Topham, RET Automation, +27 (0)11 453 2468, rodney.topham@retautomation.com, www.retautomation.com
Credit(s)
Further reading:
Inline sensor status indicator
January 2020, Turck Banner , Maintenance, Test & Measurement, Calibration
Machine downtime can be costly for any company and identifying the problem can be time-consuming. The S15L series inline sensor status indicator can be mounted on a sensor for 360 degree-visibility of 
...
Read more...
---
Pressure sensors with touchpads
December 2019, Turck Banner , Pressure Measurement & Control
Turck has launched its new PS+ series pressure sensors, a modular range that enables access to reliable measuring instruments with intuitive operation. The sensors are easily commissioned and overhead 
...
Read more...
---
Sensors for predictive maintenance solutions
December 2019, Turck Banner , Sensors & Transducers
Banner Engineering's QM30VT series sensors build on the capabilities offered by the QM42VT Series sensors they replace. They maintain all the same functionality, registers, and scaling, however, their 
...
Read more...
---
Banner Engineering simplifies monitoring of rotating equipment
November 2019, Turck Banner , Industrial Wireless
Banner's Wireless Solutions Kit for vibration monitoring is a fully integrated and easy-to-use solution for monitoring assets with rotating motion. It is designed to make it easy for users of any experience 
...
Read more...
---
Bright, versatile illumination
November 2019, Turck Banner , Sensors & Transducers
The bright, uniform output of the WLB72 reduces shadows, improves visibility and gives workers the light they need to work efficiently and without making mistakes. A diffuse window minimises eye strain 
...
Read more...
---
RS introduces flush-mount devices for smart manufacturing
November 2019, RS Components SA , Operator Interfaces, Switches & Relays
RS Components has added the Schneider Electric Harmony XB4F series of flush mounting pushbuttons, selector switches and pilot lights to its product portfolio. Designed for use in industrial automation 
...
Read more...
---
LM sensor for precise applications
October 2019, Turck Banner , Sensors & Transducers
Banner's LM series of precision measurement sensors is now available in an even more precise model that features a 0,002 mm analog resolution at a range of 40-80 mm. The new LM80 model also features a 
...
Read more...
---
I/O solutions with Profinet redundancy
October 2019, Turck Banner , Fieldbus & Industrial Networking
Turck's Simple IO-Link Device Integration, SIDI for short, simplifies the handling of IO-Link. As its first fieldbus module with Profinet S2 system redundancy, the company has introduced the TBEN-L5-8IOL. 
...
Read more...
---
How integrated visual management and remote monitoring demystify machine safety
September 2019, Turck Banner , IS & Ex
This article shares common challenges for machine safety, and shows how combining easy-to-use safety devices with visual indication and remote monitoring capabilities can help make safety simpler and more effective.
Read more...
---
Radar sensors: frequently asked questions
September 2019, Turck Banner , Sensors & Transducers
Radar sensors are commonly used for a wide variety of vehicle detection and collision avoidance applications, and they are a particularly good choice for outdoor deployments.
Read more...
---