printer friendly version
Drives save the day
August 2009
Motion Control & Drives

Elevator drives system stops maintenance costs going up.
When an elevator in a cheese drying system broke down at a Danish dairy the entire plant was brought to a standstill with a loss of some five tonnes of cheese per hour. The suppliers estimated that it would take a fortnight to get the parts to rectify the situation. Engineering staff were facing the possibility of having to remove stocks of unfinished cheese to warehouses elsewhere, with storage and transport costs escalating as time went on.
"We already used drives from Control Techniques elsewhere in the plant, so I contacted Jens Holst at the Control Techniques Drive Centre in Greve. He and his team replaced the existing software with their own elevator software and managed to get us up and running again later that same day," says Per Hansen, chief electrical engineer at MD Foods' dairy in Denmark.
"We had been having constant problems with the original programming," explains Hansen. "It was written in such a way that we could not adjust the programming ourselves and we had already spent some £8000 trying to get it right. In one day, Control Techniques achieved what the manufacturers could not. But it was a temporary fix and we asked Control Techniques to give us a better permanent solution."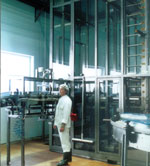 Plug-in control
Some months later, Control Techniques Denmark carried out a complete rebuild of the elevator control system utilising Unidrive AC drives and 115 UMB Unimotor servo motors under the overall control of the existing PLC controller. Each of the Unidrives, working in servo mode, is fitted with the unique Control Techniques plug-in program module. In co-operation with the supplier of the PLC controller, Control Techniques software engineers completely rewrote the positioning software.
"The instruction comes from the PLC, but all of the positioning is now carried out by the software within the Unidrives' own program modules, completely eliminating any further operational problems," says Hansen.
The elevators feed 200 gm packs of cheese into, and remove them from, a 21 level cheese dryer. Packets of feta and mozzarella cheese are cooled and dried in long tunnels prior to being sent to the packing department. The PLC selects the level for each pack of cheese and then the Unidrive servo system takes over, moving the elevator adjacent to the chosen track where the pack is pneumatically pushed onto a slow moving conveyor.
Feedback is from shaft-mounted encoders on the Unimotor brushless servo motors.
Superior performance
"The system now responds faster, more accurately and above all, reliably. Reliability is my number one requirement in this production facility. Each week I have to answer for every minute's lost production and what I am doing to eliminate weak points. That is why I have used Control Techniques drives ever since this plant opened in 1989," continues Hansen.
"Unidrives are used in various locations, but we are not using the plug-in program modules yet, except on the drier," he adds. "I plan to do so in the future because it will make maintenance so much faster and easier. If I have to change a drive, there is no reprogramming of parameters. Just plug in the module and off it goes. If it saves even five minutes, it is a good investment."
The dairy has an annual output of around 35 000 tonnes of mozzarella and feta-type soft white cheese. "This is a very busy plant," concludes Hansen, "and any stoppage has major cost implications. That is why I need complete confidence in my drives and in the local support that is available. With Control Techniques, I have both!"
For more information contact Bill Tedd, Control Techniques, +27 (0)11 462 1740, bill.tedd@emerson.com, www.controltechniques.com
Credit(s)
Further reading:
Space chair automation
December 2019, Siemens Digital Industries , Motion Control & Drives
The Euro Space Centre adventure park in Transinne in Belgium is home to a number of different simulators, including the original NASA multi-axis chair dating back to the 1960s which was used to familiarise 
...
Read more...
---
Superior Filtration relies on Movidrive
December 2019, SEW-Eurodrive , Motion Control & Drives
An industrial water filtration specialist that has used gearmotors from SEW-Eurodrive for many years has adopted its Movidrive inverters with CMP servo motors and customisable iPOS software for its latest 
...
Read more...
---
Nidec extends warranty on Commander drives
December 2019, Nidec , News
Control Techniques has launched a free, five-year warranty for its Commander range of general-purpose drives. Anyone who purchases a drive from the Commander range will now be able to register to extend 
...
Read more...
---
New XTS functionality enables novel solutions in machine building
November 2019, Beckhoff Automation , Motion Control & Drives
XTS is a smart transport system of magnetically driven movers that travel along tracks consisting of motor modules and guide rails. A Beckhoff Industrial PC is able to control the movers independently 
...
Read more...
---
Couplings for high torque applications
November 2019, SKF South Africa , Motion Control & Drives
Available in a variety of configurations, SKF's range of Disc Couplings provide affordable, lubrication-free service in medium to high torque applications that require torsional rigidity. These innovative 
...
Read more...
---
Belting for food applications
November 2019, Bearing Man Group t/a BMG , Motion Control & Drives
BMG's Light Materials Handling division supplies and supports a comprehensive range of belting products suitable for the food processing, bottling and packaging sectors. "New to BMG's range of belting 
...
Read more...
---
Sawmills and sugar mills underpin growth for SEW-Eurodrive
October 2019, SEW-Eurodrive , Motion Control & Drives
Ageing sawmills and sugar mills in KwaZulu-Natal represent a significant growth opportunity for SEW-Eurodrive to introduce its latest energy-efficient technology. This is an increasing trend as both the 
...
Read more...
---
Smart devices for Ex areas: Unbelievably simple mistakes that prevent control.
September 2019, Michael Brown Control Engineering , Editor's Choice, Motion Control & Drives
I am often astounded by finding really basic problems with controls in plants, which have operated that way for years. These problems are so basic that one can only wonder at how these controls could 
...
Read more...
---
DLM V-Drives
September 2019, Dupleix Liquid Meters (DLM) , Motion Control & Drives
DLM V-Drives control the latest generation of permanent magnet and standard induction motors. DLM offers the AMC (advanced motor control) and EPC (efficient pump control) V-Drives, which are available 
...
Read more...
---
Complete drive solutions to boost efficiency and cut costs
September 2019, SEW-Eurodrive , Motion Control & Drives
The importance of the sugar industry in KwaZulu-Natal to SEW-Eurodrive as a key growth area for its complete drive solutions was underscored when it exhibited at the Congress of the South African Sugar 
...
Read more...
---