printer friendly version
Innovative busbar system: saving time and money
October 2007
Enclosures, Cabling & Connectors
The supply of power with busbars in switchgear is a comparatively old and time-tested technology. One could therefore assume that there are few innovations to be expected in this field.
The new RiLine60 busbar system from Rittal GmbH & Co. KG shows that this is not the case. The innovations are found in the detail. Using this system, users in the switchgear construction sector can save time and costs.
Modular components, flexible assembly and simple installation form the basic principles that continue to underlie all parts of the busbar system. The goal of the development was to save time in the installation and, consequently, costs. The minimal number of parts reduces the storage requirements thus also contributing to cost reduction.
Busbar support with automatic cross-section adaptation
For flat copper bars there is a busbar support with integrated cross-section adaptation to fit different dimensions ranging from 15 x 5 mm to 30 x 10 mm. No additional parts are necessary (Figure 1). A slide accommodates the height adjustment for 5 mm bars. An integrated locating block automatically adapts to widths from 15 to 30 mm. This results in a simple and time-saving installation.

Figure 1. The integrated cross-section adaptation makes it possible to use rails from 15 x 5 mm up to 30 x 10 mm. No additional parts are necessary
The patented copper bars in PLS format (Figure 2) can be quickly and easily installed. This is made possible by a new locking system. The details show how the system developers strived for the easiest possible installation. This includes, for example, drill cutting screws and captive parts. Flat copper bars and bars of the PLS type can be flexibly used for applications with up to 1600 A capacity. The system has been type-tested to DIN EN 60439-1 and guarantees outstanding stability such as for short circuit resistance. In the course of the type testing, DIN EN 60439-1 compliance was also certified with respect to insulation properties, creepage and clearance distances and IP2x protection rating.

Figure 2. The patented bars in PLS format, which allow currents of up to 1600 A, can be mounted quickly and easily
Along with the rail and end covers, the base tray offers all-round hazard protection. Again, installation is very simple. The cover sections can be individually cut and snapped onto the base tray. End covers are attached directly to the busbar supports.
Connection adapter with IP2x protection rating
The connection adapter for the system is available in six stepped sizes to cover current ratings from 63 A to 1600 A. All adapters are available with feed-through function. The connection adapters have box terminals with a single-screw mechanism for cross-sections of up to 300 mm². The variants for laminated flat copper can handle currents up to 800 A or 1600 A. The covers for the connection adapters provide for an IP2x protection rating and have a locking mechanism for which the locking position is clearly displayed via a slider.
Various mounting options for component adapter
There are two options to choose from when mounting component adapters for the busbar system. These are referred to as OneMove and OneTurn adapters.
The OneMove adapter is attached to the rails using standard snap-on technology. The rails are pushed from above onto the rails and the profile of the base tray (Figure 3). The steel-reinforced clamping feet are suited for 5 mm as well as 10 mm bar thicknesses.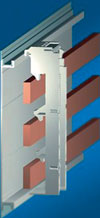 Figure 3. With OneMove technology the component adapter is placed on the rails from above. Because the housing snaps into the base tray section up top, optimum contact hazard protection is guaranteed
OneTurn adapters are hinged into the upper base tray section, which has to be additionally reinforced by an aluminium bar. The component adapter is then swung and snapped into the busbar system (Figure 4). The advantage of this variant is that less force is necessary due of the low leverage needed for installation. The contact pressure, however, is still ideal.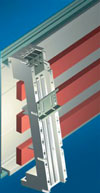 Figure 4. OneTurn technology allows the component adapter to be hinged in the top of the base tray section, which is reinforced with an aluminium section, and then swung downward. The easy leverage makes mounting easy and requires little force
Both variants are available in widths of 45 mm and 55 mm. There are 10 mm wide cable connectors, which can be aligned sideways for auxiliary switches. This system makes it possible to create any module arrangement using a connector pin. The component adapter also offers optimum contact protection.
Three connection techniques for component adapters
Users also have options to choose from for component connections. The simplest and classic type is standard mounted connection cables that are offered in sizes AWG12, AWG10 and AWG6. There is a new connection option using flexible tension spring clamps that saves a noticeable amount of time during mounting. For this, there are also two variants for conductors with a 6 mm² cross section for currents of up to 32 A and for conductors with a 16 mm² cross-section for currents up to 65 A. The premium version can be assembled especially quickly. Three main lines and eight auxiliary lines can be connected via one jack and one outgoing connector block.
With the basic version, the equipment is assembled directly on the component adapter. As an alternative to this inexpensive solution, it is still possible to use support frames that permit servicing by separating the component and support frame from the component adapter (Figure 5). Thus, downtime can be considerably reduced by switching out components. Even if the device has been separated from the support frame, the component adapter covers the busbars to protect them from contact. This makes it possible to switch out components while operational (hot-swap).

Figure 5. If the components are installed with removable support frames, it is possible to quickly switch out parts for servicing purposes
Power circuit breakers are attached using CB adapters. These are suitable for all commercially available versions up of breaker up to 630 A. The new sliding block concept (Figure 6) is used to simplify installation. The block is mounted on the switchgear, the pre-assembled component slid into the appropriate guide channel, and then secured with a plug-in end stop. This means that cumbersome searching for threaded holes is eliminated, which in turn translates to time saved during installation. Box terminals are used for connecting models with capacities of up to 250 A. For versions up to 630 A, the connection is created using a solid threaded bolt. The contact tracks are completely imbedded in the adapter housing, which ensures high protection and short circuit resistance.

Figure 6. Power circuit-breakers are mounted with what are referred to as sliding blocks. These make cumbersome searching for threaded holes unnecessary
All plastic parts of the busbar system are halogen-free and guarantee fire protection that complies to UL 94-V0.
Assembly-friendly system saves time in switchgear construction
A simple installation saves time and helps to decrease costs. The RiLine60 busbar system from Rittal was developed with this in mind. The modular assembly method also offers advantages for servicing purposes because components can be swapped out during operation.
Credit(s)
Further reading:
Rittal invests in new global smart factory
May 2019, Rittal , News
Investing for the future, Rittal's new plant in Haiger embraces the principles of Industry 4.0. The company has made its largest single investment, totalling €250 million, to establish the world's most 
...
Read more...
---
Cables for direct current
Africa Automation Fair 2019 Preview, Lapp Southern Africa , Enclosures, Cabling & Connectors
In a world first, connection systems specialist, Lapp Group has launched a family of cables designed specifically for DC applications. This is the result of extensive research showing that in principle, 
...
Read more...
---
Safety products for automation
Africa Automation Fair 2019 Preview, Prime Automation , Enclosures, Cabling & Connectors
Prime Automation is exhibiting Pilz safety products for automation, Escha connectivity solutions, IDE enclosures and Inxpect safety scanners. These can be viewed at Stand D05. Pilz specialises in safety 
...
Read more...
---
Enclosures and transformer components
Africa Automation Fair 2019 Preview , Enclosures, Cabling & Connectors
Allbro is the largest supplier of enclosures and transformer components on the African continent. The harsh climate and the nature of the environment where Allbro products are installed has driven the 
...
Read more...
---
Modular assembly
Africa Automation Fair 2019 Preview , Enclosures, Cabling & Connectors
Modular Assembly Technology South Africa (M.A.T.S.A) has world class aluminium strut profiles, conveyors and a variety of accessories on show. The company's products are fully customisable and easy to 
...
Read more...
---
Complete range of industrial cables
Africa Automation Fair 2019 Preview, Helukabel , Enclosures, Cabling & Connectors
Helukabel is showcasing its range of data, network and bus (DNB) products. On display at Stand B01 is a complete range of industrial cables as well as the related connecting equipment consisting of connectors, 
...
Read more...
---
Hazardous area installations
March 2019, Pepperl+Fuchs , Enclosures, Cabling & Connectors
How to find the most efficient protected solution for each application.
Read more...
---
Rittal's aftersales service plan
March 2019, Rittal , News
When investing in products and systems, it is easy to overlook the maintenance and aftercare associated with these purchases. More than just the initial investment, companies are encouraged to look at 
...
Read more...
---
M12 field wired push-in connectors
March 2019, Turck Banner , Enclosures, Cabling & Connectors
Turck has added M12 field wireable connectors with integrated push-in connection technology to its connectivity portfolio. The new connectors enable the user to complete rapid and safe manual assembly 
...
Read more...
---
Adrian Buddingh joins Rittal South Africa as managing director
February 2019, Rittal , News
Effective as of 1 January, Rittal South Africa is pleased to welcome Adrian Buddingh as the subsidiary's new managing director. Buddingh's engineering expertise, knowledge of the industry and passion 
...
Read more...
---