printer friendly version
A complete flow solution
July 2005
Flow Measurement & Control
In keeping up with today's high level of automation, the Proline series of instruments from Endress+Hauser offers users a complete flow solution, from planning, through to commissioning and configuration, through to diagnosis and maintenance.
In creating the Proline series, numerous sensor-specific software tools were developed for different flow measurement technologies. These tools provide optimal support to users in all phases and, because they are easy to use, significant cost and time-savings are realised. The Proline series allows for easy planning, commissioning and the management of an application-specific flow solution.

The ProLine series tooling concept includes applicator for the selection and specification of flowmeters
This practically oriented tooling concept consists of three main components: Applicator for the selection and specification of flowmeters, FieldTool for flexible on-site administration, and FieldCheck with user-friendly test and diagnostic functions.
The Applicator tool offers easy to use selection functions. All the essential parameters for the specification of a measuring point are queried step by step: the user enters the application limits, selects the fluid type, and the software suggests appropriate measuring instruments. By entering additional process values such as pressure and temperature etc, the selection is more precise. Comments and warning messages assist the correct selection, help to avoid errors and facilitate the optimisation of the measuring point in line with specific requirements.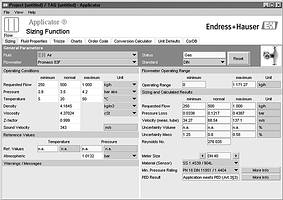 The Applicator tool offers easy to use selection functions. The user enters the application limits, selects the fluid type, and the software suggest appropriate measuring instruments
Applicator's basic software can be supplemented with additional functions and databanks at any time. A project management function, a databank with technical drawings, and a databank with details of corrosion resistance where the characteristics of over 300 fluids are stored, are all available. Projects can now be administered simply and cost effectively and order codes are generated automatically. The latest version of Applicator is available for download from the Internet and can also be requested on CD.
The modular FieldTool software package, a uniform configuration and service programme, allows for flexible on-site administration of all new ProLine series flowmeters. The computer is connected to the transmitter electronics via an interface. Opening the electronics compartment is not required. The software runs under Windows 95, 98, NT, 2000 and XP - and even the most basic module enables complete on-site configuration of the flowmeter, supporting the user with commissioning and troubleshooting.

The ProLine series tooling concept includes applicator for the selection and specification of flowmeters
The FieldTool software can be expanded with additional modules as an extra option. For example, the FieldView module allows process values to be visualised. In addition, a module for maintenance analysis facilitates preventative maintenance measures, avoiding down time. Extended diagnosis modules offer the possibility of trend analysis or the automatic generation of warning messages on the PC when limit setpoints are exceeded.
To support users in terms of safety and reliability during maintenance, Endress+Hauser completes the tooling concept with FieldCheck - a powerful test and simulation instrument that allows for user-friendly, on-site diagnosis. With FieldCheck, all PROline series flowmeters can be tested directly in the plant. Using an integrated interface, FieldCheck directly reads flowmeter data without having to be reconfigured repeatedly.
FieldCheck consists of the actual signal generator, as well as connectors and adapters for different measuring systems and transmitter outputs. All instrument components are contained in a protective case, ensuring that all is readily available on site. A built-in, high-performance, rechargeable battery enables use over extended periods, and test results are shown on a clear graphics display.
The test results received on site for up to 50 instruments can be processed by the FieldTool programme, written to a data bank and printed out. FieldCheck's real value in terms of cost and time savings become apparent in situations where more regular calibration and test cycles are required for situations such as ISO 9000 certification.
To ensure a smooth transition into the future of flow measurement technology, Endress+Hauser has made the new electromagnetic flowmeters compatible with their predecessor models. A 'thought-through' building block system, to which different sensors belong, makes for easy adaptation to the given application. At the same time, the user profits from an improved price/performance ratio, many optional software functions, and flexible input and output modules - which can also be retrofitted.
Endress+Hauser's software development in the area of flowmeter measurement is clearly on the right path. With continuously rising levels of automation, technology can only be handled by the user easily and affordable, with the help of powerful, complete concepts.
For more information contact Grant Joyce, Endress+Hauser, 011 262 8000, info@za.endress.com
Credit(s)
Further reading:
Digital innovations using the vibronics measuring principle
February 2020, Endress+Hauser , Level Measurement & Control
Continuous optimisation and increasingly automated processes are shaping the history of process automation, as well as that of industrialisation.
Read more...
---
Compact flow sensor with IO-Link
February 2020, Turck Banner , Flow Measurement & Control
Turck has introduced the FS+ flow sensor, another product from its fluid sensor series. The sensor is protected in a robust stainless steel housing, together with a one-piece translucent front cap and 
...
Read more...
---
New slurry sensor from Emerson
February 2020, Emerson Automation Solutions , Flow Measurement & Control
Emerson's Rosemount MS Slurry Sensor with the Rosemount 8782 Slurry Transmitter is a slurry magnetic flowmeter specifically designed for high noise and slurry applications for use in the oil and gas, 
...
Read more...
---
Thermodynamic flow sensor
January 2020, Countapulse Controls , Flow Measurement & Control
Ease of flow monitoring with low maintenance benefits is a given with the compact plug and play EGE SNS 450 thermodynamic flow sensor from Countapulse Controls – the sole southern African agent for EGE's 
...
Read more...
---
Magnetic inductive flowmeter in stainless steel
January 2020, Instrotech , Flow Measurement & Control
Instrotech has announced the introduction of Kobold's MIM magnetic inductive flowmeter. MIM features IO-Link, a short distance, bi-directional, digital, point-to-point, wired, industrial communications 
...
Read more...
---
Compact design electromagnetic flow measurement
December 2019, Endress+Hauser , Flow Measurement & Control
Whether in the life sciences or in biotechnology, whether in the food or chemical industries – global competition is steadily increasing. Ever more companies are implementing their process facilities 
...
Read more...
---
The future calls for efficiency
January 2020, Endress+Hauser , News
The demand for raw materials is rising, which means reserves should be dwindling. Producers around the world are thus working toward the goal of generating more with less. The result, which seems contradictory 
...
Read more...
---
A good combination for the primaries and metals industry
November 2019, Endress+Hauser , System Integration & Control Systems Design
Endress+Hauser?s measurement devices for flow, level, pressure, temperature and liquid analysis.
Read more...
---
Self-cleaning flow indicator for liquids
November 2019, Instrotech , Flow Measurement & Control
To check the flow processes in pipeline systems and for insight into the interior of process pipes, many flow indicators are used in which the flowing medium sets a rotor turning and thus to a large extent 
...
Read more...
---
Emerson's new eight-path flowmeter
November 2019, Emerson Automation Solutions , Flow Measurement & Control
Emerson has introduced the Daniel 3418 eight-path gas ultrasonic flowmeter, which delivers highly accurate flow measurement in natural gas custody transfer applications with reduced upstream piping requirements 
...
Read more...
---