printer friendly version
Vega through'Eric' is a global market leader in radar level measurement
May 2000
Level Measurement & Control
Vega today is a very well-known name in the filed of level and pressure measurement instrumentation, and is particularly acclaimed for its world leadership in radar-based measurement. Few are, however, aware that the roots of vega lie in Germany's equally famed Black Forrest and in an earlier family owned company, Grieshaber(the current chief of Vega)who was to return after the war to find the family business in ruins and who painstakingly set about it to an engineering company.
With time Bruno diversified the company into other areas, including radio manufacture and the novel 'Veloton', which was a radio built into a bicycle lamp. As a result of these ventures, a separate company called Vega was formed in 1959, still forming part of the Grieshaber Group, although its fame has expanded well beyond the borders of Germany. As the demand for radios declined, Grieshaber sought for other developments where he could use his electronic specialists, and through a business associate, he came upon the need for accurate level measurement.
Vega registered the first patent in this field in 1964 and this was followed in 1967 with the patenting of their capacitative measurement electrode. In 1973 production of pressure sensors commenced, followed by ultrasonic level sensors in 1976 and vibrating rod sensors in 1979. The company entered the important field of ceramic sensors in 1987 with the acquisition of Fibronix Sensoren, thus providing, at that time, a complete portfolio of level sensing solutions.
The company developed rapidly over the intervening years and became a major international player in level and pressure measurement. Today, Vega employs 700 people in its worldwide operations and is represented in some 47 countries in all five continents. It remains privately owned, the day-to-day running being in the capable hands of Bruno's son, Jürgen. With a turnover close to DM 200 million, two thirds of the business is export. While Africa rarely features in the sales breakdown of major companies, Vega is very proud of its business here, and the Africa/Middle East region accounted for 5% of total export sales during 1999.

Vega as a company does not believe in resting on its laurels and encourages innovation and creativity. This paid off in a big way during 1998 when it took its competition by surprise and launched its two-wire low-cost radar system, affectionately christened 'Eric'. Eric has seen Vega boomerang to total world leadership in the field of radar level measurement in just two years, and in time for the fortieth anniversary celebrations of its creation.
Vega in Africa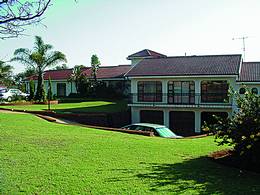 Vega has been active in the South African market for more than twenty years, for most of this time through its dynamic and well-known representative Karl Gassmaier of Anka Instrumentation. Following Karl's tragic death in an accident in 1997, Vega, recognising South Africa as the 'gateway to sub-Saharan Africa', decided that the time was propitious for a presence in its own right. As a result Vega Instruments, a fully owned subsidiary of the German parent, opened for business in November 1997 under MD Alan Wynn. It is also noteworthy that outside of Europe the only other fully owned subsidiaries are those in the USA and Australia.
The Managing Director Alan Wynn, although a qualified electronics engineer, saw his own future in sales and marketing. Alan joined Vega in 1982 and was one of four people who grew their fledgling UK business, Vega Controls, into a major player in that country. Having made a success of that venture he was transferred to Cincinnati in North America to start the Vega subsidiary there, the Ohmart-Vega Corporation. The name came about as Vega accelerated its entry into the US market by acquiring the local company Ohmart, and retaining its existing representative network. In the United States Alan was assisted by his wife Julie and his transfer to South Africa to start up yet another subsidiary saw her join him here as accountant.
Despite the economic downturn this country has experienced in the manufacturing and mining sectors over the past few years, Vega Instruments flourished, and was turning a profit within two years. A notable accomplishment for the new company was the presentation to it in 1998 of the 'Make it SA' Customer Service Award which is sponsored by the CSIR and the Engineering Association. From an initial staff complement of four people and two representative companies, it has grown to nine employees and four representatives. While Vega itself, located in Roodepoort, looks after the highly industrialised areas of Gauteng and Mpumalanga, as well as neighbouring countries, the representatives complete the national network with their presence in Cape Town, KwaZulu-Natal, Welkom and the Vaal Triangle.
The success of Vega Instruments can be attributed in no small part to the fact that its sales engineers are really familiar with their customer's field of work. Alan Wynn believes that all to often measurement companies try to offer solutions for every problem, without knowing even one in complete depth. Vega has stuck to level and measurement and in these fields its sales engineers are experienced professionals. Each and every one has undergone specialised training in Germany and even after a customer makes a purchase the sales engineer remains responsible for that project for four months before it is passed on to the service department. Here as well 'service' is paramount and local repairs are part of the offering.
In a nutshell the Vega objective is to bring quality instrumentation, at cost-effective pricing, with sound application engineering advice, to the marketplace- that says it all!
The customer base for Vega Instrumentation is very wide indeed and as one of their sayings goes "However you start your day Vega is not far away". Vega not only satisfies the level measurement needs of the 'classical' sectors such as chemicals, pharmaceuticals, water and waste water, but also extends into dairies, breweries, petrochemical, mining and agriculture. Chocolate factories use Vega instruments to measure the height of every slab, the steel sheet from the likes of Iscor is measured with their sensors, and your soaps, shampoos, aftershaves and perfumes are mixed and stored in containers whose contents are measured with the company's instruments.
Large multinational customers of Vega include Siemens, Nestle, Hoechst, Kodak, Esso and BASF. Locally the company has been successful in all recent major local projects including Alusaf, Mosal, Saldanha Steel and the Namaqualand Sands projects. Despite the recent negative reports on the Zimbabwe industry, a major client there is Unilever, while in Botswana the company's most important customer is the De Beers diamond mines.
While the new radar level technology has given Vega a major advantage over its competitors, Alan Wynn is quick to point out that it is not by any means the sole answer to every level measurement problem. That is why the company still offers twelve other level measurement technologies, including ultrasonics, capacitive, conductive, differential pressure, vibration, hydrostatic and microwave. Admittedly the radar technique has replaced a lot of nucleonic and ultrasonic solutions but Vega will still ensure that the correct technique is used for the specific application, and it will be the solution which is most cost-effective for the customer. However, radar offers unique advantages over other technologies because the measurement remains unaffected by most process variables, including temperature, pressure, dust, air turbulence, specific gravity and dust.
The bright yellow of Vega's line of measurement products now stands out proudly on the floors of local industry like the dandelion meadows from their place of origin in the Black Forest. Alan Wynn believes that with the company's unique blend of personal leadership, innovation, team work, application knowledge and solid customer support the local operation is in for a period of strong growth. The next innovation probably will lie in the use of the Internet for remote diagnostics and calibration of their products.
Credit(s)
Further reading:
Continuous non-contact level measurement with radar technology
KROHNE Level Measurement & Control
Online teaser: A narrow beam angle of 4° for tank internals and long nozzles is combined with accuracy down to ±2 mm, even in processes with fast-changing levels and low dielectrics.
Read more...
---
Sensors train many eyes on FMCGs
VEGA Controls SA Editor's Choice Sensors & Transducers
Profit margins on consumer goods are small, which makes it all the more important for producers to have smooth, efficient operating processes.
Read more...
---
Plumb bob sensor for tanks and settling basins
Morton Controls Level Measurement & Control
Its precise sensitivity can be adjusted to slurries and solids in liquids, and can also be configured for use in corrosive media with increased resistance.
Read more...
---
Level measurement – now with Bluetooth
WIKA Instruments Level Measurement & Control
The instrument's description, TAG number, and 0% and 100% marks can be configured via an app on a smartphone or tablet.
Read more...
---
Radar sensor keeps its cool
VEGA Controls SA Level Measurement & Control
The VEGAPULS C 21 delivers exact measuring results without effect from the medium, or the process and ambient conditions
Read more...
---
PACTware further refines user interface
VEGA Controls SA IT in Manufacturing
Optimising a user interface for multiple sensor equipment manufacturers is possible in such a way that industrial users can use it similarly to everyday smart devices.
Read more...
---
Load sensor for force measurement
Instrotech Level Measurement & Control Mass Measurement
The instrument provides a solution for non-intrusive level measurements of materials that are subject to uneven build-up, bridging or sidewall collection.
Read more...
---
How's our plant doing today?
VEGA Controls SA IT in Manufacturing
Three VEGA initiatives for secure and flexible process automation lead straight to Industry 4.0.
Read more...
---
Diesel level sensing for rail engines
Instrotech Level Measurement & Control
Diesel fuel levels are measured, recorded and displayed, and kilowatt-hours are measured, using the Senix ToughSonic CHEM 10 ultrasonic sensor.
Read more...
---
Radar level sensor with IO-Link interface
ifm - South Africa Level Measurement & Control
Its non-contact radar measuring principle prevents malfunctions or failures of the sensor caused by the adhesion of viscous media or damage from agitators.
Read more...
---