printer friendly version
Tank intelligence solutions
February 2004
Data Acquisition & Telemetry
The Saab TankRadar Rex system is flexible and robust. Depending on the set-up, users may benefit most from a single standalone radar gauge with a local readout or from a complete system solution handling hundreds of tanks and distributing data on a global level via the Internet.
Level and volume
A single Saab TankRadar Rex gauge mounted on top of an oil tank will deliver measured liquid level values as well as calculated content values such as total observed volume (TOV). In standalone applications, the readout typically comprises a remote display unit on the tank top or on the ground.
Temperature and water interface
Complement the Rex gauge with a Multispot thermometer and an integrated water level sensor. Now the Rex system will deliver measured liquid level and volume, as well as a calculated average temperature and water interface level. With such temperature data available, level values are corrected for any thermal expansion of the tank walls. Using the TankMaster software, users will now have gross observed volume (GOV), gross standard volume (GSV), and net standard volume (NSV).
Hydrostatic and vapour pressure
Adding two digital pressure transmitters...
One at the bottom of the tank (in the liquid) and one at the top (in the tank atmosphere). Together with the TankMaster software, this provides a complete hybrid tank gauging system, delivering measured values such as observed density, hydrostatic and vapour pressure, as well as calculated hybrid values like reference density and mass - all online.
Lean and clean installation
So far in this example, all input connections are made directly into the radar transmitter head, which means the need for junction boxes is minimised, keeping the installation lean and clean.
A Multispot thermometer with six temperature elements can be connected directly to the transmitter head together with two digital pressure transmitters. If more than six temperature elements per tank are needed, a data acquisition unit (DAU) is added.
Flexible field communication
The values measured and calculated by the Rex gauge are sent to the control room in several ways: via either standard buses, such as Profibus and Tiway, or the proprietary TRL/2 bus.
Via the field bus, the Rex gauge is connected to a field communication unit (FCU), which continuously polls and stores tank content data from up to 32 Rex gauges and DAUs. On request, the FCU delivers tank content data to the Saab TankMaster server. This ensures that the system is updated continuously with reliable tank data. If preferred, data can also be delivered directly to the user's DCS/scada system or plant host computer.
Intelligent gauge emulation
The Rex gauge is also compatible with all major tank-gauging systems. This means the Rex gauge can be used with an existing fieldbus by emulating a gauge from that system's vendor. This feature makes it possible to replace old mechanical or servo gauges with modern Rex gauges, without the need to replace any field cabling or master system software. Current systems may be upgraded step by step to a tank intelligence system, at a pace that is convenient for the user.
Tank intelligence functions
The Saab TankRadar Rex system is typically used for:
Plant operations
* Oil movement monitoring.
* Operations and blending control.
* Leak and overfill protection (hi-hi/lo-lo level alarms).
* Events review.
* Reports.
Corporate management
* Inventory calculations.
* Loss control.
* Custody transfer.
* Legal custody transfer.
The radar gauge on top
The Saab TankRadar Rex gauge series is designed to deliver tank quantity data with maximum reliability and accuracy for all tank farm applications, with a minimum of maintenance requirements and with the easiest possible installation and set-up procedures. The Rex gauge comes in four versions, each designed for maximum performance within its specific field (see Figure 1).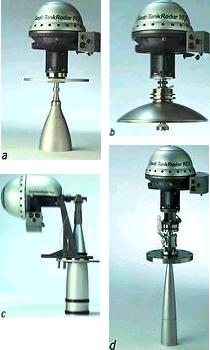 a) Horn antenna gauge RTG 3920: designed specifically for mounting in existing small tank nozzles (min 8 inches) near the tank wall on fixed roof tanks. False radar echoes from the tank wall are all but eliminated by intelligent signal polarization, thus prevented from affecting the measurement quality. This gauge measures all types of liquids, but is less suitable for asphalt and similar products. b) Parabolic antenna gauge RTG 3930: has a large heavy-duty stainless steel and PTFE antenna. The antenna is tolerant of sticky and condensing products, making this gauge a suitable choice for all products, from the very clean to asphalt and blown bitumen. c) Still-pipe gauge RTG 3940: designed for tanks with a still-pipe and with or without a floating roof, such as crude oil tanks and gasoline tanks. The system's 'low loss mode' maintains approved custody transfer accuracy when measuring in rusty and deposit-coated still-pipes. A removable wave-guide facilitates hand-dips and sampling. d) LPG/LNG gauge RTG 3960: for measuring, with approved custody transfer accuracy, in pressurised tanks with liquefied gas. A still-pipe makes the signal sufficiently strong even from a boiling surface. A reference pin is used to verify measurements when the tank is pressurised. A vapour pressure sensor and ball valve are an option
Intelligent features for maximum performance
The Rex gauge is designed for problem-free operation in all climates. The temperature of the electronics is kept constant regardless of the ambient temperature. This is one of the reasons for the gauge's high accuracy and 65-year MTBF.
Digital reference
A Rex gauge should never need to be taken out of service for recalibration. In order to achieve the high precision, measurement accuracy is checked continuously using a built-in digital crystal oscillator as a reference.
Drip-off antennas
All our antennas have a drip-off design according to API Ch 3.1B ed 1, making them less susceptible to condensed water contamination and product build-up. This means higher accuracy and improved reliability.
Saab TankMaster - tank intelligence software
Saab TankMaster is a Windows-based software package designed to supervise the tank intelligence system. On the TankMaster screen, the user will see a quick overview as well as detailed views of all tank gauging data - in realtime as well as retrospectively, for the entire tank farm, tank by tank and product by product. Calculations of inventory and custody transfer quantities are performed in realtime, following API, ISO and other industry standards.
TankMaster is fully OPC-compatible and communicates with scada/DCS systems, plant host computers, and Microsoft Office programs via OPC or the Modbus protocol. For a modest investment, Saab TankMaster boosts the value of a tank intelligence system. The benefits include:
* Quick interactive set-up and configuration of gauges and tank parameters.
* User-friendly tank content and activities display.
* Alarm and event status continuously checked and reported.
* Full inventory data display in DCS/plant host system.
* All tank data stored in a dedicated database.
* Runs on a standard PC with Windows NT/XP.
For more information contact Luculle Stols, Alpret Control Specialists, 011 249 6700, marketing.alpret@emersonprocess.com, www.alpret.co.za
Credit(s)
Further reading:
ACS – complete solutions for process automation
Automation Control Solutions News
Management recently confirmed that the sale of the Aveng owned Automation and Control Solutions business unit had been completed. The new business will continue to trade under the name Automation Control Solutions (ACS) as a going concern procured from Aveng.
Read more...
---
Clip-on indicator with Bluetooth and logging
WIKA Instruments Data Acquisition & Telemetry
Monitor live process values and diagnostic information on any iOS/Android device running the free PPS application, or monitor directly on the display.
Read more...
---
RS Components introduces RX23E-A
RS Components SA Data Acquisition & Telemetry
RS Components has introduced a new series of single-chip devices from Renesas, the RX23E-A microcontrollers (MCUs) which combine an analog front end (AFE) and an MCU core for use in equipment that delivers 
...
Read more...
---
Flow measurement in slurry processes
Automation Control Solutions Flow Measurement & Control
Emerson's Rosemount MS Slurry Sensor with the Rosemount 8782 Slurry Transmitter is a slurry magnetic flow meter specifically designed for high noise and slurry applications for use in the oil and gas, 
...
Read more...
---
Slurry magnetic flowmeter platform
Automation Control Solutions Flow Measurement & Control
The new Rosemount Slurry Magnetic Flowmeter Platform is Emerson's answer to the demands of high noise applications. The platform is made up of the MS magnetic flowmeter sensor for slurry applications, 
...
Read more...
---
Advanced controller for data acquisition
RJ Connect Data Acquisition & Telemetry
The ioThinx 4530 series is an advanced modular controller product with a unique hardware design, making it an ideal solution for a variety of industrial data acquisition applications. The controller has 
...
Read more...
---
Top data management on the DIN rail
Endress+Hauser South Africa Data Acquisition & Telemetry
The data manager family of Endress+Hauser is growing. To meet the strong demand from the market for a smart, compact DIN rail data manager for mounting in the control cabinet, development of the RSG45 
...
Read more...
---
IoT data logger
Data Acquisition & Telemetry
IMS is known across the globe as a leading industry expert and manufacturer of condition monitoring data loggers and telemetry. The company performs data logger engineering, manufacturing and servicing 
...
Read more...
---
Fieldlogger for data acquisition
Mimic Components Data Acquisition & Telemetry
The Fieldlogger is a great asset to the Novus automation range of products. It is one of the most comprehensive instruments for the acquisition of data recording, and is capable of analog and digital 
...
Read more...
---
Monitoring the health of your asset
Automation Control Solutions IT in Manufacturing
In an ever-changing world where digital transformation coupled with optimised computerisation and interconnectivity is prevalent, the need to remain knowledgeable about asset health in manufacturing is 
...
Read more...
---