printer friendly version
The value of transforming manufacturing data into plant intelligence
February 2004
SCADA/HMI

During the previous five years, worker productivity in global manufacturing continuously increased, in large part due to the implementation of sophisticated IT infrastructures, supply chain optimisation, and plant floor automation. However, in the first quarter of 2001, that growth curve suddenly flattened, putting further pressure on the sluggish worldwide economy and the profitability of manufacturers.
It is impossible to identify a single cause for the slump in productivity growth. Yet, as corporations look to re-establish the productivity gains they had previously achieved, one aspect becomes clear: in today's highly-connected business world, one critical piece of worker information is missing: "What is actually happening on the plant floor?" While the information to answer this question exists in the automation systems that run the operation, the sheer volume of data, and the fact that the data is constantly changing, makes any benefit difficult to obtain.
Speaking to congress in February, 2001, US Federal Reserve chairman Alan Greenspan commented, "New technologies for supply-chain management and flexible manufacturing imply that businesses can perceive imbalances in inventories at a very early stage - virtually in realtime - and can cut production promptly in response to the developing signs of unintended inventory building." This ability to convert plant data into useable knowledge has been dubbed plant intelligence.
The challenge: turning data into knowledge
Historically, manufacturing has been identified with noisy plant-floor machinery, hissing steam valves and belching smokestacks. Today, manufacturing has become among the world's most information-intensive sectors. Along with products that come off packaging lines and pour through pipelines, manufacturing plants produce an ever-growing stream of data that originates on the plant floor. This data is used to optimise inventory and production, improve product quality and consistency, properly maintain equipment, and ensure that plants are compliant with environmental, health and safety regulations.
To convert the torrential flow of data in today's manufacturing facilities into knowledge, companies must be able to capture it from a broad number of sources, aggregate it in a common format, and make it available to software applications that can interpret it, giving it meaning and value. For example, while a packaging line with three bottle-filling lines generates data about the status of each line, it is not until that data is analysed over time that the extent of unscheduled stoppages can be determined on any particular machine, leading to better informed business decisions on preventative maintenance and capital spending on new plant equipment (see Figure 1).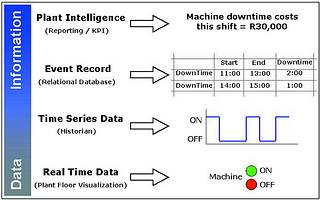 Figure 1. Machine downtime: an example of plant intelligence
Creating an 'intelligent plant', however, requires more than capturing data and implementing applications to interpret it. The piece to this puzzle that many manufacturers have lacked until now is a single, central repository for the massive volumes of historical data emanating from operations systems throughout the plant. These plant-wide historians can serve up this data to a wide variety of applications at the operational and business levels of the enterprise.
While several plant-wide data historians have been on the market for a number of years, they are considered too costly and complex for all but the largest manufacturing facilities, such as those running large-scale, continuous processing operations like chemical processing plants and oil refineries.
To enable all manufacturers to gain the benefits of plant intelligence, GE Fanuc, a leading maker of industrial automation software, recently introduced iHistorian, a plant-wide data historian that can be cost-efficiently scaled to meet the needs of large, small and medium-sized plants. In addition, iHistorian is designed to meet the needs of all manufacturers, regardless of whether their primary processes are discrete, process or batch.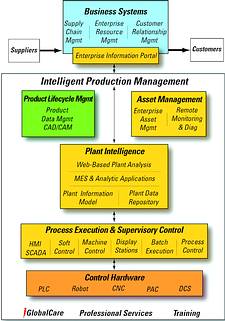 Figure 2. Plant intelligence
Plant floor historians vs plant-wide historians
The application of data repositories is not new. Plant floor historians have been essential components of manufacturing control systems for many years. However, it is important to draw a distinction between these systems and far more powerful plant-wide historians.
Plant floor historians typically are intended to support only plant floor applications. For example, if an operator needs to generate view trends of variables such as temperatures, flows and pressures, he does so by accessing data in a plant floor historian. In keeping with the limited scope of its task, the plant floor historian's performance and scope are relatively modest. Such historians, which generally are tightly integrated with human-machine interface (HMI) automation software, gather data from a limited number of plant systems. Usually, they do not accumulate data from peripheral sources (ie, packaging lines, scales, laboratory systems, etc)
Plant-wide historians, on the other hand, are more loosely integrated with control systems than process historians, yet they draw data from a much broader group of sources. Usage of this data includes trend-charting applications, along with a broad range of analysis tools, including (but certainly not limited to) statistical process control charting, product tracking and genealogy, downtime monitoring, key performance indicators, and others.
In keeping with the greater number of data sources and the demands placed on the system by users, plant-wide historians are far more powerful than process historians.
The value of plant-wide historians
Plant historians deliver value to manufacturers in many areas, but most notably in corporate accountability, eManufacturing and operational improvements. We will examine the role of the historian in each of these areas.
Corporate accountability
Virtually every manufacturer must contend with the challenge of operating in compliance with a number of government regulations regarding product and worker safety, and in controlling emissions into the air and waterways. Most plants not only must deal with separate sets of regulations on federal, state and local levels, but also all are subject to rule revisions that plant managers must be aware of and meet. Failure to comply with regulations can have grave effects, including plant shutdowns, stiff fines, and expensive product recalls.
Nowhere is the importance of compliance more evident than for manufacturers regulated by the US Food and Drug Administration. In pharmaceutical production, manufacturers must validate their manufacturing processes with the Food and Drug Administration. After production is underway, they must document all aspects of manufacturing, including identification of raw materials that went into a particular batch of finished product. After production, these manufacturers must be able to confirm that all approved processes were followed and that the quality of the product was acceptable. Most regulatory agencies require companies to be able to show documentation as evidence that they were in compliance or that they took timely steps to remedy an out-of-compliance situation.
Gathering all of this data and aggregating it efficiently requires an historian capable of pulling data from numerous sources (ie, the manufacturing line, packaging line, raw material receiving, chromatographs, etc) and aggregating it for use by systems that track product quality, track emissions, prepare reports, etc. The ability of plant historians to gather data from many sources and aggregate it make them the ideal tool for efficiently and accurately meeting these demands.
Beyond regulatory compliance, a company's welfare also rests on its ability to maintain the trust of its customers and the public at large and to mitigate the financial consequences from product failures.
For example, a maker of dairy products is required to recall containers of frozen yoghurt when it is discovered that peanut derivatives have been inadvertently added to some batches. Since peanuts and peanut-based products can be fatal to anyone allergic to them, the consequence of not recalling the tainted products is frightening. In addition, resulting fatalities could destroy customer faith in the company, and possibly the company itself. Yet, because the company employs a plant historian, it is able to quickly and accurately trace the genealogy of the tainted product back to a single improperly labelled batch of raw ingredients. As a result, management knows precisely which batches of frozen yoghurt were tainted, and the company is able to confidently initiate a product recall, minimising the effects of the problem and retaining its reputation as a maker of quality products.
Plant-wide historians and eManufacturing
The word 'eManufacturing' is shorthand for the systems and processes that allow manufacturers to seamlessly integrate their plant floor manufacturing operations with their business systems in order to provide the information flows required to optimise their supply chains.
Consider the following eManufacturing example: A producer of chemicals wishes to reduce its inventory costs. It creates an arrangement with a supplier of raw ingredients whereby the supplier will keep the manufacturer's raw material tanks at an agreed-upon level, and the manufacturer does not pay for the ingredients until they actually are used, thus minimising the manufacturer's inventory costs. Of course, this arrangement hinges on the manufacturer's ability to provide accurate data to its supplier on its ingredient usage to ensure proper billing. The supplier also needs accurate data to ensure that the manufacturer has enough raw materials on hand to meet production demands, which are subject to change as a result of special orders, unexpected opportunities, etc.
The plant historian receives data on the tank levels and serves it to a number of areas across the enterprise, including the plant's supply chain management system, the enterprise resource planning (ERP) system, and other systems affected by such transactions. Because all of these systems rely on the historian as the single source of data, it must be consistent, timely and accurate.
The plant historian also serves as the vital link between the plant's operational and business levels, providing business systems with the actual data they need to gain a clear, accurate picture of current production status or historical trends. This detailed information can yield numerous benefits, including the ability to let customers gain access to information on the status of their orders.
Timely access to plant floor information also enables manufacturers to appropriately price their finished goods - a capability that is particularly important in industries where the price of raw materials fluctuates. Companies typically assign a standard cost to products, representing a 'best guess' concerning the cost of materials, labour, transportation, etc. However, with the availability of accurate data from a broad selection of plant systems, manufacturers have an improved ability to determine a product's actual costs during defined time periods, allowing them to price their finished goods appropriately.
Operational improvements
While automation systems use manufacturing data to keep manufacturing systems on spec in realtime, plant personnel need historical data to discern longer-term trends that affect their operations. As noted earlier, while plant floor historians can serve this purpose, they only monitor a limited number of points and generally are not used to record data from discrete portions of the operation, such as packaging, where productivity problems can occur. With a plant-wide historian - particularly one that is flexible enough to record and aggregate data types from a variety of manufacturing situations - plant personnel can gain a detailed, high fidelity view of their entire operation, enabling them to discern problems that might have been largely invisible in the past.
A broad, detailed view of production also is an important key to ensuring repeatability and consistency in products, reducing waste and helping ensure customer satisfaction. Thus, plant historians are a key tool in manufacturers' continuous improvement efforts.
In the area of maintenance, plant historians can incorporate diagnostic data from devices and plant management systems to help ensure that sections of the plant are taken out of service only when necessary or at times when production will be least affected. This is just one way in which plant historians are vital to maximising manufacturers' productivity and return on assets.
GE Fanuc's iHistorian
As noted earlier, nearly all plant-wide historian packages to date have been designed to serve as a part of distributed control systems typically used in large process settings, such as oil refineries and chemical processing plants. While such systems are capable of robust performance and high data rates, they lack low-end scalability and are designed primarily for recording and maintaining analog values (eg, temperatures, flows). Consequently, existing plant historians are ill suited for small or medium-sized applications, or those in the discrete and hybrid industries. As a result, many of these companies have been unable to fully participate in the evolution of plant intelligence.
GE Fanuc, which has been providing industry-leading, highly scalable HMI/scada solutions to manufacturers for more than 20 years, understands the needs of these manufacturers and, with iHistorian, has produced a system to meet their plant historian needs.
The iHistorian is a high-performance system designed to access up to 100 000 data points per server, with the capability of transferring 20 000 events per second in and out of the system. While suitable for the largest, most complex plant operations, it also can be scaled to access as few as 100 data points. As a result, smaller manufacturers can now practically and affordably access and use data in ways not practical before, while larger manufacturers now have a state-of-the-art system that addresses many fundamental issues with legacy historian installations.
While iHistorian can be tightly integrated with either GE Fanuc's iFIX, or CIMPLICITY, system (HMI/scada), it uses industry-standard connectivity protocols, such as OPC. As a result, the historian can be fully integrated with a wide variety of control and information systems throughout the plant, and can be used in conjunction with any automation systems, not merely iFIX, or CIMPLICITY.
iHistorian is capable of managing and aggregating a variety of data types. While some plant historians are adept at managing only analog data from process operations, iHistorian is designed for use with string data, sequence of events, discrete data and other types of data such as binary large objects.
In conclusion
To improve the ways in which products are manufactured and brought to market, manufacturers must be able to view their operations in detail and use that information to better control manufacturing processes and their interactions with suppliers and customers. During the past two decades, automated sensing equipment, control systems and business management systems have helped manufacturers make major strides in that respect.
At the centre of the increasingly intelligent plant, however, there must be a powerful repository for the data that is manufacturing's lifeblood. Such repositories have been out of the reach of many manufacturers. But in keeping with its tradition of innovating scalable, powerful manufacturing solutions, GE Fanuc is putting the power of plant intelligence within the reach of nearly all manufacturers, no matter what their size or immediate need.
For more information contact Daniel Coetzee, GE Fanuc, 082 453 3301, Daniel.Coetzee@gefanuceur.ge.com, www.gefanuc.co.za
Further reading:
Robust HMI devices with all-round IP67 protection
Turck Banner SCADA/HMI
Turck Banner's new TXF700 series offers an ultra-robust HMI series with complete all-round protection to IP67 for use at temperatures between -20°C and 55°C.
Read more...
---
Turck Banner expands HMI range
Turck Banner SCADA/HMI
Turck Banner has expanded its TX700 HMI/PLC device series with new variants for food and beverage applications, as well as high-brightness displays for sunlight readability.
Read more...
---
Will the IIoT kill scada, or lift it to new heights?
Adroit Technologies SCADA/HMI
Dave Wibberley, managing director, Adroit Technologies, shares his views on where scada is headed in the era of the Industrial Internet of Things.
Read more...
---
Collaborative robots
SCADA/HMI
Cobots is showcasing its range of collaborative robots. These robots make it simple and affordable for humans and machines to work together without a safety cage. Cobots can easily be implemented in small 
...
Read more...
---
Machines that manage real-time resources
SCADA/HMI
iBOS Industrial is changing the way we maintain and respond to machine level events with technology that effectively manages real-time resources (people) from the machine level.    Health and safety, 
...
Read more...
---
New benchmark scada software platform
Adroit Technologies SCADA/HMI
MAPS 4, the latest scada solution for control and visualisation from Adroit Technologies, extends connectivity options, adds user tools and increases the scope of its built-in functionality. The result 
...
Read more...
---
Inductive Automation's I­gnition technology offers potential to ­disrupt the market
Mzukulu Technologies SCADA/HMI
'Ignition by Inductive Automation' is an industrial software platform with a variety of modules that can be combined to create custom HMI, scada and MES solutions.
Read more...
---
New platforms for HTML5 visualisation
Phoenix Contact SCADA/HMI
Easy and flexible implementation of current and future demands.
Read more...
---
Yokogawa's open scada solution
Yokogawa South Africa SCADA/HMI
Scada systems are typically used for supervisory monitoring and control of remote and geographically distributed assets through a more open platform for interfacing with several makes and types of equipment 
...
Read more...
---
Schneider gets smart with new HMI solution
Schneider Electric South Africa SCADA/HMI
In a world where quick access to data has become the key to efficiency, Schneider Electric South Africa's latest innovation in the Magelis range of HMI solutions, Magelis GTU, allows users to create the 
...
Read more...
---