printer friendly version
Sensors for the process industry
February 2004
Sensors & Transducers

A wide range of temperature products, resistance thermometers, thermocouples, displays and transmitters, allows Endress+Hauser to optimise process technology to find a suitable plant solution. Safety aspects involved in hygienic or hazardous area applications are considered from the start of new product development, ensuring compliance with the relevant safety certifications and environmental requirements. Solutions range from a single measuring point to Profibus-PA and Foundation Fieldbus technology with a large number of interactive instruments.
Within the Endress+Hauser Group, the responsibility for each measuring parameter is clearly defined. The production centres for temperature measurement are in Pessano, Italy, and Manchester, England, where - with excellent designing and manufacturing technology and a consolidated experience - thermometers are designed, produced and shipped.
The electronics, transmitters and displays are studied and fabricated in Nesselwang (Germany), while at Pessano an EA accredited laboratory can perform a wide range of tests on resistance thermometers and thermocouples, such as certifications and calibrations. More than 150 people are involved in the design, manufacturing and quality control of the company's temperature measuring range. For over 10 years, Endress+Hauser has been one of the market leaders in temperature measurement technology with a wide range of temperature products, meeting the high standards required by the process industry. Compact thermometers with integrated head transmitters are its strength.
Endress+Hauser can supply a comprehensive range of temperature measuring points, from the thermowell to the thermometer with transmitter, that are designed, produced, tested, certified and packed according to the customer's specification, ensuring the optimum quality and delivery performance.
Performance and safety
Typically, Omnigrad S RTD and the TC range of thermometers are employed in the bulk chemical, incineration, oil and gas, power and primary industries, where the highest levels of performance, resistance, reliability and safety are required. All the sensors (except the TAF thermocouple series) have a replaceable measuring insert manufactured from mineral insulated cable, which exhibits maximum electrical insulation and mechanical strength.
Generally, the thermowell is supplied separately. The sensor itself is usually fitted with a modular extension neck for coupling with the thermowell. The client can select from among the types of thermowell most widely used in the process industry, ie, fabricated or bar-stock, with flanged, threaded, or weld-in process connections and built according to DIN or ASME/ANSI standards.
TAF thermocouples are suited for use in very high temperature measurement, even with precious metals elements (platinum alloys) or ceramic protection tubes. The Omnigrad S range can easily be adapted for customised applications where special materials and design, or engineering support, are required.
Hygienic range of temperature sensors
The Omnigrad M range of sensors has been designed with the particular needs of the food, beverage, pharmaceutical and fine-chemicals industries. The main characteristic of the range is that it is hygienic and can be cleaned on site. Its design is certified according to EHEDG and 3-A standards and all materials coming into contact with the process fluid comply with FDA regulations. The sensors are manufactured in stainless steel and they can withstand CIP and SIP processes. Where thermowell protection exists, the internal sensing probe is replaceable. Installation on site can take place using a variety of 'sanitary' removable, or weld-in connections.
Cost-efficiency and ease of choice were two main considerations when developing the TR 1x series of instruments, while at the same time maintaining the highest level of performance. When selecting an instrument, the user can rely on a number of sources of information. Theses include the Endress+Hauser website, detailed technical documentation, or assistance from the Service Department.
Purchasing is facilitated by sales procedures, including a wide range of design options, as well as the various possible accessory services for the instrument - these include certificates, calibration, tests, tag number, etc. The lead-time between placing an order and delivery is short.
The models in the range are fitted with a replaceable insert and a protection well, which is manufactured in AISI316L/Ti stainless steel, or in Hastelloy C. Installation can be executed by means of threaded, flanged, or weld-in process connections. The ATEX EEx-ia intrinsic safety certification - for atmospheres with combustible gas or dust - and iTEMP series head transmitters are available on request. The Omnigrad series of sensors also features thermocouple versions.
Solutions for common measurement
The Omnigrad T series comprises sensors that ensure an optimum, cost-effective solution for the most common measurement requirements. They are designed for general use in the civil and industrial fields, where simple and fast detection is required in easy-to-implement environments.
The TST 434 is a thermometer designed for ambient temperature detection and it features the same precision and reliable concepts utilised in the manufacture of process instrumentation. The TST 310, 410 and 425 models can be used without a protection well between the probe sheath and process, thereby enhancing the speed of detection in fast-changing conditions.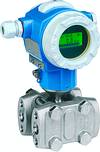 Pressure, differential pressure, level and flow
Pressure measurement applications are most varied today - from aggressive paper engineering and environmental applications in chemical facilities and power plants through to pharmaceutical and hygiene systems. Pressure sensors do not only provide safe conditions in pipes and tanks, they also make important process data available. Even in level and flow measurement, engineers often resort to pressure instrumentation.
Endress+Hauser pressure devices address the most common weaknesses of conventional transmitters - diaphragm failure and water damage to electronics. With the development of the Al2O3 sensor, offered as an alternative to the conventional and widely accepted metallic membrane, the company can combat diaphragm failure. Corrosion and abrasion resistant, the ceramic sensor handles full vacuum, while also providing superior overload protection - even at small measuring ranges.
The Cerabar T, M and S, along with the Deltabar S product line, all feature the metallic and the ceramic sensor. To guard against water damage, all Endress+Hauser pressure transmitters have coated electronic boards. With the Deltatop/Deltaset, the company offers reliable solutions even for the measurement of process pressures down to 0,5 mbar (critical to gas scrubbers and venturi flowmeters).
Sanitary installations demand specific process connections and protection against an external environment that features daily hose-downs and cleaning. The sensors must perform without drift or error, according to CIP/SIP procedures. The Cerabar M for process pressure and Deltapilot S for level measurement meet these requirements.
Level control is reliably accomplished in lift stations, wells and reservoirs with the Deltapilot S hydrostatic level transmitter. Resistant to build-up and unaffected by foam, the device is easy to install.
In the chemical, petrochemical, energy, and pulp and paper industries, abrasive and corrosive media will not limit the transmitter's performance, or life expectancy. The ceramic diaphragm holds up where metal diaphragms fail.

Full sensor range
Endress+Hauser has been actively involved in research that has led to the development of a range of sensors each capable of providing the optimum measurement solution in a given application. Ceramic sensors are the solutions in abrasive and corrosive media. Ceramic is among the hardest materials in the world, yet it is more flexible than most metals. Corrosion-resistant to acid and alkaline media, overload resistant up to 40 times, no hydrogen permeation and zero drift are just a sample of the advantages of the ceramic Al2O3 sensor.
Metallic sensors are suitable for high pressure and standard applications. A viable solution for high-pressure applications (41 MPa max.), these sensors also meet Ex d requirements and are reliable over a wide temperature range to provide stable performance. They also exhibit the highest overload resistance (60 MPa) and accuracy 0,1% of span. Gold-plated diaphragms are available in 316L, Hastelloy C, Monel or tantalum.
Designed for optimal level measurement performance in sanitary applications, or where heavy build-up is expected, the CONTITE sensor features a hermetically sealed sensor and electronics. Two diaphragms are used: a Hastelloy C4 process diaphragm and a measuring diaphragm with optimal flexibility. The difference in size creates a hydraulic effect, amplifying the displacement of the measuring diaphragm. This allows the use of a thicker, more corrosion resistant process diaphragm with a smaller displacement, which is less sensitive to build-up and mechanical damage. The fill fluid is continuously temperature-compensated to ensure optimum performance.
Ceramic sensor - economy and performance
Cerabar T is a suitable transmitter for installations where a compact, simple fixed-range device is required. Easy to install, it is simply screwed into the process connection, hooked up to the wiring, and the device is ready to measure liquids, gases and vapours.
Long lasting, reliable and extremely stable, the Cerabar T's ceramic sensor enables it to tolerate most chemicals. It is also resistant to overload. The device is suited for applications in the OEM industry and is an effective replacement for mechanical gauges. The instrument can also be used by utilities for energy management.
Intelligent pressure measurement
Cerabar M offers a capacitance-based ceramic measuring cell, or piezo-resistive metal sensor. These proven measurement technologies can be paired with the housing, communication technology and process connection that best meet the specific application requirements. The standard HART handheld terminal, or Endress+Hauser Commuwin II software, provides remote configuration. The device is also compatible with AMS (Asset Management Solutions) software.
Pressure measurement with Cerabar S and Deltabar S
Cerabar S and Deltabar S measure pressure, differential pressure, level and flow in gas, vapours and liquids. The transmitters, with piezo-resistive metal sensors and capacitive ceramic sensors, were developed for the high standards demanded in process measurement instrumentation.
Innovative concept and modular design save costs in stock level, commissioning and maintenance. The modular concept offers a basic instrument body to which various interchangeable modules can be attached. Sensor modules, process connections, sensor gaskets, electronics, housings and display units can easily be exchanged without recalibration. Universal electronic modules supply appropriate functionality, such as square root output, density factor, linearisation functions, totaliser and several safety functions.
Hydrostatic level measurement - Deltapilot S and Waterpilot
Hydrostatic pressure sensors for level measurement can be applied with virtually any liquid media, from water to paste. Smart electronics, that can be located directly in the transmitter housing, guarantee safe operation - even if the location of the sensor is exposed to flooding or hose-down. The sensors are hermetically sealed for protection against condensation and corrosive gases. Output signal is in level, volume, or mass with an accuracy of up to 0,1% of adjusted span. Simple pushbutton calibration can be performed with an empty, or full tank.
For more information contact Grant Joyce, Endress+Hauser, 011 262 8000, info@za.endress.com, www.za.endress.com
Credit(s)
Further reading:
Omron launches new laser sensor
Omron Electronics Sensors & Transducers
New sensing technology detects difficult targets and reduces the need for complex installation design.
Read more...
---
IS interface for signal processing
Endress+Hauser South Africa IS & Ex
Endress+Hauser's RN series interface modules power the foundation of measurement instrument loops and safety instrumented systems.
Read more...
---
Digital transformation in mining
Endress+Hauser South Africa IT in Manufacturing
The mining industry is in a prime position to benefit from the adoption of digital technology across its operations.
Read more...
---
Encoders with SAE J1939 interface
Turck Banner Sensors & Transducers
Turck Banner has extended its encoder portfolio with new encoders featuring the SAE J1939 interface, which is used particularly in mobile equipment.
Read more...
---
Wenglor scanners simplify decoding processes
ASSTech Process Electronics + Instrumentation Sensors & Transducers
Wenglor Sensoric has released 19 new models of the C5PC series of 1D/2D code scanners to expand its portfolio with more powerful and easy-to-operate devices.
Read more...
---
Laser measurement for motion control
SICK Automation Southern Africa Sensors & Transducers
SICK Automation's new Speetec laser motion control sensor is now available in South Africa.
Read more...
---
Wide-beam radar sensor
Turck Banner Sensors & Transducers
Turck Banner's T30R series has been expanded with a wider-angle (45°×45°) beam pattern sensor to better detect curved or reflective surfaces and larger targets.
Read more...
---
Multifunction timer sets parameters remotely
ElectroMechanica Sensors & Transducers
Machine builders now have the option to set timing and counting parameters on their application timers from a smartphone or tablet – without having to power the timer.
Read more...
---
Laser motion control sensor
SICK Automation Southern Africa Sensors & Transducers
SICK Automation's new Speetec laser motion control sensor is now available in South Africa.
Read more...
---
Temperature profiling in hydro processing units
Endress+Hauser South Africa Temperature Measurement
Precise and reliable temperature mapping of densely packed reactor catalyst beds makes an essential contribution to stable and profitable unit operations.
Read more...
---