printer friendly version
The idea that accelerated industrial automation- and played a role in the founding of a company
May 2000
Flow Measurement & Control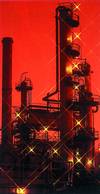 Valve & Automation is a private corporation, founded in 1986 in Durban. The company supplies and stocks various types of manual and controlled valves, desuperheaters, actuators, valve monitors, intelligent positioners and allied equipment used in the petro-chemical, pulp and paper, and power generation industries throughout southern Africa.
Valve & Automation's long-term plan is to develop their technical sales staff into groups of 'product and application' specialists, who will have a high degree of expertise within their particular area.
All technical sales staff have strong instrumentation or mechanical backgrounds, ensuring an understanding of the problems experienced by its clients within the various industrial sectors. By employing this philosophy, the company ensures that its clients will be dealing with competent 'application specialists', who will assist in solving their particular problem, as opposed to catalogue salesmen.
It has always been the company's policy to select market-specialised products rather than a range of consumer products. The products are carefully selected and are of a high technical quality and specification. Valve and Automation works at maintaining a reputation for well priced, high quality equipment in southern Africa with excellent back-up service and high technical back-up from its principals.
The previous issue of SA Instrumentation & Control featured an article discussing the strengthening of ties between Arca Valves and South Africa's Valve and Automation. This month's issue takes a closer look at Arca Valves, where the company came from and more about its line of business.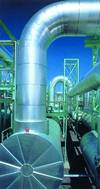 While most readers may know what a nozzle/flapper mechanism is, a growing number will only have read about them in books. The invention was a very important first step on the road to continuous, remote, automatic control of industrial processes. Few people know the name of the inventor and which company he founded.
In 1917, Ragnar Carlstedt made a patent application for his nozzle/flapper system and founded the Swedish company, ARCA Regulator AB in the following year. The name of the company came from his name: RagnAR CArlstedt. His clever use of auxiliary pneumatic energy greatly accelerated the development of automated industrial processing.
Functioning rather like an 'compressed air-powered transistor' (for those who are electronically inclined), the nozzle/flapper system made it possible to amplify, and route pneumatic control and feedback signals around plants. It was the dawning of the age of pneumatic signal processing, an age that was to extend through the end of the century.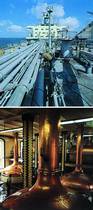 Today, over 80 years later, Arca Valves is an internationally recognised leader in its field. Full use is made of computer-controlled machining centres, with robots that guarantee high accuracy in parts production. The main factory is located in Düsseldorf, Germany, with partner companies, J.N. Marshall (in Bombay, India) and the Sam Yang Comprehensive Valve (in Seoul, South Korea) and Adareg (in France).
Arca Valves are tested in the largest European test facilities, where they are characterised for flow, cavitation and noise level. The values determined in these tests are then included in the company's computer programs for valve related calculations. This software is useful for determining the correct valve for an application, and ensuring an installation of optimum performance.
All valves gand their parts are tested, from the foundry to final mounting. If required, Arca Valves will prove all features and trace the identity of all the parts. The company maintains a comprehensive, overhead, shelf stock system, and its modular construction philosophy permits a good variety of short delivery and low-priced standard valve options. Arca Valves is flexible with regards delivery times, and is able to cater for clients' special requirements.
Arca's development teams and application specialists concentrate on the various sectors of industry:
Chemical and processing
Stainless alloys, up to and including the likes of Hastelloy or Monel are used. Standards are adhered to that guarantee the necessary safety when handling dangerous media. This team has long term experience with prescribing the correct valves for controlling pressure, temperature and level in the processing industries. (Sugar, paper, textile, rubber, wood, plastic etc)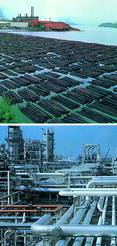 Energy and metal processing
Cast and forged valves satisfy the requirements of modern plant technology, where the highest pressure and temperature differentials exist. Special demands regarding noise limits are taken into consideration, and solutions for long-life applications under difficult operating conditions are established.
Oil and gas
Arca Valves cater for this industry from the borehole, all the way to the consumer. Sourgas, media containing solids and low temperature applications, as well as microflow valves, or butterfly valves for high capacities with little pressure loss, are all options catered for. Arca control valves have proven their quality over a range of climatic conditions, from Siberia to Saudi Arabia, with little maintenance expenditure.
Breweries and shipbuilding
Arca's "bio-valve" series is designed with hygienic regulations in mind. The series can fill a myriad of applications, from the brewing process all the way to the bottling plant. This team has also been responsible for developing shock and vibration proof valves for use in the shipbuilding industry. (Arca valves are installed in NATO's F122 frigates.)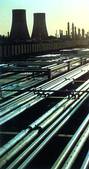 Paper manufacturing and new techniques
Arcadisc and Arcaball are quarter turn valves for use with paper pulp. They offer tight metallic sealing as well as high flow capacity with a good control characteristic. The experience of the team from this section is also available for customers requiring valves for new applications.
It can be seen how the philosophies of the two companies make them well-suited and effective as partners in meeting the demands of modern and efficient plants.
Credit(s)
Further reading:
Accurate bulk flow measurement in the cement industry
June 2019, SICK Automation Southern Africa , Flow Measurement & Control
The rapid development of sensor technology provides cement producers with a toolbox of solutions to optimise performance and strengthen market presence. Non-contact volume flow measurement of conveyed 
...
Read more...
---
Flow sensor for liquid media
June 2019, Festo , Flow Measurement & Control
The new flow sensor SFAW from Festo is ideal for monitoring cooling circuits, for example in welding guns in the automotive industry as well as in front-end applications in the semiconductor and electronics 
...
Read more...
---
Electromagnetic flowmeters
Africa Automation Fair 2019 Preview, Dupleix Liquid Meters (DLM) , Flow Measurement & Control
Badger Meter's electromagnetic flowmeters are ideally suited for flow measurement of all liquids with a minimum conductivity of 5 μS cm. The flow measurement is independent of density, temperature and 
...
Read more...
---
Flowmeters for clean liquids and gases
Africa Automation Fair 2019 Preview, WIKA Instruments , Flow Measurement & Control
Venturi tubes such as WIKA's model FLC-VT are reliable, easy to use and low maintenance.    They are particularly suitable for the measurement of clean liquids and gases. The main advantages of a Venturi 
...
Read more...
---
Industrial gas flowmeters
Africa Automation Fair 2019 Preview, Mecosa , Flow Measurement & Control
The IN-FLOW mass flowmeters and controllers by Bronkhorst High-Tech are of rugged design according to IP65. Showcased at Stand D08, the instruments are available for flow ranges from 0,05 to 1 mln/min 
...
Read more...
---
New flowmeter for biogas
May 2019, KROHNE , Flow Measurement & Control
The new Optisonic 7300 Biogas ultrasonic flowmeter from Krohne has been specially designed to measure dry and wet biogas with variable composition. The meter provides additional functions, like calculation 
...
Read more...
---
Revolutionary new flowmeter
Africa Automation Fair 2019 Preview, Bürkert South Africa , Flow Measurement & Control
Bürkert is known for producing high quality process control equipment for the hygienic processing sector. The company has developed FLOWave, an innovative solution for liquid flow measurement, which has 
...
Read more...
---
The evolution of partial stroke testing
April 2019, Valve & Automation , Valves, Actuators & Pump Control
The failure of these valves in crucial moments can be catastrophic, potentially rendering useless a Safety Instrumented System (SIS), put in place to reduce the possibility of an accident. Though static 
...
Read more...
---
Plug-and-play solution for flow monitoring
April 2019, Countapulse Controls , Flow Measurement & Control
Ease of flow monitoring with low maintenance benefits is a given with the compact plug and play EGE SNS 450 thermodynamic flow sensor from Countapulse Controls – the sole southern African agent for EGE's 
...
Read more...
---
Low volume rotating vane flowmeter
April 2019, Instrotech , Flow Measurement & Control
Instrotech is offering Kobold's DTK rotating vane flowmeter for small quantities, a versatile, efficient and very economic piece of equipment. This flowmeter was specially developed for use in low viscosity 
...
Read more...
---