printer friendly version
Important Development in servo technology
April 2000
Motion Control & Drives
'As well as being a performance enhancer now, SLM technology is also a gateway to the future. Its integration into PC-Based motion systems opens up a whole new vista for optimised multi-axis control in the Millenium."
'M'Ax with SLM (speed loop motor) technology is the most radical and the most important servo development in years," says Control Techniques' Bill Drury, Executive Vice-President, Technology. "The really exciting thing about the technology is that it has been developed for the mass market. This means that machine manufacturers in all industry sectors are able to benefit from unparalleled levels of axis performance at low cost. The SLM system effectively overcomes, in a highly cost-effective way, the problems traditionally experienced with conventional high-end servo technology which is nowadays approaching its limits due to the physical constraints imposed by high resolution position acquisition.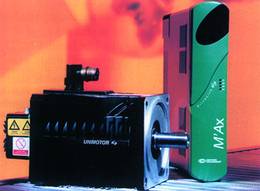 Figure 1.The revolutionary M'Ax with SLM technology
The SLM system uses a combination of Control Techniques' four-wire, ASIC DriveLink technology and motor-mounted SinCos encoders to achieve an application invariant 20-fold increase in position feedback resolution (over 8,3 million points per revolution). This is achieved by integrating speed and position control within the feedback system on-board the servo motor. As a result, the SLM is able to overcome the degradation in performance experienced with encoder feedback signals when synchronising multiple servo axes on machines as operating speeds increase. An additional benefit is that the SLM system performance is independent of the number of axes employed. The system cost can be optimised for the particular application.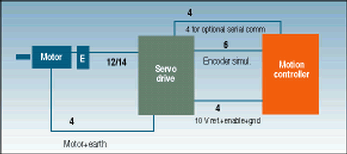 Figure 2. Conventional servo wiring - total 30/32 connections
The technological benefits provided by the SLM system also translate into reduced system costs. Installation time is cut and start-up time is optimised, as a result of using an intelligent encoder which uploads such data as encoder to motor shaft alignment, encoder disk mounting accuracy offset and the motor map to the drive, automatically, on power-up. In addition, component and maintenance costs are slashed as a result of reducing the total number of interconnections on a typical machine axis by 57% (from 28 to 12), when compared to a standard servo encoder solution. This is significant when it is considered that one of the major reasons for system failure today relates to interconnecting cables.

Figure 3. M'Ax servo wiring - total 12 connections
Control Techniques' development of SLM technology stems from the basic premise that the key to achieving significant performance enhancements with servo systems is to obtain high quality, undegraded position feedback. Sine/Cosine (SinCos) encoders help in this respect but the problem with these is that their signals have to be conditioned for transmission to drives and controllers. If there were no need to transmit this data then the conditioning issue could be avoided. One way in which this could be achieved is by locating the position loop and velocity control loop in or alongside the encoder. This thought process led to the development of SLM system. One of the essential demands of the system is that each of the system components must be capable of communicating with each of the others in a robust and reliable way and provide a data throughput rate sufficient for servo applications.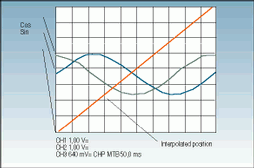 Figure 4.SinCos signals with interpolated position.
This important issue has been addressed by the development of a dedicated ASIC, which forms the heart of all communications between individual parts of the overall system.
By placing a dedicated ASIC in each of the system components (motion controller, unimotor SLM and the drive), all communications are taken care of by the hardware protocol controller within the ASIC, which also has built-in error detection, such that zero overhead is placed on any of the microcontrollers dedicated to the control algorithms. The ASIC implements synchronised fault-tolerant communication between the controller and the drive system components via a standard two-wire RS485 physical layer at a data rate of up to 2,5 Mbps. Typical cable lengths of up to 100 m can be reliably implemented. In addition, the ASIC enables users to optimise on the open architecture of the SLM system by enabling application-specific control algorithms to be downloaded and whole control loops to be changed dynamically as a result.
The deterministic nature of the ASIC protocol synchronises three controllers within any axis ie position interpolator, position/speed controller and the current loop. It also synchronises individual axes to a primary trigger and the whole system to within 50 ns. In order to eliminate 'jitter' on synchronisation the parameter passing channel is implemented within the protocol and a global hardware trigger facility is available which provides inter-axis synchronisation to within 10 µs.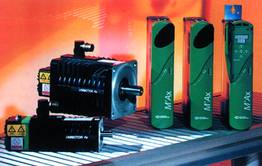 'M'Ax does this in a number of ways. Firstly, it enables the OEM to offer more performance from his machine. To illustrate this: in a test with a laser cutting machine equipped with 'M'Ax 146 holes were cut in a period of one minute, each with a roundness accuracy of 50 µm. This compares with a total of 89 holes, with a roundness accuracy of 200 µm, for a conventional servo system over the same time period on the same machine.
Secondly, for typical three-axis applications, the MultiAx offers a unique solution. Three servo axes in one package slashes component and installation costs by reducing power cabling (3 to 1) and control cabling by 57%. The more axes that are employed the greater is the saving.
Thirdly, 'M'Ax is a purely digital system so it is much easier to set up. Axes coordination is much more precise, resulting in true synchronisation and the improvements in all-round performance this brings. In addition, much time and cost is saved because, uniquely, there is no requirement for the system builder to undertake the task of programming a motor map into the drive. This is done automatically by the intelligent SLM encoder. As a result the system user is able to switch on the drive system and get excellent performance immediately.
Finally, with cubicle space being expensive on modern M/Cs 'M'Ax's slim compact profile – it is one of the smallest servo drives on the market - allows OEMs to pack in many axes into the smallest possible space (six axes in a standard 600 mm cubicle).
Credit(s)
Further reading:
ABB robotics offers a taste of the future
ABB South Africa Motion Control & Drives
Food and beverage manufacturers increasingly need more flexibility on their production lines to enable them to adapt to changing consumer tastes and demands.
Read more...
---
BMG extends bearing portfolio
Bearing Man Group t/a BMG Motion Control & Drives
BMG's bearings portfolio has been enriched with the addition of the new RN series, launched recently by leading global bearing manufacturer, Rexnord.
Read more...
---
Omron's Sysmac Studio 3D Simulation Integrated Development Environment boosts productivity
Omron Electronics Motion Control & Drives
Logic, motion, robotics, HMI, vision, sensing, safety and 3D simulation are all integrated within a single platform.
Read more...
---
2-channel EtherCAT motion interface
Beckhoff Automation Motion Control & Drives
Flexible and cost-effective stepper motor terminal with 6 A total current.
Read more...
---
Conveyor chain for special applications
Bearing Man Group t/a BMG Motion Control & Drives
BMG's comprehensive range of power transmission components incorporates ZMC industrial conveyor chains that offer dependable service in diverse applications, especially in food production.
Read more...
---
BMG'S Nord IE5+ motor generation
Bearing Man Group t/a BMG Motion Control & Drives
BMG and German precision engineers, Getriebebau Nord, entered a partnership agreement in 1996 to assemble, distribute and support Nord Drive Systems throughout southern Africa.
Read more...
---
Demystify plant modernisation
Nidec Control Techniques News
It is now well understood that technology can offer businesses the cutting edge, putting them ahead of their competitors thanks to increased efficiency.
Read more...
---
V-belts designed for food applications
Bearing Man Group t/a BMG Motion Control & Drives
BMG supplies a wide range of power transmission components, designed to enhance efficiency and safety in the food and beverage sector.
Read more...
---
Control automation excellence
SEW-Eurodrive Motion Control & Drives
Movi-C from SEW-EURODRIVE is a unique automation control system that sets a new benchmark in control automation, embracing Industry 4.0 technology.
Read more...
---
Efficient agriculture systems from BMG
Bearing Man Group t/a BMG Motion Control & Drives
BMG's Boer Slim/Smart-Farming agricultural team works closely with farmers throughout southern Africa, assisting them with the selection, installation and operation of new electromechanical systems. These 
...
Read more...
---