printer friendly version
Advanced compressor control
May 2002
PLCs, DCSs & Controllers
Exceptional demands are placed on control systems applied to centrifugal compressors. Not only must these systems regulate the delivery of process gas or air at specified pressures or flow rates, but also they must effectively prevent surge and its attendant problems. The surge phenomenon adversely affects the quality of control, machine life and plant operating costs.
Surge
Surge is a phenomenon associated with axial and centrifugal compressors. It occurs when, for any given speed, guide vane angle or inlet valve position, flow in the system decreases sufficiently to cause momentary flow reversal in the compressor. Flow reversal occurs at an instant when the pressure developed by the compressor no longer exceeds the pressure in the downstream system. This is an unstable condition, which triggers self-oscillation between flow and pressure, resulting in erratic compressor capacity. Surge appears as rapid pulsations in the flow and discharge pressure, which invariably causes damage to the compressor, associated piping and upsets to the process.
Broadly stated, improperly protected compressor plant can incur increased running costs, expensive equipment repairs, more frequent compressor overhauls, expensive plant downtimes and represent a danger to plant personnel.
Anti-surge and capacity controls are the main elements of compressor control. Anti-surge prevents surge by maintaining a safe minimum flow through the compressor. This is accomplished by manipulating a blow-off or recycle valve. The capacity control is generally based on a pressure (suction or discharge) or flow by manipulating a suction or discharge valve, guide vanes or rotational speed.
During steady-state operation, the capacity control of the compressor (discharge pressure, suction pressure or flow control) can conflict with the anti-surge control, since each attempts to vary the flow through the compressor in contrary directions. Therefore, the control system must also decouple the capacity control with the anti-surge control to avoid possible instability.
Moore Process Controls had developed a well-proven compressor control algorithm utilising tested features to protect a compressor against surges while simultaneously optimising the efficiency of the compressor.
This algorithm had been successfully implemented on multistage blowers with multiple side-streams as well as single stage booster compressors, air compressors, multistage high compression ratio compressors (Pr > 30), multistage propylene and ethylene refrigerant cooling compressors with side-streams.
Features of the compressor control algorithm include:
* Anti-surge control.
* Static control line.
* Dynamic control line.
* Safety line.
* Adaptive gain.
* Surge detector and counter.
* Capacity control.
* Decoupling of anti-surge and capacity control.
* Automatic start-up and shutdown sequences.
* Load-sharing (if required).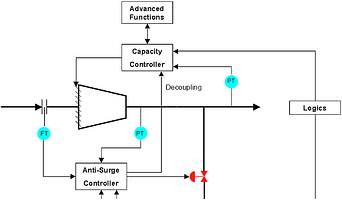 Anti-surge
A sound anti-surge system will prevent surge with a surge control line. In order to maximise compressor efficiency, the control margin between the surge and the surge control lines must be minimised. To accommodate the minimised control margin, the surge and the surge control lines must be calculated dynamically from the operating point of the compressor. The safety line and adaptive gain further enhance this control algorithm. An optional surge detector serves as a backup for the anti-surge control system.
Capacity control
To meet process requirements, the capacity of the compressor must be controlled. This is accomplished by manipulating a discharge valve, suction valve, inlet guide vanes or rotational speed. The choice of which process variable to be controlled and the manipulated variable are often dictated by the process dynamics.
Decoupling of anti-surge and capacity control
Both the above systems control the mass balance around the compressor. Therefore, strong interaction between these two functions can be expected. Of the two control systems, anti-surge must take precedence over capacity control, because of the possible damages caused by surge. Repairs on possible damages and downtimes caused by surge can be expensive.
To minimise the effect of the interaction between the two systems, the two systems must be effectively decoupled. Decoupling will reduce the response of one system with respect to the other system, which will minimise the unwanted side effects caused by the interaction.
Automatic start-up and shutdown
Experience had shown that most of the surges happen during start-up or shutdown. One of the most common factors is the inconsistency of the operator. The possibility of surges during an automated start-up or shutdown is dramatically reduced, because the compressor is controlled the same way during every start-up or shutdown.
Parallel operation
Where compressors are operated in parallel to a common discharge header, interaction between the compressors will happen. The process must be optimised to minimise the interaction, particularly when the flow is reduced towards the surge threshold.
Series operation
Compressors are often operated in series because of the required pressure ratio. The compressors can be driven by the same shaft or separately. Each one of the compressors should be seen as separate and be controlled accordingly. The compressors and the anti-surge control will interact, which could lead to instability. Again, this calls for system optimisation to minimise the interaction, particularly when the flow is reduced towards the surge line.
Controller for the application
Moore Process Controls recommends that this algorithm be implemented on the PAC 353 (process automation controller), as well as on APACS (advanced process automation and control system).
The Moore PAC 353 controller is a standalone, microprocessor-based industrial controller designed for a broad range of process applications. It can serve as a single-loop controller or as a multiloop controller. It also offers advanced control capability through a set of extensive function blocks available in the controller. The PAC 353 networking options enable it to function as an integral element in a plant system if required.
Since 1999, more than 75 anti-surge units of this rugged controller have been implemented in the field to handle a variety of compressors in various locations throughout the country including, Afrox, Air Liquide, Angloplatinum, Air Products, Iscor, Natref, South African Breweries and Sasol Group of Companies.
A properly implemented compressor control system increases availability by preventing unnecessary process trips, minimising process disturbances, preventing surge and surge damage, automating start-up and shutdowns. It increases efficiency by minimising recycle or blow-off, operating at lowest possible energy levels and optimising the load-sharing of multiple units.
Ultimately this reduces maintenance, repairs and downtime costs and is a cost-effective method of preventing destructive and costly surges.
Eric Hore, Moore Process Controls
011 466 1673
Credit(s)
Further reading:
The powerful Festo modular control system CPX-E
Technews Industry Guide: Industrial Internet of Things & Industry 4.0, Festo , PLCs, DCSs & Controllers
Designed as an EtherCAT master and motion controller with protection to IP20, the powerful automation system CPX-E for factory and process automation with NE21-specific certifications is becoming the 
...
Read more...
---
Rockwell strengthens industrial control system security
July 2019, Rockwell Automation , PLCs, DCSs & Controllers
Communications between industrial control devices have minimal protection today. This leaves them vulnerable to threats like malicious tampering and incidental system changes that can stop production 
...
Read more...
---
Siemens extends the Simine ­portfolio
June 2019, Siemens Digital Industries , PLCs, DCSs & Controllers
Siemens has extended the Simine portfolio for high-pressure grinding mills (HPGR) to include a new controller. Plug-and-play functionality makes the load share controller available for immediate use. 
...
Read more...
---
Schneider Electric announces a new era of control
June 2019, Schneider Electric South Africa , PLCs, DCSs & Controllers
Schneider Electric's new high-end Modicon M580 Ethernet programmable automation controller (ePAC) features redundant processors, native Ethernet, and cybersecurity embedded into its core. It combines 
...
Read more...
---
Selecting the right PLC
June 2019, AC/DC Dynamics , PLCs, DCSs & Controllers
Automation projects, big or small, start with a specification. Here are five factors to consider when choosing a PLC vendor.      
Broad range of devices
The selected brand must have a complete product 
...
Read more...
---
Industrial automation equipment
Africa Automation Fair 2019 Preview , PLCs, DCSs & Controllers
Anytech is an industrial automation equipment supplier that has been providing high tech solutions to a wide variety of customers in various industries throughout southern Africa since 1999. High tech 
...
Read more...
---
Multi-function PLC, HMI and I/O in a single 7" unit
Africa Automation Fair 2019 Preview, Vision Automation , PLCs, DCSs & Controllers
This multi-function UniStream PLC with an integrated, high-quality HMI touchscreen is available in a range of built-in I/O configurations. Showcased at Stand C04, the highly compact hardware profile with 
...
Read more...
---
PLCs and HMIs
Africa Automation Fair 2019 Preview, Ana-Digi Systems , PLCs, DCSs & Controllers
Among the new state-of-the-art products on show at Stand E07 are Ana-Digi's PLC range, which offers down to 8,5nS processing speeds and caters for systems up to 132 000 I/O, with full redundancy in processing 
...
Read more...
---
Programmable HMIs with PLC
May 2019, Turck Banner , PLCs, DCSs & Controllers
The new generation of the TX700 HMI/PLC series can control and visualise even more complex processes and applications than before. Thanks to several interfaces and an integrated OPC UA server, this device 
...
Read more...
---
Multi-function PLC, HMI and I/O in a single 5" unit
Africa Automation Fair 2019 Preview, Vision Automation , PLCs, DCSs & Controllers
On show at Stand C04 are the UniStream 5" and UniStream 5" Pro, which both support SNMP, VNC, FTP, SMS and email. The Pro version also offers a built-in webserver and SQL. Various built-in I/O configurations 
...
Read more...
---