printer friendly version
80th anniversary for industrial automation giant
May 2002
PLCs, DCSs & Controllers

Earlier this year one of the world's biggest electrical groups celebrated an anniversary: In February 2002 Mitsubishi Electric looked back on 80 successful years of business. "Our spectrum ranges from semiconductor manufacturing to communications technology to satellite systems. This gives us access to a concentrated pool of expertise from a very large number of different fields of application and basic research," explains Haruo Kawasaki, Manager Overseas, when asked about the company's recipe for success.
The Industrial Automation division is a particularly noteworthy chapter of this success story - Mitsubishi Electric is a world market leader in this sector.
The Japanese industrial concern, which established its European headquarters in Ratingen, Germany, in 1978, has a long and proud history as a successful global player in industrial automation: figures like around 117 000 employees worldwide and a turnover of nearly R380 billion in 2001 speak for themselves. "Our expertise in a very wide range of high-tech areas is decisive for our ability to consistently develop and deliver exceptionally high-performance products that combine outstanding reliability with extremely compact dimensions," explains overseas manager Haruo Kawasaki, who is also responsible for marketing in the Industrial Automation division.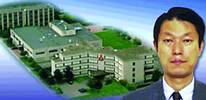 Haruo Kawasaki, manager, Mitsubishi Automation, Industrial Automation division
Among other things, Mitsubishi Electric's Industrial Automation division develops, manufactures and markets programmable logic controllers (PLCs), industrial robots and drive system solutions. All these products are characterised by outstanding quality, reliability and user-friendliness. The design philosophy behind the company's compact robots and PLC systems is as simple as it is demanding: 'Maximum quality in minimum dimensions.' Powerful and compact, they are claimed to be the most successful products of their kind on the market: Since it started its activities in Europe, Mitsubishi Electric's Industrial Automation division has achieved two-digit growth figures every year.
As the first manufacturer of compact PLCs, the company is also an innovator in the controller market and is today the leader in this segment, with top products like the Alpha controller and micro-controllers like the FX1S/FX1N line. It is said that the company has also set new standards in the market for highly-complex industrial automation systems with the MELSEC Q series, a modular multiprocessor controller system with integrated motion controller, IT technology and full online change functionality.

Commenting on the strengths of the Mitsubishi Electric PLC systems, Kawasaki says, "Our controller systems are the result of a continuous development commitment and they reflect the key strengths of our company, as expressed by our new product philosophy, New Dimensions - Automation Power from Mitsubishi Electric. User-friendly operation concepts, efficient software systems, secure network connections, fast execution, high reliability, and last but not least, ultra-compact dimensions ensure that our users always get more functionality and performance."
This all guarantees high technological performance and reliability - Mitsubishi Electric is committed to providing its customers with more than off-the-shelf standard components. Offering complete system solutions is an integral part of Mitsubishi Electric's marketing strategy. The company's stated development objective is to design the ideal combination of hardware and software that provides users with optimum support in their work. To achieve this aim the company spends more than one billion euros on the development of new technologies every year. The result is a range of automation products with a significant efficiency edge.
The 80-year history of Mitsubishi Electric has been 80 years of pioneering spirit and innovation in industrial automation. In South Africa, Mitsubishi Electric's factory automation, motor control and switchgear are available from Circuit Breaker Industries.
Circuit Breaker Industries
011 928 2000
Further reading:
Fishery relies on Siemens process management
December 2019 , PLCs, DCSs & Controllers
The fishery in Steinach, Switzerland, breeds fish species which are under threat so that they can be released into domestic waterways in the canton of St. Gallen. The quality and temperature of the water, 
...
Read more...
---
Meet the Future: Edge Programmable Industrial Controllers
November 2019, Opto Africa Holdings , PLCs, DCSs & Controllers
All controls engineers are familiar with PLCs and PACs (programmable automation controllers). Both have been used and improved over many years, incorporating capabilities that used to be found only in 
...
Read more...
---
Precise control in joining applications
October 2019, ASSTech Process Electronics + Instrumentation , PLCs, DCSs & Controllers
Digiforce is the trusted name when comprehensive monitoring of press-fit, joining, riveting and caulking processes is needed. The models 9306 and 9310 are being successfully used in innumerable applications 
...
Read more...
---
The powerful Festo modular control system CPX-E
Technews Industry Guide: Industrial Internet of Things & Industry 4.0, Festo , PLCs, DCSs & Controllers
Designed as an EtherCAT master and motion controller with protection to IP20, the powerful automation system CPX-E for factory and process automation with NE21-specific certifications is becoming the 
...
Read more...
---
Rockwell strengthens industrial control system security
July 2019, Rockwell Automation , PLCs, DCSs & Controllers
Communications between industrial control devices have minimal protection today. This leaves them vulnerable to threats like malicious tampering and incidental system changes that can stop production 
...
Read more...
---
Siemens extends the Simine ­portfolio
June 2019, Siemens Digital Industries , PLCs, DCSs & Controllers
Siemens has extended the Simine portfolio for high-pressure grinding mills (HPGR) to include a new controller. Plug-and-play functionality makes the load share controller available for immediate use. 
...
Read more...
---
Schneider Electric announces a new era of control
June 2019, Schneider Electric South Africa , PLCs, DCSs & Controllers
Schneider Electric's new high-end Modicon M580 Ethernet programmable automation controller (ePAC) features redundant processors, native Ethernet, and cybersecurity embedded into its core. It combines 
...
Read more...
---
Selecting the right PLC
June 2019, AC/DC Dynamics , PLCs, DCSs & Controllers
Automation projects, big or small, start with a specification. Here are five factors to consider when choosing a PLC vendor.      
Broad range of devices
The selected brand must have a complete product 
...
Read more...
---
Industrial automation equipment
Africa Automation Fair 2019 Preview, Anytech , PLCs, DCSs & Controllers
Anytech is an industrial automation equipment supplier that has been providing high tech solutions to a wide variety of customers in various industries throughout southern Africa since 1999. High tech 
...
Read more...
---
Multi-function PLC, HMI and I/O in a single 7" unit
Africa Automation Fair 2019 Preview, Vision Automation , PLCs, DCSs & Controllers
This multi-function UniStream PLC with an integrated, high-quality HMI touchscreen is available in a range of built-in I/O configurations. Showcased at Stand C04, the highly compact hardware profile with 
...
Read more...
---