printer friendly version
Selection criteria for level radar devices in the chemical industry
May 2002
Level Measurement & Control
The performance and variety of level devices employing radar technology has significantly increased. For the first time, measurements within a millimetre of accuracy can be economically performed at individual measuring points in custody transfer, as well as in process engineering.
In industrial engineering, continuous level monitoring of liquids plays a critical role, representing approximately 12% of all measuring points. In recent years the trend has shifted to noncontact methods within level measurement, with the time-of-flight principle among the preferred technologies.
"Radar instruments using time-of-flight, initially, established prowess in high-precision tank gauging (custody transfer) applications, which presented ideally calm surfaces as reflectors. However, in process engineering the measurement situation differed, resulting in the eroding of the method's positive image," states Grant Joyce, Endress+Hauser spokesperson.

Commissioning and diagnosis tool for time-of-flight methods
Factors contributing to this initial failing include: the new time-of-flight principle was often employed in problematic areas where previous contact methods had failed; manufacturers and users did not understand the limitations of radar; the extent of testing did not correspond to the actual needs of the operation; and, finally, some manufacturers quoted unbelievable ratings.
Manufacturers and users have learned their lesson, with developments focused on improvements to system performance. Five years ago the maximum accuracy of radar level measurement was ±31,5 mm, with the maximum process conditions at approximately 198°C and 6,4 MPa (64 Bar). Now, these values have improved to 3,17 mm, 400°C, and more than 16 MPa (160 Bar), accompanied by a more economical price per measuring point.
"Extremely accurate level measurement instruments without custody transfer features are increasingly used in the chemical industry. Radar systems with one-millimetre accuracy can now also be used in this respect. Their accuracy is based on an additional evaluation of the reflecting signals," states Grant Joyce, Endress+Hauser spokesperson.
Radar devices with parabolic antenna and small horn (26 GHz)
The product's surface condition is, probably, the most important application feature in the operation of radar level systems. A storage tank demands level measurement accuracy of 3,175 mm for custody transfer, while foam formation and splashing in interim storage and buffer tanks, places further demands on level measurement. For such applications, an accuracy of ±31,75 mm is sufficient.
Another class of process application involves agitators that cause strong turbulence on the surface. Here, agitator blades may cross the radar beam during measurement, requiring suppression of the resulting interference signals. Accuracy requirements are lower, but measurement accuracy is particularly important during the reaction phase.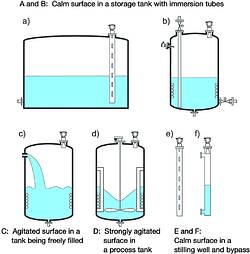 The agitation of the surface may be the primary criterion for the selection of a suitable radar system
The significance of antenna technology is often underestimated. Antenna construction influences the performance of the overall system. A planar antenna for stilling wells, for example, is insensitive to the geometry and arrangement of slots, weld seams, build-up and rust during operation. Furthermore, by arranging the antennas concentrically it is possible to generate a propagation mode of electromagnetic waves that can be advantageously used in stilling wells.
Furthermore, the absence of seals, corrosion resistance, and the choice of material, play a significant role in obtaining various approvals. In aggressive media, fully PTFE-coated rod antennas are recommended, and have even received the FDA/3-A approval for sanitary and pharmaceutical process requirements.
"The carrier frequency is a decisive factor in designing radar level measurement. A medium frequency of 10 GHz, for example, is insensitive to process conditions and has a small antenna/narrow beam angle," says Joyce.
A radar system with an operating frequency of 26 GHz is suited to applications requiring high accuracy and narrow beam concentration, such as those involving symmetrical baffles like heating coils. For small vessels such as those predominant in the pharmaceutical production, small horn antennas from 5,08 mm upward are used.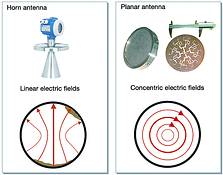 Beam angle and horn diameter in different carrier frequencies
When foam occurs, lower frequencies (6 GHz) are better suited, but even so a trial measurement, due to the reflection properties of foam, is required. Both the size of the bubbles and the dielectric constant of the product are difficult to predict. Differential pressure measurement is recommended as an alternative in such cases. Heavy build-up of product on the antenna is yet another reason for using instruments with lower frequencies.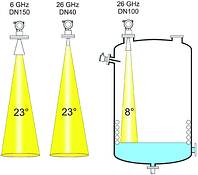 Planar antenna for highly accurate measurement in a stilling well
With an operating frequency of 6 GHz, planar antennas are recommended for stilling well applications requiring millimetre accuracy. In the stilling wells of large storage tanks, the holes and slots are arranged at random. The TE01 mode of this antenna offers high application safety under such conditions.
In standard and bypass applications 26 GHz systems have also proven their worth. With the former, the measurement conditions in the pipes are defined, making optimum accuracy achievable. Horn antennas can be easily shortened for stilling wells with interim sizes, adjusting each to the required dimension. Regarding the latter, 26 GHz systems are advantageous in their ability to distinguish reflections in the upper tank connection area.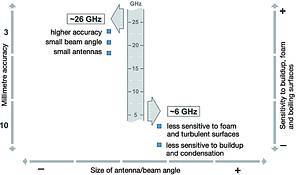 Influence of the radar system's carrier frequency on the beam angle, and sensitivity to interference
Modern radar instruments are focusing on a uniform and comprehensive look and feel for the entire system, while assembly, commissioning and maintenance do not require special skills. Furthermore, many of today's radar devices, like Endress+Hauser's level instrumentation utilising radar technology, incorporate generous on-site displays with easy-to-follow menus, reports and alarms. Computer-aided tools also facilitate individual steps and offer context-sensitive help and explanations.
Grant Joyce, Endress+Hauser
011 262 8000
Further reading:
Kobold's new float level switches
August 2019, Instrotech , Level Measurement & Control
Kobold's M-series level switch comprises a float that slides up and down with the liquid along a guide tube. Thus, up to 4 reed contacts moulded in the guide tube are switched in a non-contacting fashion 
...
Read more...
---
Foxboro buoyancy level transmitter
August 2019, EOH Process Automation Solutions , Level Measurement & Control
Principle of operation
When an element a (displacer rod) is immersed into a liquid, according to Archimedes' Principle, the displacer will 'lose' some of its weight proportional to the level of the liquid 
...
Read more...
---
Level measurement for sanitary applications
August 2019, WIKA Instruments , Level Measurement & Control
WIKA's model FLM-H magnetostrictive sensor has been specifically designed to meet the requirements of the food and beverage, pharmaceutical and biotechnology industries. The sensor is particularly suitable 
...
Read more...
---
Water level system controls cathodic protection
August 2019, Omniflex Remote Monitoring Specialists , Level Measurement & Control
Corrosion Control Services is a leading specialist in the design, installation, commissioning and monitoring of cathodic protection. CCSL carries out works on reinforced concrete structures, historic 
...
Read more...
---
A case for IIoT's future in supply chain management
Technews Industry Guide: Industrial Internet of Things & Industry 4.0, VEGA Controls SA , Level Measurement & Control
This paper will explore how one construction materials hauling company used level measurement sensors and IIoT networks to manage their operation while simultaneously securing its customers' supply chain, and keeping costs low.
Read more...
---
Continuous level measurement
July 2019 , Level Measurement & Control
DRH Components is the official distributor of Bindicator bin level sensors in South Africa. These prevent overflow spills, controlling surge bins, detecting blocked chutes and providing on/off control 
...
Read more...
---
Continuous level measurement
Africa Automation Fair 2019 Preview, Morton Controls , Level Measurement & Control
The Nivobob series from Morton Controls is used for continuous level measurement within bulk storage silos and for interface measurement of sludge beds. The system is immune to dust, dielectricity, conductivity, 
...
Read more...
---
A range of level sensors
Africa Automation Fair 2019 Preview, GHM Messtechnik SA , Level Measurement & Control
GHM Messtechnik has available the Val.co range of affordable and effective level sensors that have application across all sectors of industry, especially tank building. The range includes small float 
...
Read more...
---
Keller's water level monitoring systems
April 2019, Instrotech , Level Measurement & Control
The Grib Mine, located in Russia's Mezensky District in the Arkhangelsk Oblast, is one of the largest diamond deposits in the world. During winter, temperatures can drop to -25° and sometimes -37°. The 
...
Read more...
---
80 GHz for liquids
April 2019, VEGA Controls SA , Level Measurement & Control
Vegapuls 64 radar level measurement improves efficiency for bitumen supplier.
Read more...
---