printer friendly version
Production efficiency monitoring
February 2002
Data Acquisition & Telemetry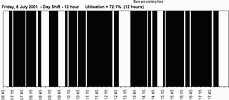 Productivity and efficiency have not only become key words in industry today but are of necessity the undisputed goal and target of any successful business enterprise.
Modern production equipment also offers the facility to measure this data which is then processed through a networked central system. However, again, these systems are usually imported and, as a result, are costly. Furthermore, if different equipment manufacturers are used, the production data processing software from one manufacturer is usually incompatible with competitor software.
On top of this, much of the production equipment in use in South Africa is of a prior generation that does not provide the facility to measure and monitor production data. To retrofit these systems from the equipment manufacturer is often clumsy and also through importation rate of exchange costs, expensive.
Design Solutions, a Durban-based company which has specialised in hardware and software electronic product design since 1989, has developed an innovative solution to the need for reliable and accurate measurement of production data. The answer, an ingenious though relatively simple device called an Intelligent Hour Meter (IHM).
The IHM is a compact, microprocessor-based, robust data recorder that has an integral battery and vibration sensor. The unit can be attached to virtually any machine by two screws and is set up to the specific idle and operating vibrations present on the machine. The IHM then logs the state of the machine based on the vibration level, which is time and date stamped.
The data logged in the IHM is downloaded through a contactless design that utilises RF as the data transfer medium. The WAND (device for data download supplied by Design Solutions) is clipped onto the IHM for the duration of the transfer. Power is provided to the IHM through the WAND during the transfer of data, preserving the battery life. The need for external wiring is eliminated through integral essential components (battery and vibration sensor) and contactless data transfer. This, combined with the waterproof casing (manufactured from a tough composite plastic), renders the IHM and, therefore, the data tamper-proof and impervious to the often harsh environment of industry.
The compact size of the IHM, together with the self-powered and contactless data transfer features enables the IHM to be applied to moving or portable machines (eg forklifts). The low voltage, cable-free (with the contactless data transfer device) design also makes the IHM suitable for intrinsically safe applications.
A RS485 data transfer option is proposed by Design Solutions that will enable up to 200 IHMs to be networked for direct transfer of their data to a PC.
A further model in the range has been developed to include a production counter, to include measurement of unit production rates over time. This feature enables analysis of actual production efficiencies together with actual machine utilisation.
The IHM is supplied with free IHMSOFT Lite software package for data analysis and reporting. This software will generate a number of basic tables and graphs that can be viewed or printed for the user. The data can be exported from IHMSOFT in a CSV text format to enable third party software analysis, so if existing software systems are in place, these systems are able to analyse the data from the IHM. The IHMSOFT Professional software package will offer a number of industry-specific software modules suited to the specific needs of the users from those industries. The modules will evolve as feedback is received from the users.
Design Solutions, together with its appointed agents Automation Techniques, have installed a number of the IHMs in KwaZulu-Natal. Their initial focus has been to promote the units within the textile industry and, as a result, a number of units have been installed on weaving looms, forklifts and circular/warp knitting machines. Examples of results from an installation are shown, illustrating the very real benefits these customers have realised from the IHMs.
The data downloaded from the IHM can be either printed or viewed as a daily summary report, detailed shift activity report or detailed shift activity graph (bar graph). The sample graphs illustrated are typical of the bar graph report generated by the IHMSOFT Lite software.
These illustrations are representative of the improved efficiency that a client in the circular knitting sector of the industry realised by installing IHM. There are obviously a number of factors that can be attributed to improved machine efficiency. What interested this particular client was the fact that improved timekeeping at the beginning and end of shift brought them a 5% improvement in efficiency and it was this improvement that formed the basis of the justification forwarded to management. A payback of nine working days was realised.
The information from the bar graph can be cross-referenced to the detailed activity report, in numeric format, where the operating and idle times are logged, thus affording management further insight into the duration of each stoppage. Operating and idle times are totalled, by machine, at the end of each shift. The data from the detailed activity report can also be overviewed in the daily summary where the daily utilisation is expressed as a percentage, shift by shift.
A further benefit of the IHM arises from the fact that an accurate log of machine utilisation is recorded. This information will assist the maintenance engineers to analyse the number of operating hours per machine to assess and plan a preventative maintenance schedule for those machines.
The IHM is independent of machine types or brands through its method of data acquisition and the options offered for data transfer and open software platform allows for a seamless implementation into existing systems/plants. In conclusion, the IHM is a cost-effective and viable solution for the modern production manager to view production efficiency/utilisation information of the production plant.
Automation Techniques
(031) 206 2044
Further reading:
Fieldlogger for data acquisition
June 2019, Mimic Components , Data Acquisition & Telemetry
The Fieldlogger is a great asset to the Novus automation range of products. It is one of the most comprehensive instruments for the acquisition of data recording, and is capable of analog and digital 
...
Read more...
---
New network function for digital ­indicator
October 2018, Yokogawa South Africa , Data Acquisition & Telemetry
Yokogawa has added a network function to the UM33A digital indicator with alarms. With this network function, a single UM33A digital indicator can receive, process and sequentially display data from up 
...
Read more...
---
Remote monitoring and telemetry at power station water plants
July 2018, Omniflex Remote Monitoring Specialists , Data Acquisition & Telemetry
The wireless ability to manage pumps remotely over long distances is now available using Omniflex's Teleterm M3 Radio RTUs. This full functionality IEC61131 PLC enables both control and wireless communications 
...
Read more...
---
Purely analog signal conditioning
June 2018, GHM Messtechnik SA , Data Acquisition & Telemetry
IMTRON, part of the GHM Group, has launched the Purely Analogue Signal Conditioning TSA modules that offer well-established methods for processing, filtering, amplifying and galvanically isolating sensor 
...
Read more...
---
KPMs rotary consistency transmitter boosts pulp mill performance
May 2018, UIC Instrumentation , Data Acquisition & Telemetry
In today's pulp and paper-making market place, consistency measurement is one of the most important ways to keep costs as low as possible without sacrificing quality or production throughput. KPM's KC/5 
...
Read more...
---
Cost-effective process monitoring and recording
January 2018 , Data Acquisition & Telemetry
KRN1000 series paperless process recorders.
Read more...
---
RS Pro range of USB keys delivers secure data storage
January 2018, RS Components SA , Data Acquisition & Telemetry
RS Components has introduced a new addition to its high-quality RS Pro range with the launch of the Evikey One NFC cybersecure contactless USB key. The innovative range of USB flash-drives delivers a 
...
Read more...
---
Low power, battery operated RTU/logger
Africa Automation Fair 2017 Preview , Data Acquisition & Telemetry
The new SSE ultra low power, battery operated RTU/logger is a reliable, high performance data logger. It is easy to deploy across a wide range of water and wastewater applications. Visit Stands F13-F15 
...
Read more...
---
Data acquisition and control system
Africa Automation Fair 2017 Preview, Elexsys , Data Acquisition & Telemetry
The Dataforth MAQ20 industrial data acquisition and control system from Elexsys consists of DIN rail-mounted, programmable, multichannel, industrially rugged signal conditioning input and output modules. 
...
Read more...
---
New mini scada RTU for data acquisition
April 2017 , Data Acquisition & Telemetry
Define Instruments has released the Zen RTU Mini, a data acquisition unit for industrial analog signals. A breakthrough for DAQ applications requiring the collation of multiple signals and signal types 
...
Read more...
---