printer friendly version
Noncontact thermometers for ensuring food safety
February 2002
Temperature Measurement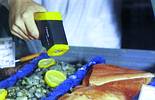 Monitoring temperatures is crucial to ensure food quality and safety – which is why food service professionals rely on noncontact IR thermometers. These easy-to-use tools read surface temperatures without contact, which avoids cross-contamination or damage to food products. As reliable and time-saving tools, IR thermometers can take a temperature measurement in less than half a second.
Infrared thermometers give crucial information about hazardous conditions by providing quick temperature readings of surfaces, which is particularly important considering that foodborne bacteria usually begins to grow on the surface of food products. Internal temperatures still need to be checked using probes. Several Raytek IR thermometers feature internal probes and provide a fully integrated monitoring system. Convenient scanning, in addition to using a probe thermometer, encourages more frequent readings, which increases safety at any food handling facility.
HACCP and temperature issues
Many food service professionals are familiar with the food safety procedure known as HACCP. HACCP is now mandated for meat, poultry and seafood production plants, as well as fruit and egg process plants. HACCP looks at the flow of food as it travels in and out of the temperature danger zone (4 to 60°C) which means tracking and monitoring food product temperatures at each step from the receiving dock to the table.
If your operation is already using the HACCP system, one knows that temperature plays a key role in maintaining food safety and quality, specifically in monitoring CCPs. A CCP is any place along the food flow where time/temperature issues are critical to ensure food safety. Some of the CCPs that can be monitored with a noncontact thermometer are discussed here.
Monitoring food
* Receiving: Quality assurance begins at the receiving dock. When a delivery of fresh or frozen food arrives, the products, shipping crates and internal temperature of the delivery truck must be at the right temperatures.
* Storage: Once received, verify that frozen and chilled foods are stored at or below 4°C to assure freshness and quality. In supermarkets where products may be stacked unevenly or too high in display cases and freezers, check to find warm spots or uneven cooling. Also, it is possible to quickly and frequently monitor proper temperatures of all items stored in walk-ins.
* Cooking: Exact temperatures become vital to preventing foodborne illness. To avoid bacteria growth, many foods must be cooked to a specific temperature. An IR thermometer instantly confirms that surface temperatures are within safe parameters. In order to confirm internal temperatures, Raytek thermometers feature an internal probe.
* Holding and serving: Food products that are ready to be served or sold and are located in holding or serving areas must be kept out of the temperature danger zone which is 4 to 60°C.
* Cold holding: Open-top refrigeration units such as fresh meat or fish displays, cold buffets or preparation units must not exceed 4°C.
* Hot holding: Warm prepared foods that are kept in steam tables, warming ovens and other heated serving and holding areas should be carefully monitored to remain at 60°C or above. An IR thermometer may be used to check the internal temperatures of soups, gravies and other liquid foods by agitating them before reading.
* Cooling: Improper cooling is the number one cause of foodborne illness. After food has been cooked and served, an IR thermometer can confirm that leftovers are taken down to an appropriate temperature - from above 60 to below 20°C within 2 h, and then down to below 4°C within another 4 h.
* Reheating: The last important temperature-related checkpoint is reheating. IR thermometers can confirm that foods are being reheated to at least 74°C to destroy any bacteria caused by improper cooling or storage techniques.
Monitoring equipment
Noncontact thermometers may also be used to evaluate the performance of equipment and machinery.
* Detect hot spots or leaks by taking sample spot readings of freezers, walk-in coolers, refrigeration lines, compressor motors, electrical and HVAC equipment.
* Safely check the temperature and performance of ovens, ranges, rotisseries, deep fryers and dishwashers.
* Check clean dishes immediately after washing to ensure that high enough temperature levels were achieved in the dishwasher for sanitation purposes.
Other uses in gourmet/speciality cooking
Many speciality food recipes call for very specific preparation temperatures. For example, sugar used in meringues and icings relaxes to the softball stage at 105°C; at 160°C caramel reaches the stage for flavouring and decorating and at 175°C it darkens. By using an IR thermometer one can instantly check these temperatures and avoid the mess of using a contact thermometer.
Experience notwithstanding, it is often difficult to know when cooking surfaces have reached the proper temperatures. For example, a common way to test whether a griddle is 'pancake ready' is to see if a drop of water skittles across its surface. But water does this at a wide temperature range - roughly between 160 to 230°C - whereas pancakes griddle best between 180 and 190°C and meat, on the other hand, sears best at about 230°C. By instantly knowing these temperatures one can avoid the guesswork and ensure food is cooked perfectly.
Raytek noncontact IR thermometers can be used to monitor everything from food to fixtures with one handheld instrument. They are available in different models, depending on the required temperature range.
Accurate temperature measurement tips
* When measuring shiny surfaces, such as aluminium and stainless steel, the reflectivity of the surface will skew the reading of an IR thermometer unless one allows for it. Either coat surfaces such as griddles or cooking pans with a nonstick cooking spray before taking the reading, or place a small piece of masking tape on the metal surface and measure the taped area.
* An IR thermometer can go from kitchen to cold storage (above freezing) and still provide an accurate reading if given time to acclimatise to the new ambient temperature. It is best to leave the unit where it will be used most often.
Note: If the unit is left in an environment below freezing, it will temporarily fail to operate properly.
* Use an IR thermometer to read internal temperatures of liquids, such as soups or sauces, simply by stirring the liquid and then reading the surface temperature. Keep the thermometer away from steam to avoid condensation on the lens, which will skew the reading.
Credit(s)
Further reading:
IR thermometers in the steel industry
September 2019, R&C Instrumentation , Temperature Measurement
In many foundry applications, temperature readings show whether processes are operating within their proper ranges, whether a reheater is too cold or too hot, whether a stand needs adjusting, or how much 
...
Read more...
---
Compact IR camera with industrial accessories
September 2019, Comtest , Temperature Measurement
Comtest has announced an addition to the Optris Compact line of IR cameras – Xi 80 and Xi 400 – with new industrial accessories for use in harsh conditions. The range has a modular design and as a result, 
...
Read more...
---
IR measurement optimises plastic stationary and rotary thermoforming
August 2019, R&C Instrumentation , Temperature Measurement
Background
Thermoforming is the process by which a thermoplastic sheet is made soft and pliable by heating, and bi-axially deformed by being forced into a three-dimensional shape. This process may take 
...
Read more...
---
Temperature profiling in aluminium heat treatment
July 2019, R&C Instrumentation , Temperature Measurement
Many high volume production foundries use continuous furnaces for the heat treatment of castings. Cylinder heads, wheels, suspension components and many other aluminium alloy products are placed in wire 
...
Read more...
---
Speeding up the inkjet drying process
July 2019, Temperature Controls , Temperature Measurement
For high speed printing processes, the limiting factor for the productivity of the equipment is usually ink drying time. To maximise printing speed without quality loss, it is important to be able to 
...
Read more...
---
Temperature transmitter family for all industries
June 2019, Endress+Hauser , Temperature Measurement
Endress+Hauser has introduced its first temperature transmitter with Bluetooth (BT) connectivity. This feature is unique because it does not require a BT modem to be able to communicate with the device 
...
Read more...
---
Powder coating cure performance
June 2019, R&C Instrumentation , Temperature Measurement
In any industrial paint or powder coating operation, getting the paint cure correct is critical to both the physical and cosmetic performance of the product. To get the best out of the coating, it is 
...
Read more...
---
Miniature float switch design
June 2019, WIKA Instruments , Temperature Measurement
WIKA now offers OEM manufacturers the miniature float switch model RLS-7000/8000, particularly suitable for level monitoring in small tanks. The performance and design meet the requirements of original 
...
Read more...
---
Safety temperature ­measurement device for boilers
Africa Automation Fair 2019 Preview, GHM Messtechnik SA , Temperature Measurement
GHM Messtechnik's Safety-TL4896 is a SIL2-rated temperature measuring device from Martens, that conforms to international boiler regulations and offers a unique front panel installation. Certified to 
...
Read more...
---
Wireless vibration and ­temperature monitoring
Africa Automation Fair 2019 Preview, Turck Banner , Temperature Measurement
Banner Engineering's wireless vibration solutions kit and temperature sensor provides superior machine monitoring. Designed to effectively monitor machines for increases in vibration and temperature, 
...
Read more...
---