printer friendly version
Multifunction pendant improves efficiency
Technews Industry Guide: Maintenance, Reliability & Asset Optimisation 2020
Operator Interfaces, Switches & Relays
The Direct Select from Turck Banner makes it easy to communicate the critical information staff need to complete tasks. This versatile operator interface can be used to send and receive requests, acknowledgements, and alerts, as well as provide quantity details, direct staff to a specific location, guide operators through a process, track performance, monitor assets and more.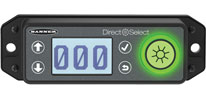 The autonomous wireless design of the Direct Select makes it easy to add an operator interface to any asset, machine or piece of equipment. Use it as a panel meter for local monitoring of asset conditions. Communicate with operators on mobile equipment. Turn any cart into a mobile picking station. It can even be used as a handheld device so staff can communicate important information when they are away from their workstations.
Quickly resolve problems and reduce downtime
Monitor multiple machines, workstations or processes with a single Direct Select operator interface. The multicolour indicator provides high-visibility alerts and status information for each event. The LCD screen indicates the location of the event. The system can even be configured to prioritise events so users can resolve the most critical issues first.
Complex processes can also be simplified. The eight-colour indicator and LCD display provide location and quantity information at each step to communicate adjustments in quantity and other changes with the tactile buttons or use the touch button to send confirmations and alerts.
The Direct Select communicates over a robust Sure Cross wireless network and is powered by a lithium battery. Users can quickly deploy one or many operator interfaces without the time, hassle and expense of adding or altering wired infrastructure to connect and power devices.
Applications
The Direct Select operator interface makes it easy to improve communication between staff, supervisors, assets and equipment in a wide range of applications, including:
• Call for parts, pickup or service.
• Operator guidance and instructions.
• Kitting, pick-to-light and put-to-light.
• Two-way communication on mobile equipment.
For more information contact Brandon Topham, Turck Banner, +27 11 453 2468, brandon.topham@turckbanner.co.za, www.turckbanner.co.za
Credit(s)
Further reading:
Turck Banner appointments Kenneth McPherson as sales director
June 2020, Turck Banner , News
Turck Banner in South Africa is pleased to announce the appointment of Kenneth M
c
Pherson as sales director. He will head up all the sales and marketing activities for the company. As a lifelong enthusiast 
...
Read more...
---
Programmable LED strip light
June 2020, Turck Banner , Sensors & Transducers
The new WLS27 Pro comes in distinct IO-Link and discrete controlled Pro Editor compatible models. Banner's Pro Editor software allows users to program device status, colours and animations for control 
...
Read more...
---
Inductive sensor with IO-Link
June 2020, Turck Banner , Sensors & Transducers
Inductive measurement sensors with IO-Link and a voltage output complete the range of Turck's sensor portfolio. The flexibility of the new analog sensors offers users a range of different application 
...
Read more...
---
Optimised encoder portfolio
June 2020, Turck Banner , Sensors & Transducers
With an optimised encoder portfolio, Turck serves a wide range of customer requirements from price sensitive encoders, right through to particularly robust and wear-free devices. From three product lines, 
...
Read more...
---
Bright illumination for paint tunnel inspection
May 2020, Turck Banner , Sensors & Transducers
The WLB72 Inspection is a high-efficacy task light used for industrial work areas. It is simple to install, can be cascaded, and comes fully assembled. The bright, uniform output of the WLB72 reduces 
...
Read more...
---
Miniature photoelectric sensor
May 2020, Turck Banner , Sensors & Transducers
The DQ12 is a miniature, cost-effective solution for applications in space-constrained environments. The sensor features LED status indicators for power on, signal received, and marginal signal. In addition, 
...
Read more...
---
Powerful dialogue modules for mobile machines
April 2020, ifm - South Africa , Operator Interfaces, Switches & Relays
The new dialogue modules from ifm electronic have been developed for use in cabins and outside vehicles. Thanks to a high protection rating and optical bonding, they are optimally protected against moisture. 
...
Read more...
---
Pick-to-light solutions kit
April 2020, Turck Banner , Enclosures, Cabling & Connectors
The Pick-to-Light Solutions kit is an integrated solution that consists of an enclosure, an DXM controller, a HMI, plus direct connections for PTL110 devices and power. The integrated device and power 
...
Read more...
---
Condition monitoring of motors
Technews Industry Guide: Maintenance, Reliability & Asset Optimisation 2020, Turck Banner , Maintenance, Test & Measurement, Calibration
Whether in exhaust systems, pumps or compressors, motors of various sizes are used in production plants and warehouses, quite often in remote locations. Maintaining machines is therefore time-consuming 
...
Read more...
---
Expert opposed-mode sensor
March 2020, Turck Banner , Sensors & Transducers
The new QS18E offers superior ambient light immunity to prevent unintentional triggering and prevents the sensor from being tricked by ambient light sources, such as a lightbulb, flashlight, or other 
...
Read more...
---