printer friendly version
Condition monitoring of motors
Technews Industry Guide: Maintenance, Reliability & Asset Optimisation 2020
Maintenance, Test & Measurement, Calibration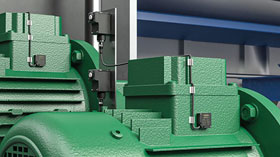 Whether in exhaust systems, pumps or compressors, motors of various sizes are used in production plants and warehouses, quite often in remote locations. Maintaining machines is therefore time-consuming and prone to errors, especially if maintenance personnel are only instructed to perform on-site inspections on an infrequent basis.
Instead, data from multiple motors can be collected, evaluated, centrally displayed and if necessary, linked to alarm actions in order to warn of impending failures in good time. Users can use radio technology to connect Turck's QM42VT1 vibration and temperature sensor with the high-performance TX700 HMI device for this purpose.
Rugged sensor detects vibration and temperature values
Has the motor become loose, causing the shaft to be misaligned? Is a bearing jammed or is an attachment out of balance? Mechanical vibration can flag up issues such as these. The QM42VT1 vibration and temperature sensor detects vibrations with a high level of accuracy. For this purpose, the compact MEMS-based sensor (micro-electro-mechanical system) is simply mounted directly on the motor block via a magnetic holder. From there, it delivers speed and acceleration data over two dimensions in different frequency ranges. Changes in the measurement data can then be used to identify various forms of damage.
Measuring the temperature of the motors is also vital, as a significant increase in temperature could be an indication of wear or insufficient lubrication on a bearing. The IP67 sensor also detects such temperature changes within a measuring range of -40 to 105°C.
Data transfer and visualisation
Maintenance personnel can wire the vibration and temperature sensor to the battery-powered DX80 radio module. The measured values are then sent to the receiver module of the DX80 system via a proprietary wireless network.
All engine status data can be clearly displayed on Turck's HMI/PLC TX700. In addition, users can read out historical trends, extract log data or configure alarms such as automatic email notifications. Ethernet connection is also possible, allowing data to be queried through the entire company.
With this stand-alone solution, maintenance personnel can view the status data of all machines, whether on-site, at the HMI, or on company networked computers.
Credit(s)
Further reading:
Robust safety light curtains
April 2021, Turck Banner , IS & Ex
Ez-Screen LS light curtains are intuitive, easy-to-use safety devices designed by Turck Banner for machine safeguarding.
Read more...
---
Compact radar sensor
April 2021, Turck Banner , Sensors & Transducers
Turck Banner's T30R offers more robust detection capabilities and longer range than ultrasonic solutions in a similar package size.
Read more...
---
Pick-to-Light Solutions Kit
April 2021, Turck Banner , Sensors & Transducers
Turck Banner's Pick-to-Light Solutions Kit is an integrated solution that consists of an enclosure, a DXM controller, an HMI, plus direct connections for PTL110 devices and power.
Read more...
---
Wireless controller for smarter factories
March 2021, Turck Banner , PLCs, DCSs & Controllers
Turck Banner's DXM wireless controllers are designed to facilitate Ethernet connectivity as well as enabling IIoT applications.
Read more...
---
Precise leading-edge detection
March 2021, Turck Banner , Sensors & Transducers
The Q76E retroreflective sensor from Turck Banner has a unique design that enables consistent detection of a broad range of targets that typically challenge other sensors.
Read more...
---
Extensive range of test instruments from RS Components
March 2021, RS Components SA , Maintenance, Test & Measurement, Calibration
The RS range includes digital multimeters, voltage/current calibrators, insulation testers, temperature calibrators, and voltage indicators.
Read more...
---
Illuminated E-stops with diagnostics
March 2021, Turck Banner , IS & Ex
In-Series Diagnostics runs through up to 32 devices on a single 4-pin cable to the control panel, with only two wires running to the controller and two others for power.
Read more...
---
In situ control valve testing
April 2021, Comtest , Maintenance, Test & Measurement, Calibration
Fluke's valve tester allows technicians to conduct checks of control valves while they are in place.
Read more...
---
RFID system tracks meat production in Chinese slaughterhouse
February 2021, Turck Banner , Industrial Wireless
To implement the tracking of the pork across all process levels, every pig is provided with an electronic earring containing the relevant data.
Read more...
---
Plug-and-play temperature sensors
February 2021, Turck Banner , Sensors & Transducers
Turck Banner has expanded its innovative range of fluid sensors with IO-Link devices for flexible and reliable process temperature measurement.
Read more...
---