printer friendly version
Modular image processing solution
April 2020
Sensors & Transducers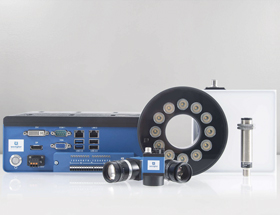 ASSTech offers the latest VisionSystem2D from Wenglor. This is a modular image processing system developed for all vision applications. The system consists of up to 16 digital cameras, lenses with various fixed focal lengths, external illumination components and a control unit (IPC) with all common standard interfaces, as well as software for image evaluation.
The components of this modular system can be individually combined and adapted to the respective application. In this way, focal length, focusing, resolution, lighting and type of evaluation can be separately selected. Wenglor's uniVision software is used to configure parameters for image recording and for subsequent image analysis.
Up to 16 digital cameras with integrated image chips from Sony's Pregius series deliver high resolution images with 1,6 or 5 MP in colour or monochrome – even in dynamic applications. Thanks to the compact housing (29 x 29,1 x 29 mm) they are ideal for installation in systems with limited space. Any desired C-mount lenses can be attached to the digital cameras in order to implement applications in both close-up and distant ranges.
Three different types of illumination can be selected for homogenous, constant lighting within the application. Ring lights, spotlights and backlights are available in different sizes and colours: red and infrared light in flash or continuous mode are offered in addition to white light. All the image data generated by the system come together in the control unit. All processing is conducted and results evaluated in the fanless housing (passive cooling). Equipped as desired with either an i3 or an i7 processor, up to 16 devices can be connected. uniVision Software, which is pre-installed on the control unit, is used for image evaluation.
Whether digital I/Os, Gigabit Ethernet over TCP/IP and UDP or the LIMA protocol based on XML is required, communication can be implemented with the most up-to-date technologies. The capability to individually configure visualisation regardless of platform is also advantageous for the user. Due to the integrated web server, the results can be displayed in the browser of any device – regardless of whether a Windows, Mac or Android operating system. In this way users can display camera images, scanned codes and the status of inputs and outputs at a graphic user interface.
For more information contact Anastas Schnippenkotter, ASSTech Process Electronics & Instrumentation, +27 11 708 9200, info@asstech.co.za, www.asstech.co.za
Credit(s)
Further reading:
Suspended solids sensor
April 2020, Morton Controls , Sensors & Transducers
Morton Controls, in partnership with Quadbeam, has introduced the Stormwater and Wastewater sensor, the SWW, the newest suspended solids sensor/turbidity meter available. Quadbeam has created an incredibly 
...
Read more...
---
3D sensors for automation of robot grippers
April 2020, ifm - South Africa , Sensors & Transducers
Gripper navigation
The 3D sensor detects the object position, even when objects are moving and transmits it to the robot control. The system can detect rectangular, round and irregular shapes and transmit 
...
Read more...
---
4-wire performance in a compact housing
April 2020, ASSTech Process Electronics + Instrumentation , Sensors & Transducers
Randburg instrumentation specialist, ASSTech, now includes in its product range the new Jumo dTrans T06 Junior multifunction 4-wire transmitter that offers great performance for a wide range of applications. The 
...
Read more...
---
Modular LED signal towers
April 2020, RS Components SA , Sensors & Transducers
RS Components has launched the RS PRO range of preassembled, prewired and modular LED signal towers, providing OEM automation engineers and maintenance buyers with a cost effective means of visually signalling 
...
Read more...
---
Turbidity sensor with IO-Link
March 2020, Morton Controls , Sensors & Transducers
Digitisation has branched into industry under the keyword Industry 4.0. IO-Link offers significant advantages when it comes to reliably controlling the entire system technology in process control with 
...
Read more...
---
Expert opposed-mode sensor
March 2020, Turck Banner , Sensors & Transducers
The new QS18E offers superior ambient light immunity to prevent unintentional triggering and prevents the sensor from being tricked by ambient light sources, such as a lightbulb, flashlight, or other 
...
Read more...
---
Using infrared to detect the invisible
March 2020, R&C Instrumentation , Sensors & Transducers
Both preventive and predictive maintenance programmes rely on regular inspections of the critical assets that comprise a plant or facility. These inspections range from visual inspections to non-destructive 
...
Read more...
---
Wenglor's light band technology
March 2020, ASSTech Process Electronics + Instrumentation , Sensors & Transducers
Based on a continuous, homogenous light band, Wenglor's new retro-reflex sensors can reliably detect objects with irregular or asymmetrical shapes, for example in the field of intralogistics. With three 
...
Read more...
---
Contour detection for inline quality checks
March 2020, ifm - South Africa , Sensors & Transducers
In assembly and handling applications, the PMD profiler from ifm electronic does not only verify the presence of an object, but it checks whether the correct component has been used and properly installed. 
...
Read more...
---
Simple and convenient flow measurement
March 2020, ASSTech Process Electronics + Instrumentation , Flow Measurement & Control
Two new devices from Jumo provide simple and convenient magnetic-inductive flow measurement for a variety of media and processors. Jumo flowTrans MAG S10 is designed for standard industrial applications 
...
Read more...
---