printer friendly version
New fibre-optic pyrometer
April 2020
Temperature Measurement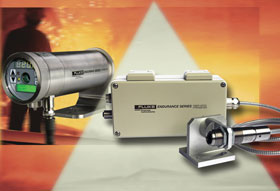 As part of their Endurance range, Raytek and Ircon combined, have introduced the Endurance fibre-optic infrared thermometer.
These pyrometers have an external sensor head attached via a fibre-optic cable, and are infrared noncontact temperature measurement systems. Such devices have a fixed focus, a laser beam pointing capability through the lens to the target, and different fibre-optic cable types for specific wavelength infrared temperature measurements. The Endurance devices come in an industrial aluminium die-cast electronics enclosure. The fibre-optic cable for the external sensor head attachment to the electronics enclosure is protected by a flexible stainless steel sheath. The external sensor head on the one hand and the electronics enclosure on the other hand, allow the installation of the electronics enclosure away from a hot, hostile environment. Each model operates as an integrated temperature measurement subsystem consisting of optical elements, spectral filters, detectors, digital electronics and an IP65 (NEMA-4) rated housing. Various output types are offered for easy integration into industrial monitoring and control environments and both monochrome and two-colour units are available.
Monochrome (one-colour mode) types are for standard temperature measurement applications. They are best for measuring the temperature of targets in areas where no sighting obstructions, either solid or gaseous, exist, and where the target completely fills the measurement spot.
Ratio (two-colour mode) pyrometers determine the object temperature by the ratio of two separate and overlapping infrared bands. The two-colour mode is best for measuring the temperature of targets that are partially obscured, either intermittently or permanently, by other objects, openings, screens, or viewing windows that reduce energy, and by dirt, smoke, or steam in the atmosphere. The two-colour mode can also be used on targets that do not completely fill the measurement spot, provided the background is much cooler than the target. Ratio pyrometer types are able to measure and determine the object temperature in either one of both modes (one-colour /two-colour), in which two infrared detectors are always active. Advanced signal processing options are selectable.
For more information contact R&C; Instrumentation, +27 11 608 1551, info@randci.co.za, www.randci.co.za
Credit(s)
Further reading:
Temperature measurement in the steel industry
November 2020, R&C Instrumentation , Temperature Measurement
Having recently joined forces, Raytek and Ircon are able to offer non-contact infrared thermometers and scanners to cover every aspect of temperature monitoring in steel manufacturing processes.
Read more...
---
Preventive maintenance in pulp and paper mills
October 2020, R&C Instrumentation , Maintenance, Test & Measurement, Calibration
The thinking around machine condition monitoring has changed over the years and it is now stated that vibration is the better measurement over temperature, since it gives earlier warning.
Read more...
---
New RTD transmitter
September 2020, Mecosa , Temperature Measurement
What characterises the APAQ 130 is simplicity. Users can easily configure the transmitters wirelessly with a smartphone or tablet.
Read more...
---
Temperature profiling in automobile manufacture
September 2020, R&C Instrumentation , Temperature Measurement
The automotive industry uses many materials to build cars. These have evolved over time, becoming more sophisticated and often requiring heat treatment at some stage of component manufacture.
Read more...
---
New iTEMP transmitter with Bluetooth
September 2020, Endress+Hauser South Africa , Temperature Measurement
Endress+Hauser's new iTEMP TMT142B temperature transmitters deliver highly accurate and reliable measurements, wireless communication via Bluetooth and user-friendly operation packaged in a robust single-chamber field housing.
Read more...
---
Temperature control in the glass industry
August 2020, R&C Instrumentation , Temperature Measurement
New products like the Endurance and Thermalert series ensure that whatever the temperature measurement and monitoring requirements, a solution can be found.
Read more...
---
Closed panel electrical inspection
July 2020, R&C Instrumentation , Maintenance, Test & Measurement, Calibration
When electrical distribution equipment fails, the results can be catastrophic to a company as workplace injuries and fatalities could occur. A company's profit margin can be negatively impacted by unscheduled 
...
Read more...
---
Ratio pyrometer: theory and applications
June 2020, R&C Instrumentation , Temperature Measurement
There are many applications where a standard one-colour thermometer reads the temperature incorrectly. These include:   
• Small objects (too small to fill the cone-of-vision). • Dust, smoke or steam, 
...
Read more...
---
Thermal camera for automotive diagnosis
May 2020, RS Components SA , Temperature Measurement
RS Components has announced the availability of a new thermal camera from FLIR, a specialist in intelligent sensing products for industrial markets. The TG275 thermal camera is ideal for automotive maintenance 
...
Read more...
---
Emerson's new thermowell design tool
June 2020, Emerson Automation Solutions , Temperature Measurement
Emerson has introduced the Rosemount Thermowell Design Accelerator, a free online thermowell design tool that eliminates manual thermowell iterations facing process design engineers when sizing thermowells. 
...
Read more...
---