printer friendly version
Festo online configurator tool simplifies sizing of process valves
April 2020
Valves, Actuators & Pump Control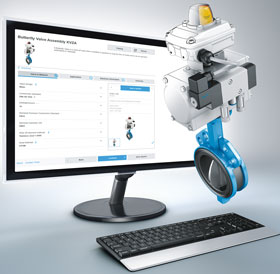 From manually operated to automated process valves, the new configurator tool for process valves from Festo makes selecting the right solution easy and less time-consuming. A task that used to take a few hours now takes minutes to complete. This configurator tool has made finding, selecting, sizing and ordering the perfect KVZB ball valve or KVZA butterfly valve simple with just a few clicks. All users have to do is select a few parameters, and the configurator will immediately suggest appropriate combinations, making engineering in the process industry fast and reliable.
The configurator for process valve units significantly simplifies engineering. The tool ensures quick and successful project management by taking all relevant factors into account starting from initial product search, configuration, sizing and documentation, right through to ordering and delivery of the process valve unit including customer-specific requests. Festo combines everything in one tool. Further to this, information on pricing and delivery is visible immediately to Festo online shop customers, providing complete transparency and facilitating an efficient procurement process.
The Festo process valve units are tailored and ready-to-install, all components are perfectly matched and sized for specific applications from butterfly or ball valves, quarter-turn actuators, pilot valves, sensor boxes, positioners, adaptor kits and hand levers. Whether it is the ease of manually actuated combinations, a unit with pilot valves and a sensor box or a unit with a positioner, customers have the option to choose their required parameters in the input menu then the flexible configurator suggests the right solutions. Other configurator benefits include: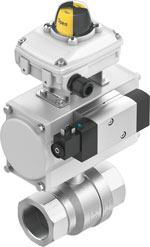 • User-friendly interface.
• Advice on solutions.
• Specific 2D/3D CAD files available for download after configuration.
• Configuration-compatible bill of materials available for download.
• Delivery date query possible.
Order ID and CAD download included
Together with the proposed solution for customers' requirements, the configurator generates an order ID for the complete combination, which can be used for placing future orders. There are also benefits in terms of documentation because the CAD data for the complete module can be downloaded in accordance with the configuration. Configuration-compatible data sheets are also available, as well as 2D CAD data and 3D CAD models in many native and neutral formats. The relevant certification for the assemblies is also made available through the Festo online platform.
Standard components included in the KVZB and KVZA process valve units
Sensor box SRBC
The Festo sensor box SRBC is a reliable and cost-effective solution for electronic position sensing and optical position indication of automated process valves. Its many mechanical, inductive or magnetic switch variants make it extremely flexible and suitable for virtually any application. The SRBC includes an intrinsically safe variant, certified to ATEX for Zone 1 and 21 for use in potentially explosive areas. The sensor box can be mounted quickly and easily on quarter-turn actuators with port patterns to VDI/VDE 3845 thanks to pre-assembling bridges. It is not only quick to mount on a quarter turn actuator, but it is also extremely easy to commission: the actuating cams can be set without any additional tools. SRBC is extremely versatile in use and plays an extensive role in the configuration of process valves.
Sensor box SRBG
The sensor box SRBG is a compact and economically friendly solution for optical position indication and electrical position of automated or manually actuated process valves. It can be easily and directly mounted without accessories and require minimal space, to provide fast and simple mounting and commissioning. Direct mounting on quarter-turn actuators with a mounting interface to VDI/VDE 3845 does away with the need for adjustment thanks to fixed mounting holes in the sensor housing. Two actuating element sizes are sufficient for position sensing, regardless of the size of the actuator and its direction of rotation.
Quarter-turn actuator DFPD
Known as the benchmark for quarter-turn actuators, the DFPD can be used as an individual actuator or as part of a complete automated process valve system from Festo. With a torque range from 10 to 2.300 Nm, a rotation angle up to 180° and corrosion-resistant versions, the single or double-acting DFPD is suitable for ball valves, butterfly valves or air dampers in all industries.
Positioner CMSX for linear and quarter-turn actuators
The newly optimised positioner CMSX for single and double-acting linear and quarter-turn actuators is as economical as it is reliable. It is the top performer in its class in the non-explosive area. Its extra features include an excellent price/performance ratio, energy-efficient operation, high process reliability thanks to analog or digital
feedback signals and definable safety positions, making it an ideal addition in the process valve family.
Standard NAMUR valve VSNC
The standard NAMUR valve VSNC's distinguishing features are a modern design, durable quality, fully tested technology and materials. The product also offers an attractive price/performance ratio – this is what modern NAMUR valves should be. Whether you are using a single or double-acting actuator, our VSNC offers the right solution with just one valve.
Breakthrough for process automation in digitalisation
With the configurator for process valve units, Festo is driving digitalisation and supporting its customers to enter the age of Industry 4.0. As an automation expert, Festo is combining its extensive knowledge of industrial applications with the latest developments in information technology to realise online applications for the process automation industry.
Festo is also using digital communication to support its customers throughout their digital journey. This digital journey safely and comprehensively guides users through the Festo process valve portfolio, from information procurement and configuration through ordering and delivery to commissioning and maintenance, and even the technical training offering of Festo Didactic.
For more information contact Festo South Africa, 086&nbs;003 3786, marketing.za@festo.com, www.festo.co.za
Credit(s)
Further reading:
Experience digitalisation at the Festo Virtual Exhibition
June 2020, Festo South Africa , News
Festo is breaking new ground with its first-ever Virtual Exhibition scheduled to take place from the 15-16 July. Visitors will get to experience digitalisation as never before. This exhibition will be 
...
Read more...
---
Early detection of faults in BMW's light metal die casting
April 2020, Macsteel Fluid Control , Valves, Actuators & Pump Control
Sliding gate valves from Schubert & Salzer optimise process reliability.
Read more...
---
Seamless integrated connectivity for electric automation from Festo
April 2020, Festo South Africa , Fieldbus & Industrial Networking
The cloud is everywhere. We save data on the cloud and access it on our phones and computers from anywhere at our convenience. The same applies to seamless connectivity in industrial automation from your 
...
Read more...
---
All around the turbine
April 2020, Valve & Automation , Valves, Actuators & Pump Control
At the heart of a power station are the steam turbines, which serve as generators or mechanical drives for pumps und compressors. For their operation, a network of valves is built around the turbines. 
...
Read more...
---
Monoblock for sampling and injection processes
March 2020, WIKA Instruments , Valves, Actuators & Pump Control
WIKA's new monoblock has been designed to meet the requirements of the process industry. It is especially well suited to applications in natural gas and aggressive media. The compact design integrates 
...
Read more...
---
Digital transformation enables new solutions for valves and pumps
March 2020 , Valves, Actuators & Pump Control
With the emergence of IIoT-enabled remote management solutions, process industry end users can begin to take full advantage of remote monitoring, analysis, and management services provided by valve and pump suppliers or third-party service providers.
Read more...
---
Flow control valves from BMG
February 2020, Bearing Man Group t/a BMG , Valves, Actuators & Pump Control
BMG's Fluid Technology division supplies and supports an extensive range of components for fluid technology systems and general industrial applications. These products include valves, hydraulic hoses 
...
Read more...
---
Large anti-surge control valves from ARCA
February 2020, Valve & Automation , Valves, Actuators & Pump Control
Arca supplies its extensive range of valves to nearly all types of industries, but an important part of the product range are valves for turbines and turbo compressors, especially anti-surge control valves. 
...
Read more...
---
AVK helps water industry meet local content
February 2020 , Valves, Actuators & Pump Control
AVK Valves Southern Africa is helping key players in the water and wastewater treatment sectors comply with the Department of Trade and Industry's requirements for local content. Since 2016, following 
...
Read more...
---
Control valves with positioner suitable for gas and burner installations
January 2020, Macsteel Fluid Control , Valves, Actuators & Pump Control
Sliding gate valves are true all-rounders in the valve technology field and can be used for high-precision control purposes in the fields of natural gas applications, combustion and firing installations, 
...
Read more...
---