printer friendly version
SEW-Eurodrive sets Industry 4.0 benchmark
March 2020
Motion Control & Drives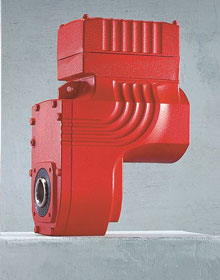 With the advent of Industry 4.0 set to change the face of industry and production, SEW-Eurodrive has a range of solutions for its concept of the Lean Sm@rt Factory. This is based on new technologies such as big data, embedded computing, the IIoT and cloud computing.
Movigear
The Movigear mechatronic drive system is designed for flexible use across various communication infrastructures, which is ideal for decentralised field applications. It is especially tailored for efficient use in the general materials-handling sector and is available in two sizes and three electrical performance classes. Energy savings of up to 50% are possible due to the seamless interplay between the IE4-rated motor, efficient gear unit, and integrated electronics.
"Perfectly-matched components, combined with the energy optimisation of the overall system, facilitate high system efficiency," comments SEW-Eurodrive MD, Raymond Obermeyer. "These features make our mechatronic drive platform a cost-effective, power-optimised, total solution."
Movidrive
Flexible, compact and intelligent Movidrive B drive inverters save space in the control cabinet. In addition, they are equipped with integrated IPOSplus positioning and sequence control as standard features. These inverters are ideal for asynchronous AC or synchronous servo drives.
Additional features are a broad power range from 0.55 kW to 250 kW, and a high overload capacity. Based on a modular concept, the inverters are ideal to improve the flexibility and efficiency of a range of applications.
Motion and logic controllers
SEWEurodrive also offers the freely programmable MoviPLC motion and logic controller for solving complex tasks in a flexible manner. These scalable controllers are an ideal solution platform due to their universal operation and functionality. Interfaces are available for the external periphery and for visualisation purposes, so as to fully automate complete machines.
"The basic concept behind Industry 4.0 is to leverage information technology in order to integrate business and engineering processes for more flexible, efficient, and time-independent production in a range of applications and industries," concludes Obermeyer. "At the same time, high quality and lower costs are a given. SEW-Eurodrive's approach combines the basic tenets of Industry 4.0 with its benchmark-setting solutions and concepts."
For more information contact Jana Klut, SEW-Eurodrive, +27 11 248 7000, jklut@sew.co.za, www.sew-eurodrive.co.za
Credit(s)
Further reading:
Incledon launches latest Tekflo couplings
June 2020 , Motion Control & Drives
Incledon, a leading provider of quality fluid conveyance products and solutions, recently launched a new range of universal couplings, adding to its current range of Tekflo-branded products based on quality, 
...
Read more...
---
AGVs for automated production
June 2020, SICK Automation Southern Africa , Motion Control & Drives
Automated and flexible production processes are the answer to increasing quantities, smaller batch sizes, and high production speeds. Automated guided vehicle (AGVs) systems and their smaller relatives, 
...
Read more...
---
Simplifying machine setup
June 2020, Siemens Digital Industries , Motion Control & Drives
Strausak Mikroverzahnungen specialises in the manufacture of high-precision machinery used in the watchmaking and apparatus manufacturing industries. To enable the continued precise machining of parts 
...
Read more...
---
Energy efficiency for improved process control
May 2020, Bearing Man Group t/a BMG , Motion Control & Drives
BMG's Vacon 100 AC drives have been designed to save energy, optimise process control and improve productivity in many sectors, including processing, mining and minerals, industrial HVAC, marine and water, 
...
Read more...
---
SEW-Eurodrive supplies gear units for agitators and mixing systems
June 2020, SEW-Eurodrive , News
Gear units in an agitator design are often equipped with an extended bearing housing optimised specifically for use in mixers and agitators, using tried-and-tested standard gear unit series. SEW-Eurodrive 
...
Read more...
---
Drives with monitoring supplied to DRC
June 2020, SEW-Eurodrive , News
SEW-Eurodrive has supplied a comprehensive drive package to a major copper mining project in the Democratic Republic of Congo. The package comprised nine drives in total, of which the five main 500 kW 
...
Read more...
---
Low-friction bearings for EV drivetrains
April 2020, SKF South Africa , Motion Control & Drives
Bearings, although buried deep within the vehicle, are on the front line in contributing to drivetrain efficiencies and delivering reliability for automotive manufacturers. Breakthroughs in technologies 
...
Read more...
---
SEW-Eurodrive solution for new brick and block plant
May 2020, SEW-Eurodrive , Motion Control & Drives
SEW-Eurodrive's HandlingKinematics application module allows for machine control at a higher level by means of a lower-level configurable control unit (CCU) for carrying out precision path movements. 
...
Read more...
---
VLT drive saves energy at AEL blasting
May 2020, Danfoss , Motion Control & Drives
AEL (African Explosives Ltd.) Intelligent Blasting's nitric acid plant saves R3,6 million on annual operating costs thanks to an upgrade from direct-on-line operation to VLT drive control of electric 
...
Read more...
---
Zest adds geared motors to product range
May 2020, Zest WEG Group , Motion Control & Drives
A range of WEG geared motors with benefits including efficiency and reliability will soon be available to customers in South Africa and the rest of the continent from Zest WEG. According to national sales 
...
Read more...
---