printer friendly version
Thermal flow measurement with IO-Link
March 2020
Flow Measurement & Control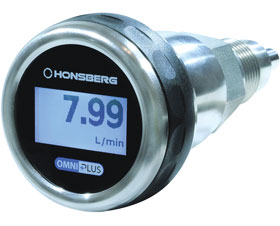 Honsberg has launched the new Omniplus-F thermal flow sensor measurement device enabling users to use only one device for applications which previously required three. Additionally, it has a uniquely designed larger screen giving a large high-resolution display with greater visibility. The new instrument enables measurement of flow, speed, temperature and volume of fluid media with one universal device.
The calorimetric measuring principle, which involves no moving parts, makes it practically wear-free and offers the ability to record media temperature in addition to flow measurement.
"The special arrangement of sensors developed by Honsberg, in combination with optimised software algorithms, makes the Omniplus-F one of the fastest and most versatile calorimetric flow sensors on the market." said Jan Grobler, managing director of GHM Messtechnik South Africa, the local subsidiary of the GHM Group. "The new thermal flow sensor device has applications across a wide cross section of industries including water, oil, mining, pharmaceutical and food and beverage sectors. The newly designed screen gives real-time data readings in a clearly visible display."
Industry 4.0 and technical features
The integrated IO-Link interface enables the digital transfer of all measurements and other sensor data and the complete parameterisation of the sensor. Therefore, nothing stands in the way of integration into larger sensor networks. The selection of various process connections offers a solution for nearly every installation situation, making the new instrument a good choice for Industry 4.0 applications.
Omniplus-F offers a flow measuring range of 2-300 cm/s. The temperature measuring range is -20 to 120°C. At a minimum flow speed a 2°C accuracy is achieved. Measurement mediums are H2O (adjusted), oil (adjusted), other liquids (configurable), as well as air. Outputs can be configured for 4-20 mA or 0-10 V and two switches for high/low monitoring conditions are integrated into the sensor. The device has an operating voltage of 18-30 VDC. A rotating multifunction ring enables the flow sensor to be parameterised without manual or connection to a PC.
"With the three measurement variables in a single device, intuitive operation and IO-Link functionality, the Omniplus-F device reduces costs in a newly enhanced design from Honsberg," concluded Grobler.
For more information contact Jan Grobler, GHM Messtechnik SA, +27 11 902 0158, info@ghm-sa.co.za, www.ghm-sa.co.za
Credit(s)
Further reading:
Flexim perfects the steam flowmeter
June 2020, Actum Group , Flow Measurement & Control
Flexim is proud to announce the manufacture of a robust, user-friendly and industry-certified ultrasonic steam flowmeter solution. For this accomplishment, the company has been nominated for the 2020 
...
Read more...
---
Emerson introduces software for flow measurement
June 2020, Emerson Automation Solutions , Flow Measurement & Control
Emerson has released Micro Motion ProcessViz, a standalone, cost-effective software solution for flowmeter process data visualisation. Having an instant visualisation of raw process data translates into 
...
Read more...
---
Exceeding the limits
June 2020, ifm - South Africa , Flow Measurement & Control
The new SM flow from ifm electronic.
Read more...
---
The complexity of water management in mines
June 2020, Endress+Hauser South Africa , Flow Measurement & Control
Water is a critical resource for the mining industry, either in the mining processes, as a feed to the beneficiation of minerals process, or for potable use. With the growing demand and increased scarcity 
...
Read more...
---
Is your building comfortable?
June 2020, GHM Messtechnik SA , Analytical Instrumentation & Environmental Monitoring
When was the last time you did a health check on your work environment? Monitoring the quality and temperature of the air, air-conditioning, heating, ventilation, outside weather, and even the amount 
...
Read more...
---
Capacitive level switch for fluid, pasty and powdery media
May 2020, GHM Messtechnik SA , Level Measurement & Control
Martens, part of the GHM group of companies, has introduced its MLC 437 capacitive level switches for use principally for the registration of limit levels, full/empty signals in pipes and tanks in fluid, 
...
Read more...
---
Electromagnetic flowmeter upgrade
May 2020, Instrotech , Flow Measurement & Control
Instrotech has announced that the Kobold magnetic inductive flowmeters MIM and MIS have been upgraded and further developed as follows: Kobold MIM, for measuring and monitoring of conductive liquids, 
...
Read more...
---
Ultrasonic transducer with mini horn array
May 2020, Emerson Automation Solutions , Flow Measurement & Control
Emerson has released the Daniel T-200, a titanium-housed transducer, for its gas ultrasonic flowmeter product line, marking the first use of metal 3D printing to enhance the acoustic performance of ultrasonic 
...
Read more...
---
Flowmeter performance monitoring
April 2020, Emerson Automation Solutions , Flow Measurement & Control
Oil and gas producers have a new means of optimising wellhead production that lowers operating costs while increasing safety, thanks to a newly launched service from Emerson that leverages cloud-based 
...
Read more...
---
Oval wheel flowmeters
April 2020, Instrotech , Flow Measurement & Control
Instrotech has on offer three Kobold oval wheel flowmeters that give precise flow measurement for all viscous, non-abrasive clean liquids and can be used in a number of diverse applications, such as measurement 
...
Read more...
---