printer friendly version
Navigate the fourth industrial revolution with PricewaterhouseCoopers
November 2019
IT in Manufacturing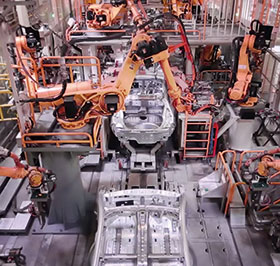 Today, most manufacturing companies recognise the potential of 4IR technologies to improve their overall production efficiency. For many, however, moving past proof of concept remains a challenge. According to PwC Smart Manufacturing Lead, Vinesh Maharaj, this is because the first step in the digital transformation journey often gets skipped. "Effective scaling across an enterprise hinges on an integrated transformation strategy," he adds, "which must be developed during a concept phase that precedes any investment in a pilot project."
The implication is that the heavy-hitter organisations that go on to become 'digital champions' embrace digital transformation as the future of business, rather than some quick-fix patch applied to staunch a bleeding bottom line. With its track record in audit and management consulting, PwC already understands the business of many of these digital champions. No surprises then that it has expanded its advisory offering to include manufacturing technology, and more specifically, digital transformation in the smart factory context.
"In the past, our technology offering consisted of advisory services relevant to business-related technologies, anything from ERP systems down," opines Maharaj. "Now, as the ideas of Industry 4.0 start to go mainstream, we have added an industrial technology component to include automation systems from level 3 down to the factory floor."
The foundation for the Smart Factory advisory offering in South Africa is built on a mature practice in Germany: The Digital Operations Impact Centre. "They have been on the digital manufacturing journey for the last six years," elaborates Maharaj. "In that time, they have built a portfolio of over two thousand clients, which gives us a critical mass of references to expand the service into South Africa, and other areas as well. What we bring in an advisory capacity covers all aspects of smart manufacturing and smart supply chain transformation."
His ratification is that in most areas of manufacturing, South Africa is falling behind in terms of global competitiveness, not to mention creating new job opportunities for the burgeoning majority of unemployed youth. For us to recover, we need to reindustrialise so that we can produce goods at prices that allow us to create new export opportunities. PwC's purpose then is to contribute towards finding solutions to this important problem. So what does it have to offer?
Achieving outcomes that were not possible before
Maharaj explains that in general, PwC's client base searches for guidance in one or more of the following five areas: sorting through the noise; funding and executive support; thinking through the journey; new ways to work; and cybersecurity.
As it happens, this is a very good fit with the uncertainties associated with a shift into digitised manufacturing, which means PwC brings many lifetimes worth of accumulated experience to the new offering.
"We believe in a holistic approach," continues Maharaj. "Our Smart Factory service is delivered 'strategy through execution' through a combination of market, business and technology expertise."
The approach he refers to is underpinned by the digital maturity assessment. This first step towards smart factory transformation is not purely about technology though, but includes the all-important issues of people, redeployment and new skills development.
"The only way to transform the manufacturing sector in South Africa is through trust," stresses Maharaj. "With senior managers, we need to build trust in the ideas and technologies of the fourth industrial revolution. We can do this through practical case study examples, but on their own, these are not enough. Smart manufacturing is about breaking down traditional barriers to information across the organisation in ways that empower people at all levels to contribute through better informed operational decision making. As such, any strategy we develop must lead to better performance at all levels in the organisation. For the C-suite, we outline the business case for digital transformation within the unique environment of that particular organisation. At other levels, the strategy addresses change management and plans to reskill the company's workers so that they can be redeployed to perform new tasks."
Typical plant assessment process
Maharaj highlights that smart factory transformation in itself is not a project with predetermined start and finish dates. Rather, it is an endless quest to ensure the company's competitive advantage in an ever changing marketplace. Digital technology is the enabler and better informed business decision making to a level that was not possible before is the prize. It is by nature a disruptive process, and therefore, one which very few organisations can manage by themselves.
A comprehensive strategy is the key and this is what differentiates the PwC offering.
"We bring vendor neutrality to the table," outlines Maharaj. "Our process starts with a detailed plant assessment. Once we have interviewed management we move down and observe what is happening on the shop floor. Then we look at the current data collection and analysis capabilities, together with other important IT issues like cybersecurity.
"Once we have collated our research, the next step is the Opportunity Spotting workshop. Here we get together with a core team made up from all the plant's divisions to discuss recommendations that would add value if they were pursued to implementation."
The outcome of this workshop is a prioritised, time-based roadmap that captures all angles of the proposed transformation strategy. Thanks to its history in auditing and management consulting, PwC is able to factor areas like tax optimisation, HR and change management into the strategy – value-add beyond the capacity of most pure technology consulting service providers.
"When all is said and done, we see ourselves as ideally positioned to act as a trusted advisor for the long haul," concludes Maharaj. "What we deliver initially is a business case for the deployment of automation technology to unlock new business value. We substantiate our ideas through proof of value projects designed to test the recommended strategy. Then, once we have buy-in at all organisational levels, we proceed with full implementation. We don't take a 'Big Bang' approach though, but rather we break things down into a series of smaller projects designed in such a way that ROI generated by the first is used to fund the second, and so on. Any strategy we propose extends beyond pure technology advice to include areas as diverse as tax efficiency, reskilling of staff to avoid redundancy, change management and that all-important matter of cybersecurity. But the one thing that must never be forgotten is that everything hinges on that initial digital maturity assessment."
The service offering Maharaj describes makes undeniable sense within the blue-chip environment that is PwC's target market. Managing the disruption of a smart factory transformation is a natural extension to the company's traditional consultancy-based services, and, given how fast the manufacturing sector in South Africa is being overtaken, many local blue-chip companies stand to benefit from an exploratory meeting with the PwC team.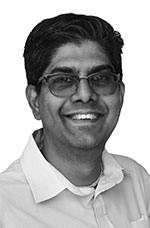 Vinesh Maharaj, PwC
Case study: Digitising companies for Industry 4.0
Challenge: At its production line in Saarbrücken, Germany, ZF produces about 10 000 automatic gearboxes for cars per day. During this highly complex process specific machine parts scuff out – and therefore, stop working from time to time. The machines stand still and the manufacturing process is delayed. This costs time and money.
Approach: PwC helped ZF to establish a predictive maintenance system. To run this, ZF needed to collect and utilise the information to subtract their next step. Therefore, PwC specialists helped develop a system that utilised data gathered by sensors throughout the production line and, using AI, identifies patterns indicating tool breakage. Hence, the output indicates when ZF needs to maintain or shut down a machine. Additionally, PwC took steps to find out why breakage occurs and gathered ideas on how to prevent crashes in the future.
Engagement impact: Post implementation, 99 percent of all tool breakages can be supervised in real-time. Thanks to data based prognosis and learning algorithms, ZF will likely be able to predict when the need for maintenance will occur. Through this project, ZF gained valuable insights into its processes, which will help the company further enhance the efficiency of its production.
For more information contact Vinesh Maharaj, PwC, +27 11 287 0839, vinesh.maharaj@pwc.com, www.pwc.com/za
Further reading:
Digital twin allows process simulations
December 2019, Siemens Digital Industries , IT in Manufacturing
The high-tech company Grenzebach's portfolio includes the simulation of material flow in complex plants in the glass industry, which it achieves using Siemens simulation solutions. Together, the two companies 
...
Read more...
---
Game-changing digital solutions for mines
December 2019, SKF South Africa , IT in Manufacturing
With digitalisation creeping into the mining industry and transforming day-to-day operations, this sector is enhancing its Industry 4.0 operation and process compliancy. As a preferred supplier of premium 
...
Read more...
---
Protect critical infrastructure and manufacturing plants
December 2019 , IT in Manufacturing
As manufacturers around the world analyse and embrace the importance of being more connected to the IIoT, cybersecurity experts caution that the benefits of being interconnected come with a warning, and 
...
Read more...
---
Extending analytics to EAM and operations users
December 2019 , IT in Manufacturing
Today's manufacturing operations and maintenance teams generate vast amounts of data in all forms.
Read more...
---
AI in manufacturing – revolutionary opportunity or well-trodden path?
December 2019, Absolute Perspectives , IT in Manufacturing
Artificial Intelligence (AI) has become a catchphrase used by marketers that attributes the characteristics of human intelligence to a computer system.
Read more...
---
Blockchain technology in the food and beverage industry
December 2019, Schneider Electric South Africa , IT in Manufacturing
Advances in blockchain technology could enable the food and beverage industry (F&B) to enhance traceability. In the US alone, food recalls and food-borne illnesses cost some $77 billion per annum, including 
...
Read more...
---
Artificial intelligence in manufacturing – a practical and simplified view
November 2019, Altron Bytes Systems Integration , IT in Manufacturing
Looking at and interpreting data generated during the manufacturing process to find ways to reduce waste, improve quality and increase yield is not new. However, the increased use of digital technologies 
...
Read more...
---
Intelligent data glasses support production
November 2019, Siemens Digital Industries , IT in Manufacturing
Augmented Reality (AR) has arrived in the workplace: for the last three years, a consortium of six companies and institutions chaired by Siemens has been researching the use of augmented reality (AR) 
...
Read more...
---
Siemens launches report on Dawn of Digitalisation and its Impact on Africa
October 2019, Siemens Digital Industries , IT in Manufacturing
Africa needs a digitalisation strategy to compete in the global economy.
Read more...
---
Integrating IT with Operations Technology - a CIO perspective
October 2019, Absolute Perspectives , IT in Manufacturing
Digitisation projects, spurred on by Industry 4.0 and technological advances, have opened up many possibilities to create new value.
Read more...
---