printer friendly version
Three-phase power quality analysis
November 2019
Maintenance, Test & Measurement, Calibration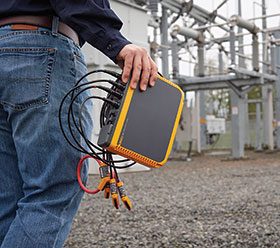 Comtest has announced the availability of Fluke's range of three-phase power quality loggers – 1742, 1746 and 1748 – giving users fast, easy access to the data they need to make critical power quality and energy decisions in realtime.
Compact and rugged, these instruments are designed specifically for technicians and engineers who need the flexibility to troubleshoot and quantify energy usage, and analyse power distribution systems. Fully compliant with international power quality standards such as IEC 61000-4-30 and capable of simultaneously logging up to 500 parameters while also capturing events, the Fluke 1740 Series helps uncover intermittent and hard to find power quality issues easily. The included Energy Analyze plus software quickly assesses the quality of power at the service entrance, substation, or at the load, according to national and international standards like EN 50160 and IEEE 519.
An optimised user interface, flexible current probes, and an intelligent measurement verification function allows digital verification and correct connections make setup easier, considerably reducing measurement uncertainty. The devices also allow users to minimise time spent in potentially hazardous environments, while reducing the need to suit-up in PPE by using a wireless connection (WiFi) to view data directly in the field.
Measures all power quality and power parameters
The Fluke 1748 logs over 500 different parameters for each averaging period. This allows for the analysis of power quality in detail and the correlation of intermittent events with detailed waveform data, helping to identify the root cause of disturbances. For basic power quality logging, the Fluke 1746 captures all relevant power parameters for performing energy-saving studies and electrical network planning with a full upgrade option to 1748 available. For simple load and energy studies the Fluke 1742 offers optimal performance in a rugged package and can be upgraded to 1746 or complete 1748 functionality.
Calculates current harmonics limits
When downloading data from the Fluke 1748 loggers, Energy Analyze Plus can calculate the limits of current harmonics based on installation parameters to predict overload of the grid according to a wide range of international standards. This powerful predictive maintenance feature enables current harmonics to be observed before distortion appears in the voltage allowing users to prevent unexpected failures or non-compliance situations and increase system uptime.
Easy to use
Fluke power quality loggers are designed with the technician in mind. The four current probes are each connected separately allowing flexibility and simplicity, the instrument automatically detects, scales and powers the probes so users do not have to worry about ensuring the measurements are correct.
Capturing logged data is just one part of the task, users then need to create useful information and reports that can be easily shared and understood by their organisation. Fluke Energy Analyze plus software makes that task as simple as possible. With powerful analysis tools and the ability to create customised reports in minutes users can communicate findings and solve problems to optimise system reliability and show savings. A range of built-in report templates for industry standards such as EN 50160, IEEE 519 and GOST enable one-click reporting to create high quality reports at the touch of a button. Reports can be modified as standards evolve, or new versions become available.
The 1740 series products are built to withstand tough working environments. The flexible current probes are IP65 rated and suitable for most installation situations; the optional IP65 voltage adaptor ensures safe, reliable operation even in harsh conditions. Standard 2 m leads simplify connection on difficult to access conductors, and optional 5 m leads are useful when installing in difficult locations. With the capability of powering the instruments from the power line up to 500 V, installation is simple.
Credit(s)
Further reading:
SKF condition monitoring system to boost reliability at biomass electricity plant
November 2019, SKF South Africa , Maintenance, Test & Measurement, Calibration
As a global bearing and rotating technology specialist, SKF South Africa is committed to assisting companies to achieve their productivity goals whilst remaining environmentally friendly. The Multilog 
...
Read more...
---
Eliminate power outages caused by steam leaks
November 2019, Instrotech , Maintenance, Test & Measurement, Calibration
The current system Inspecta FFT, first released some 20 years ago, is reaching its end-of-life, and Instrotech's design engineers felt the time was right to upgrade to newer technology, by combining their 
...
Read more...
---
Do more with less and generate ROI with an Integrated Calibration Solution
October 2019, QTEK Instrumentation & Calibration Solutions , Maintenance, Test & Measurement, Calibration
Instrument calibration is just one of the many maintenance-related activities in a process plant, but the last thing anyone needs is to have precious resources wasting time performing unnecessary calibrations 
...
Read more...
---
RS adds food grade maintenance line
October 2019, RS Components SA , Maintenance, Test & Measurement, Calibration
RS Components has launched a new range of food grade maintenance products for use in the food processing and catering sector. All RS Pro food grade products are registered with the NSF (National Sanitisation 
...
Read more...
---
Improved design tips balance toward HV motor replacement
October 2019, Zest WEG Group , Maintenance, Test & Measurement, Calibration
The applications knowledge of Zest WEG Group, coupled with the design capability of parent company WEG, now make it easier than ever for old high voltage (HV) motors to be replaced with new improved machines, 
...
Read more...
---
Vibration tester diagnoses machine problems
October 2019, Comtest , Maintenance, Test & Measurement, Calibration
Comtest now offers the Fluke 810 vibration tester, an advanced troubleshooting instrument that enables maintenance teams to collect data, diagnose and solve mechanical problems. The handheld instrument 
...
Read more...
---
SKF solution improves service quality at Barcelona Metro
October 2019, SKF South Africa , Maintenance, Test & Measurement, Calibration
For over a century, the citizens of Barcelona have relied on the metro to travel into and around the city. At peak times, 150 trains shuttle passengers between 158 stations on the eight-line network, 
...
Read more...
---
Vibration measurement in machine maintenance
October 2019, R&C Instrumentation , Maintenance, Test & Measurement, Calibration
Vibration and temperature are the most common parameters measured on process plants for machine maintenance. Temperature measurement has been around for longer, probably because it was available first 
...
Read more...
---
Accelerometer for vibration monitoring
October 2019, Instrotech , Maintenance, Test & Measurement, Calibration
Monitran has introduced the General Purpose Monitoring Sensor range, for use with PLCs and other industrial controllers, which provide users with a continuous output of vibration, usually as a 4-20 mA 
...
Read more...
---
Batteries in motive power applications
October 2019, Comtest , Electrical Power & Protection
When discussing motive power applications, the initial thought is that their batteries must be similar to transportation batteries. After all, this equipment is 'motive' just like a car or truck. However, 
...
Read more...
---