printer friendly version
Adapting education to the fourth industrial revolution
September 2019
Training & Education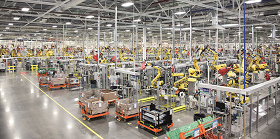 Technology evolution has been applied by the writer in research into automation solutions at the Mangosuthu University of Technology and Montwood College, from Diploma to PhD level. In terms of the evolution, the hardware transition phase was from the Siemens 314-IFM to the 314-C-PtP PLC and the software, from Step7 V5.1 to V5.4.
This paradigm shift demonstrated to students the shift from battery backup, to memory card storage and the related reliability, together with the additional software components available in the library. Communication challenges led to research into cybersecurity. Up to 2009, Siemens Step7 V5.1 software & MPI (multi-point interface) communication protocol was used. In 2010, Step7 V5.4 used MPI and Profibus protocol, with limited cyber threats.

Ralph Naidoo.
In 2015, IIoT Step7 V13.0, TIA (Totally Integrated Automation) software was adopted with Ethernet communication and complete networking capability. This afforded the students of Mangosuthu University of Technology and Montwood College to understand the transition into the fourth industrial revolution (4IR) through understanding that it was no longer necessary to purchase the PLC and scada tools separately. The integration of software and hardware, and the higher level of complexity in terms of application is slowly being understood. It is therefore imperative that students now be exposed to the technologies of 4IR during their studies.
Fate of jobs in an automated world
One of the first fears to arise when the subject of automation is mentioned is 'job losses'. This is not entirely true. Automation goes hand-in-hand with an upskilling of the workforce. Unskilled workers become semi-skilled and semi-skilled workers become skilled.
Nearly half of all existing jobs could be automated within the next two decades. Disruption will destroy some jobs, but will also create new opportunities. The fundamental challenges are: implementation of the currently established education framework, and revising the current system to conform to Industry 4.0. Institutions and industry need to adopt an entrepreneurial approach in the curriculum – some 65% of the jobs that today's learner will perform do not yet exist. Automation is driving the creation of a number of new and rewarding job opportunities.
Robots make work physically less demanding, allowing human workers to focus on higher skilled job profiles with more emphasis on soft skills, e.g. problem-solving and decision making. Over the last decade, robotics has created a competitive edge in the manufacturing industry. Hence it is important that such technologies find their way into the education curriculum.
The role of Human Resources
The HR department is perhaps the most important component in any organisation in terms of making a success of implementing Industry 4.0 effectively, while managing the social impact. The strategy should be to explore the core capabilities that need to be enhanced. The workforce then needs to be evaluated to prioritise worker aspirations and capabilities. Focus on capacity building is an integral component in upskilling younger workers and providing incentives to retain them. Funding options need to be explored, particularly the SETA pool: now that this is administered by DHET (Department of Higher Education and Training), ongoing financial resources must be secured to train and retrain workers.
Closing the skills gap
It is important to note that the lack of qualified and skilled employees is holding back growth, not lack of jobs. The educational curricula often do not provide the skills in demand, but merely focuses on basic knowledge. More vocational programmes are required to combine classroom knowledge with on-the-job training. Stronger links are required between industry and the educational intuitions. This is a problem in South Africa.
Some questions to consider in this context are: How many educational and training providers are finding solutions to daily industrial problems? How much of the funding spent on research goes into the mainstream economy?
If South Africa wants Industry 4.0 to work, educational and training providers need to adopt a completely different approach, especially since financial resources are a primary factor. Educational and skills programmes must be coordinated by industry (the end user) in conjunction with the provider. In the South African context, very often the curriculum is developed by academics in the absence of industry, or at times, just for the purpose of 'rubber stamping'. How well do the products of the institution, i.e. the students, serve industry? (Especially in the technological era we live in.)
There is a serious need to optimise the skills levy access processes. Since the three parties, i.e. the learner, the provider and employer are required in order to access skills levy funding, there are very often logistical challenges in public offices that hinder this access. Today's workers do not necessarily lack skills, but their skills do not always meet the demand of the modern workplaces. Today's qualifications do not necessarily include skills that are in demand.
Another challenge is the ageing workforce. Many experienced workers who can apply themselves constructively in Industry 4.0 are closing in on retirement. Very often it is easier to fill the skills gap using consultants, versus investing time and money in the next generation. In the automation industry, especially in the SAIMC context, the role of system integrators has played a pivotal role in entrepreneurship. SI's contribute to alleviating the problem of losing skills through rewarding of in-house workers.
Building a value proposition
In order to establish a firm value proposition for Industry 4.0, it has to start at the FET (Further Education and Training) level, in schools and TVET (Technical, Vocational Education and Training) colleges, at the HET (Higher Education and Training) level, in universities, and all training providers. These institutions must redefine their value proposition in the interest of learners and the industry they serve. The value to date is a degree/diploma to secure employment. Having a certificate does not necessarily mean competence in applying knowledge. CBE (competency based education) models expedite the learning process and focus more time and energy on practical skills integrated with the acquired knowledge.
Maintaining a constructive WIL (work integrated learning) based education system is integral to adapt to the Industry 4.0 era. Learning programmes need to be aligned to labour market needs, and the recognition of the shift to a skills market is important. Opportunities in the TVET sector are not
fully leveraged and the enrolment at TVET colleges stands at around 6% of total secondary and post-secondary enrolment. The apprenticeship programmes need to be upgraded to provide a career path for learners instead of merely producing artisans. More learning needs to take place in the workplace. Very little, or no provision is made for workers who need to acquire the required knowledge at a college or university. Evening and correspondence studies with incentives need to be emphasised. Greater private education and training participation holds the key to building a more resilient talent pool for tomorrow.
Conclusion
In the interest of the country and its people, government needs to make education and training an investment priority. Programmes and credentials need to be aligned to labour market needs. While knowledge is essential in embarking on any Industry 4.0 initiative, recognition of the shift towards a skills market is paramount. As we move further into the digital age, the following quotations are worth considering:
• "This futuristic, post-scarcity world poses new problems, such as how will goods and services be distributed among people? And who will pay taxes?" – Mark Zuckerberg.
• "The benefits of automation can be used to fund continuous education and universal basic income." – Elon Musk.
• "The government should tax the work done by robots to compensate the workers they replace." – Bill Gates (Microsoft).
References
2018: Automation & the future of work – Blit J, et al.
2018: Robots & the workplace of the future – International Federation of Robotics, Germany.
2018: Robots worldwide: The impact of automation on employment & trade – Carbonero F, et al.
2018: Will robots take our jobs –
Wolls SA.
2018: AI, automation & corporate reputation – Archer H, et al (Ipsos).
2018: Challenges of human resources & management with implementation of Industry 4.0 – Trstenjak M.
2018: Human capital in the smart manufacturing & Industry 4.0 Revolution – Agolla JE.
2018: The future of work & learning in the age of the 4th Industrial Revolution – Desire2Learn
2018: The 4th Industrial Revolution is here, are you ready? – Deloitte.
2017: The challenge of Industry 4.0 and the demand for new answers – Industri-all Global Union.
2017: The future of jobs and skills in Africa – World Economic Forum.
2017: Industry 4.0: Making your business more competitive – CGI.
2014: The 4th Industrial Revolution: Things to tighten the link between IT and OT – Bloem J, et al.
2014: The alignment & Responsiveness of FET & the skills needed by local businesses – Dlamini ZH.
For more information contact Professor Ralph Naidoo, Mangosuthu University of Technology, +27 31 907 7426, pnaidoo@mut.ac.za, www.mut.ac.za
Further reading:
Automation education and training in South Africa – Part 3: Funding model
August 2019, SAIMC , Training & Education, SAIMC
In the final article of this series, we present a possible funding model to achieve the ideas outlined in the previous two parts.
Read more...
---
Swellendam's Technology Winter School
June 2019 , Training & Education
On an otherwise ordinary working day during 2015, Wynand Kotzé and Johan Reyneke discussed the 'challenges' young people face when making a career choice. They both had children about to finish school 
...
Read more...
---
Customised training solutions
Africa Automation Fair 2019 Preview, Rascals Automation Training and Solutions , Training & Education
Rascals Automation Training & Solutions offers customised solutions for technology in the industrial and domestic markets. Services include customised training solutions based on a full employee skills 
...
Read more...
---
Automation education and training vital for South Africa's development - Part 1: Our ability to provide the skills of Industry 4.0 is wanting.
March 2019, SAIMC , Training & Education
In the automation industry, the education and training provided at universities and colleges have, for various reasons, drifted away from industry ­requirements. The SAIMC plans to close this gap, whatever 
...
Read more...
---
Reimagining skills development
October 2018, Rockwell Automation , Training & Education
Consider the wider potential application for skilling people beyond the immediate environments of organisations.
Read more...
---
Online education is coming of age
October 2018 , Training & Education
Hands-on engineering via remote and virtual laboratories and simulation software.
Read more...
---
An examination of the current qualification options available to student engineers in South Africa
August 2018 , Training & Education
The discussion in this article focuses on the third milestone in a learner's career, i.e. from education into industry.
Read more...
---
Free-to-attend seminars to share latest industry insights
August 2018 , News, Training & Education
Taking place from 10-14 September at the Expo Centre in Nasrec, Johannesburg, visitors to this year's Electra Mining Africa will not only have the potential of engaging with 900+ exhibitors across the 
...
Read more...
---
Industrie 4.0 – training for the factory of the future
Technews Industry Guide: Industrial Internet of Things 2017, Festo South Africa , Training & Education
On the cusp of the fourth industrial revolution
When Edmund Cartwright developed the mechanical loom in 1784, he laid one of the cornerstones for industrialisation. The use of electricity in production 
...
Read more...
---
Up skilling for a converged world
Technews Industry Guide - Industrial Internet of Things 2016, Festo South Africa , Training & Education
Festo Didactic's progressive teaching prepares people for new roles in the Smart Factories of Industry 4.0.
Read more...
---