printer friendly version
Oil and gas reduces downtime through plant-wide visibility
Technews Industry Guide: Industrial Internet of Things & Industry 4.0
Maintenance, Test & Measurement, Calibration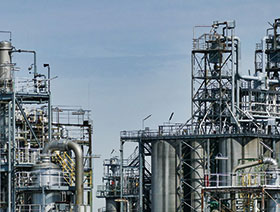 The swelling middle class in India has created a growing market demand for petroleum products. An oil and gas producer, one of India's largest petroleum product manufacturers and distributors, with a processing capacity of 6,5 million metric tonne per annum, must keep petroleum products pumping through the plant because any unplanned downtime could cause critical product shortages.
A key contributor in the quest to reach zero unplanned downtime is healthy equipment – like pumps – achieved through monitoring and maintenance.
The company's pipeline supplies the interior areas of India. Seven pumping stations along that pipeline have already used Rockwell Automation systems for several years, with almost no downtime. The goal was to maintain, and even improve, such performance.
Challenge
The biggest challenge for this customer is timely distribution and accurate pumping of products 24/7. Any disruption could increase refinery inventory and leave retail units without adequate supply.
To maintain continuous flow, each pumping station uses three pumps: two are at work at all times to maintain line pressure across the pipeline to the next terminal. The remaining pump is on standby, in case one of the others fails.
Oil pump operation is precise. Undetected or unreported wear and tear on the pump is not acceptable because even the slightest shift in pump operating parameters can cause damage. An ageing monitoring system, installed years ago, no longer functioned reliably, and there was no ability to communicate with the station PLC to identify and rectify system faults.
Solution
To reduce the number of systems it needed to maintain, the customer preferred a single system (and a single system supplier) for their control system, HMI and the machine monitoring system (MMS). Since continuous operation is required, this customer could not shut down the system for a switchover. The company requires seamless integration of this system, including the MMS, with existing systems.
Given the scope and complexity of the requirements, the customer wanted a supplier with proven skills, experience and support, and selected Rockwell Automation for its extensive experience in automation and global support. With a local office and authorised distributor just five kilometres from the site, Rockwell Automation had the required expertise to manage the requirements of the project, from initial design through engineering, integration and implementation.
Effective solutions for the terminal included seamless integration on a single EtherNet/IP network with the flexibility to configure parameters using the existing graphic user interface. Separate training was not required to ensure the new systems were easily accepted by the operations team.
Rockwell Automation Global Solutions implemented a vibration monitoring solution that:
• Interfaces with existing systems to monitor vibration data of the pumps and alert operators of any abnormal situations.
• Allows operators/engineers to easily set parameters and provides trending, alarming, and exception handling.
• Works with existing equipment, including probes and sensors, by ensuring compatibility.
• Offers the plant manager complete and accurate information in real-time.
The solution is built on:
• Dynamix 1444 Condition Monitoring System using a common control system, ControlLogix L72, with a common development environment to provide high performance in an easy-to-use environment. The system's tight integration between the programming software, controller, and I/O modules reduced development time and cost at commissioning and during normal operation.
• Logix5000 controllers and Add-on Instructions (AOI) to increase productivity and make troubleshooting easier.
Results
With this solution and the integration of various OEM control systems to enable plant-wide visibility and real-time monitoring, Rockwell Automation helped its customer reduce the risk of critical equipment failure.
At the same time, the solution improved the ability of operators to monitor conditions and immediately address concerns before problems turn into downtime. The solution ensures that any abnormalities in the process conditions and deviation from the standard operating parameters are immediately highlighted to avoid problems and improve reliability.
As a result of implementing the Rockwell Automation vibration monitoring system, the customer reduced the risk of downtime by 20%, and also reduced its dependency on multiple vendors. The flexible graphic user interface helped reduce operator training time and expense. The next iteration of the solution could include the ability to create real-time dashboards for production and utility data.
For more information contact Michelle Junius, Rockwell Automation, +27 11 654 9700, mjunius@ra.rockwell.com, www.rockwellautomation.co.za
Credit(s)
Further reading:
Small dry wells for big field applications
January 2020, Comtest , Maintenance, Test & Measurement, Calibration
Fluke's 914X Series Field Metrology Wells (Fluke 9142, Fluke 9143, Fluke 9144) extend high performance to the industrial process environment by maximising portability, speed, and functionality with little 
...
Read more...
---
Oils and greases for mining applications
January 2020, Bearing Man Group t/a BMG , Maintenance, Test & Measurement, Calibration
BMG's Spanjaard lubricants, oils and greases have been developed with the latest formulations and technologies, to meet the demands of all sectors, including mining, automotive, marine, general industry 
...
Read more...
---
Shutdown planning and execution
January 2020, Instroworx , Maintenance, Test & Measurement, Calibration
It is inevitable in that in some shape or form, all plant workers will at some stage be involved in the shutdown of a facility. Planning is essential to ensure that this shutdown is executed within both 
...
Read more...
---
Accurate results with rugged Fluke thermal camera
January 2020, Comtest , Maintenance, Test & Measurement, Calibration
Leading an industrial maintenance team requires a unique combination of communication skills, industry knowledge and technical expertise. Implementing standard work and a preventive maintenance programme 
...
Read more...
---
Inline sensor status indicator
January 2020, Turck Banner , Maintenance, Test & Measurement, Calibration
Machine downtime can be costly for any company and identifying the problem can be time-consuming. The S15L series inline sensor status indicator can be mounted on a sensor for 360 degree-visibility of 
...
Read more...
---
Martec launches new asset health solutions
January 2020, Martec (a Pragma company) , Maintenance, Test & Measurement, Calibration
Condition monitoring specialist Martec has announced the inclusion of two new services to complement its range of condition monitoring (CM) solutions. The Asset Health Portal and Reliability Nerve Centre 
...
Read more...
---
Emerson monitoring accelerates asset digitalisation
December 2019, Emerson Automation Solutions , Maintenance, Test & Measurement, Calibration
Emerson has introduced the AMS Asset Monitor edge analytics device, which digitalises essential asset data and analytics for better operations performance and improved decision making. AMS Asset Monitor 
...
Read more...
---
AI module improves industrial production
December 2019, Rockwell Automation , System Integration & Control Systems Design
Industrial workers can now use the data from their equipment more easily to predict production issues and improve processes with their existing automation and control skill set. The new FactoryTalk Analytics 
...
Read more...
---
Lonza selects Rockwell Automation for digital transformation of pharmaceutical operations
December 2019, Rockwell Automation , News
Lonza has selected Rockwell Automation for the turnkey implementation of the strategic vision to bring the digital factory to nine facilities that manufacture drug capsules. The Swiss-based company, founded 
...
Read more...
---
SKF condition monitoring system to boost reliability at biomass electricity plant
November 2019, SKF South Africa , Maintenance, Test & Measurement, Calibration
As a global bearing and rotating technology specialist, SKF South Africa is committed to assisting companies to achieve their productivity goals whilst remaining environmentally friendly. The Multilog 
...
Read more...
---