printer friendly version
Oil and gas reduces downtime through plant-wide visibility
Technews Industry Guide: Industrial Internet of Things & Industry 4.0
Maintenance, Test & Measurement, Calibration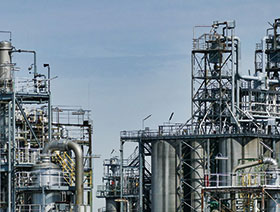 The swelling middle class in India has created a growing market demand for petroleum products. An oil and gas producer, one of India's largest petroleum product manufacturers and distributors, with a processing capacity of 6,5 million metric tonne per annum, must keep petroleum products pumping through the plant because any unplanned downtime could cause critical product shortages.
A key contributor in the quest to reach zero unplanned downtime is healthy equipment – like pumps – achieved through monitoring and maintenance.
The company's pipeline supplies the interior areas of India. Seven pumping stations along that pipeline have already used Rockwell Automation systems for several years, with almost no downtime. The goal was to maintain, and even improve, such performance.
Challenge
The biggest challenge for this customer is timely distribution and accurate pumping of products 24/7. Any disruption could increase refinery inventory and leave retail units without adequate supply.
To maintain continuous flow, each pumping station uses three pumps: two are at work at all times to maintain line pressure across the pipeline to the next terminal. The remaining pump is on standby, in case one of the others fails.
Oil pump operation is precise. Undetected or unreported wear and tear on the pump is not acceptable because even the slightest shift in pump operating parameters can cause damage. An ageing monitoring system, installed years ago, no longer functioned reliably, and there was no ability to communicate with the station PLC to identify and rectify system faults.
Solution
To reduce the number of systems it needed to maintain, the customer preferred a single system (and a single system supplier) for their control system, HMI and the machine monitoring system (MMS). Since continuous operation is required, this customer could not shut down the system for a switchover. The company requires seamless integration of this system, including the MMS, with existing systems.
Given the scope and complexity of the requirements, the customer wanted a supplier with proven skills, experience and support, and selected Rockwell Automation for its extensive experience in automation and global support. With a local office and authorised distributor just five kilometres from the site, Rockwell Automation had the required expertise to manage the requirements of the project, from initial design through engineering, integration and implementation.
Effective solutions for the terminal included seamless integration on a single EtherNet/IP network with the flexibility to configure parameters using the existing graphic user interface. Separate training was not required to ensure the new systems were easily accepted by the operations team.
Rockwell Automation Global Solutions implemented a vibration monitoring solution that:
• Interfaces with existing systems to monitor vibration data of the pumps and alert operators of any abnormal situations.
• Allows operators/engineers to easily set parameters and provides trending, alarming, and exception handling.
• Works with existing equipment, including probes and sensors, by ensuring compatibility.
• Offers the plant manager complete and accurate information in real-time.
The solution is built on:
• Dynamix 1444 Condition Monitoring System using a common control system, ControlLogix L72, with a common development environment to provide high performance in an easy-to-use environment. The system's tight integration between the programming software, controller, and I/O modules reduced development time and cost at commissioning and during normal operation.
• Logix5000 controllers and Add-on Instructions (AOI) to increase productivity and make troubleshooting easier.
Results
With this solution and the integration of various OEM control systems to enable plant-wide visibility and real-time monitoring, Rockwell Automation helped its customer reduce the risk of critical equipment failure.
At the same time, the solution improved the ability of operators to monitor conditions and immediately address concerns before problems turn into downtime. The solution ensures that any abnormalities in the process conditions and deviation from the standard operating parameters are immediately highlighted to avoid problems and improve reliability.
As a result of implementing the Rockwell Automation vibration monitoring system, the customer reduced the risk of downtime by 20%, and also reduced its dependency on multiple vendors. The flexible graphic user interface helped reduce operator training time and expense. The next iteration of the solution could include the ability to create real-time dashboards for production and utility data.
For more information contact Michelle Junius, Rockwell Automation, +27 11 654 9700, mjunius@ra.rockwell.com, www.rockwellautomation.co.za
Credit(s)
Further reading:
Calibration in times of digitalisation
Technews Industry Guide: Industrial Internet of Things & Industry 4.0, QTEK Instrumentation & Calibration Solutions , Maintenance, Test & Measurement, Calibration
Factors that will play a role in the future, will be explained, step by step, in this paper.
Read more...
---
Ready for Maintenance 4.0
Technews Industry Guide: Industrial Internet of Things & Industry 4.0, Phoenix Contact , Maintenance, Test & Measurement, Calibration
How errors can be minimised and time saved through smart maintenance and augmented reality.
Read more...
---
Increased plant availability through optimal management of field devices
Technews Industry Guide: Industrial Internet of Things & Industry 4.0, Endress+Hauser , Maintenance, Test & Measurement, Calibration
As a complete provider for process sensory mechanisms, the company has accumulated decades of expertise with a strong range of solutions and services. The new online services enable it to link this expertise 
...
Read more...
---
Rockwell strengthens industrial control system security
July 2019, Rockwell Automation , PLCs, DCSs & Controllers
Communications between industrial control devices have minimal protection today. This leaves them vulnerable to threats like malicious tampering and incidental system changes that can stop production 
...
Read more...
---
Rockwell Automation executes AC drive migration at Mozal ­Aluminium
June 2019, Rockwell Automation , Motion Control & Drives
For over 20 years, Rockwell Automation 1336 drives have delivered the drive control required across Mozal, an aluminium smelter near Maputo, Mozambique. Now the industrial automation leader is in the 
...
Read more...
---
Infrared inspection windows on ships
June 2019, R&C Instrumentation , Maintenance, Test & Measurement, Calibration
Infrared thermography is a widely-accepted preventive maintenance technology, both for land-based and maritime applications. Electromechanical assets like motors, especially on ships where both vibration 
...
Read more...
---
Vibration tester for rotating ­machinery
June 2019, Comtest , Maintenance, Test & Measurement, Calibration
Vibration in rotating machinery is the oscillation of machine components such as drive motors, driven devices (pumps, compressors, etc), and the bearings, shafts, gears, belts and other elements that 
...
Read more...
---
Effective day-to-day monitoring of essential assets
June 2019, Emerson Automation Solutions , Maintenance, Test & Measurement, Calibration
Efficient operation of essential assets is key in achieving productivity and operational targets. Facilities, manufacturers, operators, and producers can move forward in planning for their output by having 
...
Read more...
---
Photoelectric sensor for demanding applications
June 2019, Rockwell Automation , Sensors & Transducers
The new Allen-Bradley 42AF RightSight M30 photoelectric sensor from Rockwell Automation is the latest addition to the company's smart sensing portfolio. Built with improved environmental resistance and 
...
Read more...
---
The Heartbeat of plant processes
May 2019, Endress+Hauser , Maintenance, Test & Measurement, Calibration
Self-diagnostics and predictive maintenance.
Read more...
---