printer friendly version
Increased plant availability through optimal management of field devices
Technews Industry Guide: Industrial Internet of Things & Industry 4.0
Maintenance, Test & Measurement, Calibration
Endress+Hauser makes Process Industry 4.0 accessible through online services and apps that enable users to optimise and maintain their field devices. This way, they can unlock the potential of the field level in just a few steps and reduce plant shutdown.
As a complete provider for process sensory mechanisms, the company has accumulated decades of expertise with a strong range of solutions and services. The new online services enable it to link this expertise with relevant field data. This becomes particularly beneficial thanks to Heartbeat Technology, as it generates additional diagnostic and monitoring information about the sensor and process, for example, sensor wear and tear or deposits in the pipe. To unlock this potential, all that is missing is the data highway from the field devices to online services.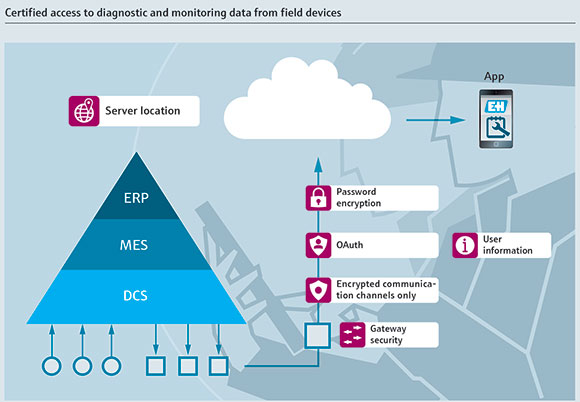 The technical implementation of the data highway is individually tailored customer infrastructure. The focus is on the NOA (NAMUR Open Architecture) concept, so that relevant field data can be supplied, in parallel to the control circuit, through a second communication channel. The data highway is certified by EuroCloud in accordance with the 'StarAudit' certificate, so that data is linked and used securely.
Since the digital range has been expanding since 1997, users are able to equip more than 90% of field devices with digital interfaces. With these digital field devices and retro-fit adaptors, there are limitless possibilities for unlocking potential in the field. Early investments in technologies such as the Advanced Physical Layer (APL) will make linking the data to online services even simpler in future.
Paving the way towards Process Industry 4.0
As an independent technology pioneer, Endress+Hauser wants to make the journey towards Process Industry 4.0 together with its customers. To do so, it has given its digitalisation portfolio a modular design. The portfolio consists of sensory mechanisms and connectivity components, as well as applications such as online services and apps, which allows users to choose the specific applications they require to manage and maintain. For instance, they can access online services in any area of the plant using the industrial tablet 'FieldXpert', which is suitable for use in hazardous areas. On trial are data glasses such as HoloLens that allow workers to follow instructions while leaving both your hands free. In short, the toolbox for Process Industry 4.0 enables users to make management and maintenance processes simpler and more efficient.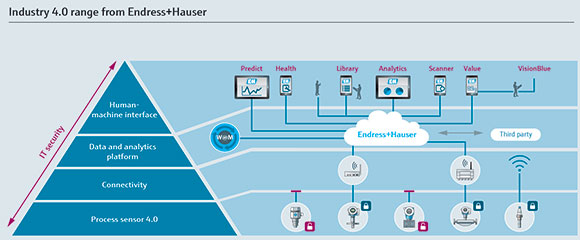 These efforts have already paid off through the German Innovation Award 2018 for Industry 4.0 flagship projects – an impressive Industry 4.0 application for predictive maintenance of measuring points. The implementation of this type of digitalisation project requires skills and expertise spanning different domains, which makes constructive collaboration between industry parties indispensable.
Close collaboration as part of the flagship project also gave rise to a strategically important partnership between SAP and Endress+Hauser, which achieved integration of sensors and algorithms into SAP AIN in order to implement standardised solutions throughout the SAP workflow. After registering the sensor, all relevant information is automatically integrated in the form of a digital twin and kept up to date. Such embedded solutions eliminate the need for many manual and error-prone activities, allowing processes, including the maintenance, to be optimised.
Through these innovative technologies and partnerships, Endress+Hauser is paving the way towards Process Industry 4.0.
For more information contact Natlee Chetty, Endress+Hauser, +27 11 262 8000, info@za.endress.com, www.endress.com
Credit(s)
Further reading:
Calibration in times of digitalisation
Technews Industry Guide: Industrial Internet of Things & Industry 4.0, QTEK Instrumentation & Calibration Solutions , Maintenance, Test & Measurement, Calibration
Factors that will play a role in the future, will be explained, step by step, in this paper.
Read more...
---
Ready for Maintenance 4.0
Technews Industry Guide: Industrial Internet of Things & Industry 4.0, Phoenix Contact , Maintenance, Test & Measurement, Calibration
How errors can be minimised and time saved through smart maintenance and augmented reality.
Read more...
---
Oil and gas reduces downtime through plant-wide visibility
Technews Industry Guide: Industrial Internet of Things & Industry 4.0, Rockwell Automation , Maintenance, Test & Measurement, Calibration
A key contributor in the quest to reach zero unplanned downtime is healthy equipment – like pumps – achieved through monitoring and maintenance. The company's pipeline supplies the interior areas of 
...
Read more...
---
Endress+Hauser grows significantly
July 2019, Endress+Hauser , News
Endress+Hauser experienced strong growth across all regions, sectors and product areas in 2018. The ongoing digitalisation of the industry and positive development on international markets provided the 
...
Read more...
---
The source of life
July 2019, Endress+Hauser , Analytical Instrumentation & Environmental Monitoring
The water and wastewater industry oversees one of the world's most important resources. This calls for continuous investments in infrastructure and new technologies. When viewed from outer space, the 
...
Read more...
---
Endress+Hauser's IIoT technology masters the mining challenge
June 2019, Endress+Hauser , IT in Manufacturing
Endress+Hauser aims to improve the processes of its customers with regards to efficiency, quality, safety and sustainability.
Read more...
---
Endress+Hauser expands patent portfolio
June 2019, Endress+Hauser , News
The number of patents submitted by the Endress+Hauser Group continues to rise. As reported during the annual Innovators' Meeting held this year in France, the Group submitted 287 initial patents in 2018, 
...
Read more...
---
An alliance for the IIoT
June 2019, Endress+Hauser , News
At Hannover Messe 2019, seven leading suppliers from mechanical engineering, industrial automation and software announced the founding of the Open Industry 4.0 Alliance. With this cooperation, the companies 
...
Read more...
---
Temperature transmitter family for all industries
June 2019, Endress+Hauser , Temperature Measurement
Endress+Hauser has introduced its first temperature transmitter with Bluetooth (BT) connectivity. This feature is unique because it does not require a BT modem to be able to communicate with the device 
...
Read more...
---
Infrared inspection windows on ships
June 2019, R&C Instrumentation , Maintenance, Test & Measurement, Calibration
Infrared thermography is a widely-accepted preventive maintenance technology, both for land-based and maritime applications. Electromechanical assets like motors, especially on ships where both vibration 
...
Read more...
---