printer friendly version
Ready for Maintenance 4.0
Technews Industry Guide: Industrial Internet of Things & Industry 4.0
Maintenance, Test & Measurement, Calibration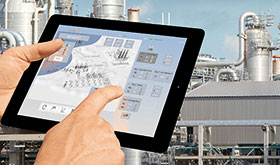 Large systems are not normally maintained by just one person, but rather by changing maintenance personnel from various companies. For the system operators, coordinating these maintenance personnel and training them in the repair and maintenance tasks therefore involves great effort. If unique, clearly legible markings and a comprehensive WiFi network covering all areas are used for the digital, mobile activities, then the existing data can be better utilised, errors can be minimised, and time and money saved.
These days, most people can barely imagine locating an address in a foreign city, or even in a home town, without a smart device. This technology is also desirable for workers who maintain and operate systems in large plants. In such a scenario, a handheld device designed for industrial environments with explosion-risk zones would guide the worker through the facility to the exact device or machine that the employee needs to inspect.
Clear markings
Actually, such solutions do exist. But in reality, this digital approach still has a long way to go when it comes to supporting maintenance and inspection rounds in existing systems. In fact, sometimes even the 'road signs' are missing or they simply cannot be deciphered, to use the analogy of the address search again. For example, the old plastic signs used in brownfield systems are often weathered or have disintegrated, and metal plates are dirty or corroded, rendering the printed details illegible. This sort of situation does not pose many problems for employees who know the layout well. But new employees or third-party contractors tasked with performing maintenance and repairs will have difficulties. This wastes time and, in the worst case, can lead to errors. Operational safety is no longer guaranteed when a unit or pipeline cannot be clearly and quickly identified. Therefore, clearly legible, standardised markings are essential to efficient maintenance.
The most obvious solution is durable, easily decipherable signs, such as laser-engraved stainless steel markings. The plant operator can improve the occupational safety and the system availability by installing these markings on all components and equipment consistently throughout the plant. This alone ensures more targeted, error-free maintenance and repairs. Use of RFID markings is an additional step in achieving higher efficiency. These tags remain readable for a long time, even if a layer of dust forms on them over the years.
Easy detection via RFID and barcodes
The marking type that is selected largely depends on the on-site conditions. If a high level of contamination occurs here, the operator should implement RFID technology. RFID HF is the short-range approach that is comparable to NFC (near-field communication) on a smartphone. RFID UHF can transmit over several metres. Thus, for example, transmitters mounted on a pipe bridge can be detected from below without scaffolding. A distinction is also made between active and passive RFID tags, which must be taken into account, especially when they are used in potentially explosive areas. The tags can be incorporated into plastic labels, cable ties or foil stickers. Furthermore, some field device and electronics manufacturers integrate them directly into their devices.
As a result, some RFID tags offer the option to be imprinted with text and some do not. When printing, the same framework conditions are to be observed as for signs without RFID. The power station marking system (KKS) is used in many large systems. In addition to the standardised key, barcodes or QR codes that are detected by camera apps can also be used. In combination with software installed in an industrial tablet, the maintenance person is guided to all components to be inspected more efficiently than with any type of paper-based routing slip. If fully rolled out, routes can be automatically optimised using this approach, and documentation of the inspection round is simplified. The employee identifies himself using the handheld device and can confirm the maintenance procedures online as soon as they have been performed. This eliminates duplicate entries and the need to transfer paper entries to a maintenance tool.
Consistent, centrally manageable WiFi network
The prerequisite for all the described options is a reliable field WiFi network that connects the industrial tablets to a maintenance tool or the higher-level MES at any time. In the same way as for markings and RFID tags, the wireless network must be well planned, assuming the company has not yet set it up in the production area. Depending on whether the IT department or the production/maintenance team is responsible for installing and operating the network, a differentiation should be made when selecting the right solution. Two different setups specially designed for commissioning are available on the market.
Powerful office networks, which span across several hundred access points, are often based on a server system with client hotspots and can only be managed by experts. If such a concept is to be extended to production facilities, the IT department must be responsible for it. If the wireless network is to be installed and managed independently and flexibly by control/MCR technology team personnel, it should be ensured that the access points (as with the web-based cluster management system from Phoenix Contact) can still be managed centrally. Thus, for example, network and security settings can be transmitted easily to all devices simultaneously (Figure 1).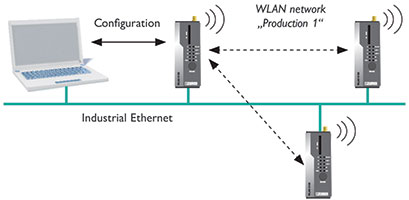 Figure 1.
Phoenix Contact adds the benefits of augmented reality
Use of unique, clearly identifiable markings and a comprehensive WiFi network is the basic platform for Maintenance 4.0. In addition, early adopters are already beginning to explore the benefits of augmented reality (AR) applications. The tablet, which has identified a piece of equipment via NFC or RFID marker, then displays further information on the screen, such as a data sheet, the maintenance manual or a video of all the procedures involved. Measured values such as tank levels or the temperature of sensors can also be displayed.
Phoenix Contact is gathering additional experience itself by using AR to display the temperatures in the plastic injection moulding machines at its in-house production centre. The status of pumps or motors can also be displayed on an explosion-proof tablet, smartphone or, in the future, directly on the operator's smart glasses. The employee can now use gestures to open a maintenance sheet or an exploded diagram, and bring them into view in 3D. Virtual and augmented realities have lost their gamer associations. AR applications are now being developed to support operation and maintenance teams thanks to modern marking methods, and a reliable industrial-grade wireless network.
For more information contact Sheree Britz, Phoenix Contact, +27 11 801 8200, sbritz@phoenixcontact.co.za, www.phoenixcontact.co.za
Credit(s)
Further reading:
Leak detection has never been quicker and easier
September 2020, SKF South Africa , Maintenance, Test & Measurement, Calibration
SKF's TKSU 10 ultrasonic leak detector is able to identify leakages in compressed air and vacuum systems, delivering substantial savings for end-users by reducing inspection time and minimising energy costs.
Read more...
---
Best practices in measurement
September 2020, Yokogawa South Africa , Maintenance, Test & Measurement, Calibration
Operating envelopes are changing and the impact of these changes on instrumentation must not be underestimated. Instrumentation with a design rating of a particular capacity is heavily stressed when the load is increased.
Read more...
---
Internal inspection of machinery
September 2020, SKF South Africa , Maintenance, Test & Measurement, Calibration
The TKES 10 Endoscope Series from SKF is designed for fast, easy internal inspection of machinery, delivering significant savings in terms of both time and money to customers and end-users.
Read more...
---
Parker releases new software tool
September 2020, Parker Hannifin Sales Company South , Maintenance, Test & Measurement, Calibration
IQANgo enables service technicians or machine owners to connect wirelessly to modules in their machines, allowing them to perform a broad range of actions such as system status checks and troubleshooting errors or alarms.
Read more...
---
Condition monitoring solutions from Turck Banner
September 2020, Turck Banner , Maintenance, Test & Measurement, Calibration
Turck Banner's retrofit solution can be used in industrial plants that do not yet fully support Industry 4.0 sensor-based condition monitoring. Machines can easily be monitored by customised systems, with data transmitted via wireless networks if required.
Read more...
---
Detect compressed air, steam, gas and vacuum leaks
September 2020, Comtest , Maintenance, Test & Measurement, Calibration
Comtest has introduced the Fluke ii900, a handheld sonic industrial imager that enables maintenance to quickly locate air, steam, gas and vacuum leaks in compressed air systems. The straightforward, intuitive 
...
Read more...
---
Automated marking of terminal strips
August 2020, Phoenix Contact , Enclosures, Cabling & Connectors
The Mark Master terminal strip marking system from the Phoenix Contact ClipX product range uses patented high-speed technology for the fast and efficient processing of marking tasks. In control cabinet 
...
Read more...
---
Condition monitoring in the cloud
August 2020, Festo South Africa , Maintenance, Test & Measurement, Calibration
Detecting irregularities at an early stage and initiating the necessary measures before a system failure are now made possible by the dashboards and IoT gateway CPX-IOT from Festo. The turnkey, preconfigured 
...
Read more...
---
The Ratchet P-Clamp reloaded
August 2020 , Maintenance, Test & Measurement, Calibration
When a heavy-duty equipment manufacturer asked HellermannTyton to devise the most effective way to attach and remove cables for additional equipment, nobody imagined that a well-trodden path would lead 
...
Read more...
---
Ore sampling like never before
July 2020 , Maintenance, Test & Measurement, Calibration
With the general decline in ore grades in mining, FLSmidth's market-leading expertise in mineral sampling and laboratory automation holds increasing value to mines. "The more you understand about 
...
Read more...
---