printer friendly version
Calibration in times of digitalisation
Technews Industry Guide: Industrial Internet of Things & Industry 4.0
Maintenance, Test & Measurement, Calibration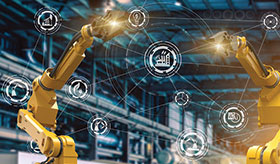 What will tomorrow's process industry look like?
Almost everyone today owns a smartphone that, without them being aware of it, is equipped with a variety of sensors and communication technologies. World-wide, there are now 5,1 billion users of mobile devices and the number is growing at an annual rate of 4%. Whether with a smartphone or directly on your computer, you are most likely a private individual, who purchases comfortably from your sofa at home and are hardly surprised, if, underneath the product you have selected, it says, "Customers who bought this product were also interested in these products". At home, the future seems to have made its way long ago. Behind these platforms, hide the technologies that have made your private life easier and more convenient, and these exact technologies are currently making their way into the process industry within the framework of Industry 4.0. So what does your work environment look like? Are you still working with outdated technologies, or are you seeing a wave of modernisation on the horizon?
The fact is, many employees are worried about terms such as machine learning, robotics and smart factories, and what will happen tomorrow. You may also be afraid that your future colleagues will be made of metal and make 'blip' noises. Or, you may think, that you will hardly meet any people on the shop floor in the factory of the future. To take away at least some of these worries in advance, the industrial production of tomorrow will rely much more on the latest information and communication technologies than it does today. And no, the factory of the future cannot be imagined without people. They will play a very important role. This should be reassuring, and it is, but there is a good chance that things will change in your environment in the future.
Since digital technologies in modularly organised plants of the future will make processes flexible, the maintenance of such machines will be equally affected, as will the calibration of the growing number of process sensors that make Industry 4.0 possible in the first place. In other words, the digital factory will automatically lead to digital maintenance, and that could happen faster than you think.
So you should start to proactively prepare for a digital future, starting by getting a picture of what will change because the way we work in maintenance today certainly will. But, what we can tell you in advance is that if you work in a calibration environment, then your work will gain in importance.
Factors that will play a role in the future, will be explained, step by step, in this paper. To start with, it is important that you understand the technologies and the interrelationships that form the basis of these digital changes.
Leaving the comfort zone step by step
There are trends that you should accept, if you cannot stop them. For example, when the first computers came onto the market, the then CEO of one of the leading technology companies made a forecast: "I think there's a world market for maybe five computers." Maybe you're smiling while reading it, because this forecast seems completely absurd to you. At the beginning of the computer industry, nobody really knew where this new technology would take us, but the explosion of desktop computing has changed our lives. Even if you think that the role of a computer in your private environment is limited, in our modern society nothing would work without computers. By the way, the same applies to the role of the Internet in our society. Was it not then to be expected that computers and above all 'Internet technologies' would sooner or later find their way into the process industry?
In the Industry 4.0 era, production is closely interlinked with information and communication technologies, making it more flexible, efficient and intelligent. There is even talk of batch size 1, which might perhaps raise a question mark, rather than an 'Aha' moment. Well, it's quite simple: with the expectation to meet ever faster and more comprehensively changing consumer requirements, customers expect individualised products that meet their requirements, but at prices that only series production can offer. How is that possible? The answer lies in the technologies of Industry 4.0.
Industry 4.0 has set itself this goal and offers a variety of concepts, guidelines and technologies for building new factories or retrofitting existing ones, which, thanks to modular production lines equipped with flexible automation and ICT technologies, make it possible for customers to choose custom variants at series production prices. In addition, the interconnection of the value chain extends far beyond the manufacturing company. The entire value chain, including suppliers, is also to be connected horizontally. Connectivity even goes one step further: products that leave the factory should also report regularly to the manufacturer, e.g. for status updates and maintenance requirements.
Nevertheless, there are big differences between the time when the already-mentioned CEO ventured to forecast the world computer market, and the present time. Although the term Industry 4.0 today causes similar social uncertainties as computers did at that time, it is decisive for the future of the process industry, especially for the manufacturing industry. Where the computer was a fundamental new technological invention, Industry 4.0 consists of composite technological components, some of which already exist as modules, but interoperability for fast and flexible plug-and-play deployment is still in its infancy. It should be noted that the first three industrial revolutions were only subsequently classified and recognised as revolutions. In contrast, the so-called 4th Industrial Revolution is more like a controlled process, which from today's point of view takes place in the near future and is currently in the process of unfolding.
Sensors as key technology
The fact that Industry 4.0 is more like a controlled process than a wild revolution is of great benefit to many participants, even though it is not possible to say exactly where the journey will lead. What we can predict, however, is that tomorrow's world will be much more digital than it is today, and that will certainly affect your work as process workers, both in production and maintenance. If you are working in calibration, the following may be particularly important to you. For the factory of the future to exist at all, smarter objects (whether machines or end products) will need to be used to orchestrate manufacturing processes according to Industry 4.0 objectives. Objects without sensors are blind and unfeeling and can neither see how they have to act in connection with other modules nor can they report their own condition to top-level systems about, for example, the need for timely and optimised maintenance to prevent costly system failures.
Sensors therefore, do not only play an important, but an essential role, in the implementation of Industry 4.0. They form the interface between the digital and the real world. Data generated by these sensors must be correctly interpreted for further processing, and they must always be of excellent quality. Industry 4.0 also means that, in the future, sensors will be used far beyond the actual production processes. They will also play a role in upstream, downstream and parallel sub-processes, such as predictive maintenance. One could therefore say that without the right sensors, all higher-level systems are blind, and with incorrect measurement data, wrong decisions are made. What should hardly surprise maintenance staff then is that the quality of measurement data will become paramount, and dependant on the professional and prompt calibration of sensors.
Credit(s)
Further reading:
Ore sampling like never before
July 2020 , Maintenance, Test & Measurement, Calibration
With the general decline in ore grades in mining, FLSmidth's market-leading expertise in mineral sampling and laboratory automation holds increasing value to mines. "The more you understand about 
...
Read more...
---
Closed panel electrical inspection
July 2020, R&C Instrumentation , Maintenance, Test & Measurement, Calibration
When electrical distribution equipment fails, the results can be catastrophic to a company as workplace injuries and fatalities could occur. A company's profit margin can be negatively impacted by unscheduled 
...
Read more...
---
Speedy valve testing
June 2020, Comtest , Maintenance, Test & Measurement, Calibration
Control valve testing has often meant using complicated testers that require extensive training, the removal of the valve, and often one to two hours of test time on the bench. Comtest now offers Fluke's 
...
Read more...
---
Visual inspection made easy with SKF stroboscopes
June 2020, SKF South Africa , Maintenance, Test & Measurement, Calibration
A range of handheld, easy-to-use stroboscopes that enable the visual inspection of rotating equipment to be carried out in an economic and timely fashion has been unveiled by SKF. "All rotating equipment 
...
Read more...
---
Essential monitoring solutions
June 2020, Extech Safety Systems , Maintenance, Test & Measurement, Calibration
Meteor Communications' MCE-MRC-EX is powered by MeteorCloud, a one-stop end user application for complete data visualisation, outstation device control and reporting activities. The remote monitoring 
...
Read more...
---
Taking sampling to new heights
June 2020 , Maintenance, Test & Measurement, Calibration
With the general decline in ore grades in mining, FLSmidth's market-leading expertise in mineral sampling and laboratory automation holds increasing value to mines. "The more you understand about 
...
Read more...
---
Wireless detection of erosion corrosion
June 2020, Emerson Automation Solutions , Maintenance, Test & Measurement, Calibration
While many forms of corrosion can be anticipated depending on the presence of corrosion causing factors such as H
2
S, water injection and oxygen in dry pipelines, erosion caused as a result of sand or 
...
Read more...
---
Measure bearing vibration and temperature
June 2020, Comtest , Maintenance, Test & Measurement, Calibration
Vibration in rotating machinery is merely the back and forth movement, or oscillation, of a machine and components, such as drive motors, driven devices (pumps, compressors, etc.), and the bearings, shafts, 
...
Read more...
---
Bently Nevada's condition monitoring and protection system
June 2020 , Maintenance, Test & Measurement, Calibration
Why Orbit 60? Why Now?
Bently Nevada prides itself on a history of machine protection and condition monitoring solutions. With over 60 years of innovation, over 100 000 rack monitoring systems, and 
...
Read more...
---
C-Gap replaces current methods of CSS measurement
June 2020 , Maintenance, Test & Measurement, Calibration
Developed by Mintap, based in Perth, Western Australia, the Closed Side Setting (CSS) measurement device – the C-Gap – is now available through South African-based Control Systems Rustenburg. C-Gap offers 
...
Read more...
---