printer friendly version
IIoT platforms, not all created equal
Technews Industry Guide: Industrial Internet of Things & Industry 4.0
IT in Manufacturing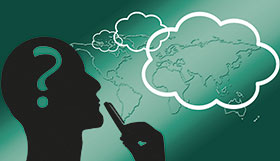 In the past few years, we have often been asked to assist in creating an IoT or IIoT strategy for clients. Our method has always been, and will continue to be…
What is the business problem to be solved or the outcome to be achieved?
IoT (or IIoT as the case may be) is not an end in itself. It should exist to achieve some purpose. This can be to solve a business problem, increase operations or supply-chain efficiency and effectiveness, or merely to enable more accurate tracking (amongst others). There are a great many reasons or business cases out there, and an equal number of business questions to be answered. However, most of the companies we have dealt with ask the wrong question. The question is technology and architecture first, with business value as an after-thought – it should be the other way around.
Having a state-of-the-art architecture based on the most modern technology will not benefit any company unless it is tied to a specific purpose and business outcome. If the technology does not answer the business question or solve the business problem, it is money wasted. In light of the above, the first question in the IIoT journey should always be: Why?
Once we know what operational challenge we want to solve, the next question would be, where do we start? What plant, support service, logistics, warehouse or utility problem should we focus on first? This is important as we want to show value and payback with the first project. But, we should not be constrained in our thinking and design for a limited scope. We should also understand the full reach of the business and potential future requirements. We should design and architect with this vision in mind. There is a fine line between delivering a pragmatic solution to a specific problem and creating a long-term global vision for the company.
That brings us to the how? I have seen a number of IoT and IIoT strategies developed by different consulting companies. They are without exception great on the what, but extremely light on the how. We also need to answer the how question to make IIoT strategies real for companies.
IoT and IIoT architectures defined
Considerable time has been spent defining IoT and IIoT architectures by local and global forums. In our view, the IoT World Forum reference model comes close to defining a good overview model. However, we have adjusted this reference model to be more aligned with real-world challenges. In our view, the reference model in Figure 1 contains all the elements/components required to provide a complete IIoT solution.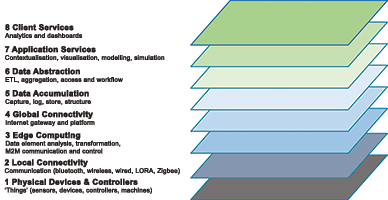 If you are familiar with the IoT World Forum reference model you will know that it contains seven layers where the model we as Altron define contains eight layers. We make a distinction between local connectivity and global connectivity where the World Forum model does not. For us, machine-to-machine connectivity, or instrument to edge-device connectivity (such as Bluetooth, Smart Bluetooth, Zigbee and Wifi) is not the same as for instance GSM, NB-IOT, LTE, satellite and such, which we classify as global connectivity. There are of course networks like Sigfox and LoRaWAN that can be seen as both local and global, but they are mostly sold as global connectivity solutions. In terms of the Altron IoT reference model, this is the only area where we deviate.
We believe that especially for IIoT, local connectivity is the area that will make or break any solution. By virtue of the real-time environment IIoT operates in, sound local connectivity is critical in the successful implementation of any solution.
IoT Platforms
Talk to any technology provider, hardware or software, and they will tell you about their 'IoT Platform'. When evaluating platforms against the above reference architecture, you will soon notice that most are incomplete, or if they are complete, it is only in a specific niche area.
Having evaluated a number of vendor's 'IoT platforms', it has become clear that they fall into two broad areas, those with a hardware focus (levels 2 to 5) and those with a software focus (levels 5 to 8). Evaluation also indicated that software-focused platforms are typically strong on levels 5 and 6 with levels 7 and 8 available only for niche functionality.
Reading up on completed IoT projects, it is apparent that the above is a true state of affairs. It is estimated that a complete, value-adding IoT solution involves an average of 20 to 35 vendors. This is not necessarily a bad thing, as different customers have different requirements, but it does mean more points of potential failure. Some customers may have the bottom layers sorted out already, but need a software platform and applications, while others may need connectivity between the lower levels and their existing software applications.
Factors to consider when selecting a platform
There are many things to consider when selecting an IIoT platform and implementation partner. For instance, the types of services and service model provided by the vendor are important. Although most platforms are moving towards cloud and an 'as a service' model, some still provide 'capex' and 'on premise' solutions. Especially for IIoT in industries where real-time feedback and response are critical, this is a major consideration. For these, some vendors also make a 'hybrid' model available, where fast response edge devices and/or applications sit at plant level and reporting, data analytics and dashboarding is done in the cloud.
Domain expertise or platform 'use-cases' are also important, especially within the IIoT environment, as is the reliability of the connectivity, data storage and data extraction for business value. It is also important to know how easy it is to manage the devices connecting to the platform, and how easy the support of the platform and devices are going to be.
Cost or the costing model needs to fit the business need. Here it is important to not only look at the current business need, but also at the big (future needs) picture. Although a low per-device cost may be appealing for a small implementation, it can get very costly very fast. It is also important to understand how compatible the platform is to the business and how it will connect to the current infrastructure. Scalability and security are important, not only from a cost perspective, but also in terms of device management and support.
Platform security is a factor that is easily overlooked. Security is applicable across the various layers. Therefore it is important that any device connected to the platform should be authenticated and ideally the communication channel should be encrypted. The platform itself should be able to securely store the data and allow access and dashboards based on grouped user rights, i.e. administrative rights, write-back, read-only, and which sets of data that will be visible to which group.
The last big consideration is the tools and ability to integrate and handle data, both from bottom (level 2) to top (level 8), also called north-bound integration, and top (level 8) to bottom (level 2), also called south-bound integration. This is important as some vendors are good at north-bound integration but struggle with south-bound integration. Especially for IIoT, the ability to send information down to instruments is vital, as pure reporting within a fast-paced environment will be inadequate. Look specifically at the drivers or protocols supported by the platform and ensure that it supports IIoT protocols such as OPC, Fieldbus, Profibus etc. for south-bound integration, and has adequate APIs etc. for north-bound integration. Again, access to the data should be secure, authenticated and tracked.
When selecting an IIoT platform it is very important to work through the various factors to ensure it fits your specific long- and short-term needs.
Functionality required by an IoT platform
Looking at the full stack of IIoT, a number of functions need to be available in the IIoT platform to ease the implementation and reduce the number of vendors involved in any solution. The platform needs a front end or user interface development environment that is easy to use. It must make provision for, and enable the handling of, a variety of communication protocols, both north and south-bound. It needs a user interface that enables device management, device status monitoring and device grouping (asset management). The platform needs to provide a data storage environment that is scalable and secure, but allows easy data access and retrieval. It needs to provide tools for the easy development of dashboards for live values and trending, as ultimately, this is the view the customer needs to make better business decisions.
Although multi-tenancy (one platform for multiple and separated users) is not required by all customers, it may be that a company wants to segregate data within a platform so that not everything is visible to all users, and each user company can have their own branding and look and feel. When used specifically in the IIoT environment, workflow management, notifications and alarming are crucial to inform operators, supervisors and managers when things do not go as planned.
Tools that enable advanced data analytics, such as machine learning, advanced pattern recognition (APR), artificial intelligence (AI), robotic process automation (RPA), acoustic analysis, and facial and image recognition, should be available. Ultimately, these are the tools that will increase the efficiency and effectiveness of a business, when applied correctly. If the platform does not have these tools (and very few do), then at least the data should be available and easily extracted via standard tools and protocols into other applications that have these functions available.
The platform needs to be flexible regarding where it will be hosted, especially for IIoT, as a hybrid model will most probably be best for real-time process industries. The availability of after-sales and back-end administration support is also important for a long-term sustainable solution.
Conclusion
Not all platforms are created equal. To get the best IIoT platform for your company, you need to take the time to evaluate the vendors out there. Do not just go with the first one to show pretty pictures. Look under the hood and ask the vendor to explain how they incorporate the various consideration factors. Look at all 8 layers, determine what forms part of the platform and what is 'bought-in' third-party functionality. Find the best fit to enable your company to solve its current and future business problems.
For more information contact Gerhard Greeff, Altron Bytes Systems Integration, +27 11 205 7663, gerhard.greeff@bytes.co.za, www.altron.com
Further reading:
The importance of good project management
Iritron IT in Manufacturing
A structured way of organising work can help identify and resolve problems in an efficient manner before the implications have a chance to escalate.
Read more...
---
Experience Eplan Platform 2022
EPLAN Software & Services IT in Manufacturing
Eplan heralds the future of electrotechnical engineering with a focus on ease-of-use for both experienced users and for newcomers to its software.
Read more...
---
Is your company still using paper-based maintenance procedures?
KVMTech IT in Manufacturing
To better manage compliance and calibration services, it is critical to choose a solution with global asset compliance at the core.
Read more...
---
Digital transformation in mining
Endress+Hauser South Africa IT in Manufacturing
The mining industry is in a prime position to benefit from the adoption of digital technology across its operations.
Read more...
---
Get full value from factory floor data with data sciences
Omron Electronics IT in Manufacturing
Valuable information needs to be extracted from the data and presented to the right audience, at the right time and in the right way.
Read more...
---
Collaboration in the automation ecosystem
EPLAN Software & Services IT in Manufacturing
Data created in the engineering process must be shared with everyone involved in the process.
Read more...
---
Siemens' software for digital transformation of automotive design
Siemens South Africa IT in Manufacturing
Model-based development process and systems are used in Japan and globally to adapt to the biggest automotive transformation in 100 years.
Read more...
---
Is track and trace through the factory a waste of time?
Iritron IT in Manufacturing
Modern track and trace solutions are purpose-built to introduce as little disruption to the existing production process as possible, while also being flexible enough to cater for plants that range from fully manual to fully automated.
Read more...
---
Modularity for scalability
RJ Connect IT in Manufacturing
Businesses are looking for versatile solutions that are easy to maintain to ensure smooth operations while keeping costs down.
Read more...
---
Saryx launches TMP
Saryx Engineering Group IT in Manufacturing
The digital transformation that has swept the world in the past few years has fundamentally altered most people's approach to technology, with an increasing number seeking the ability to manage their 
...
Read more...
---